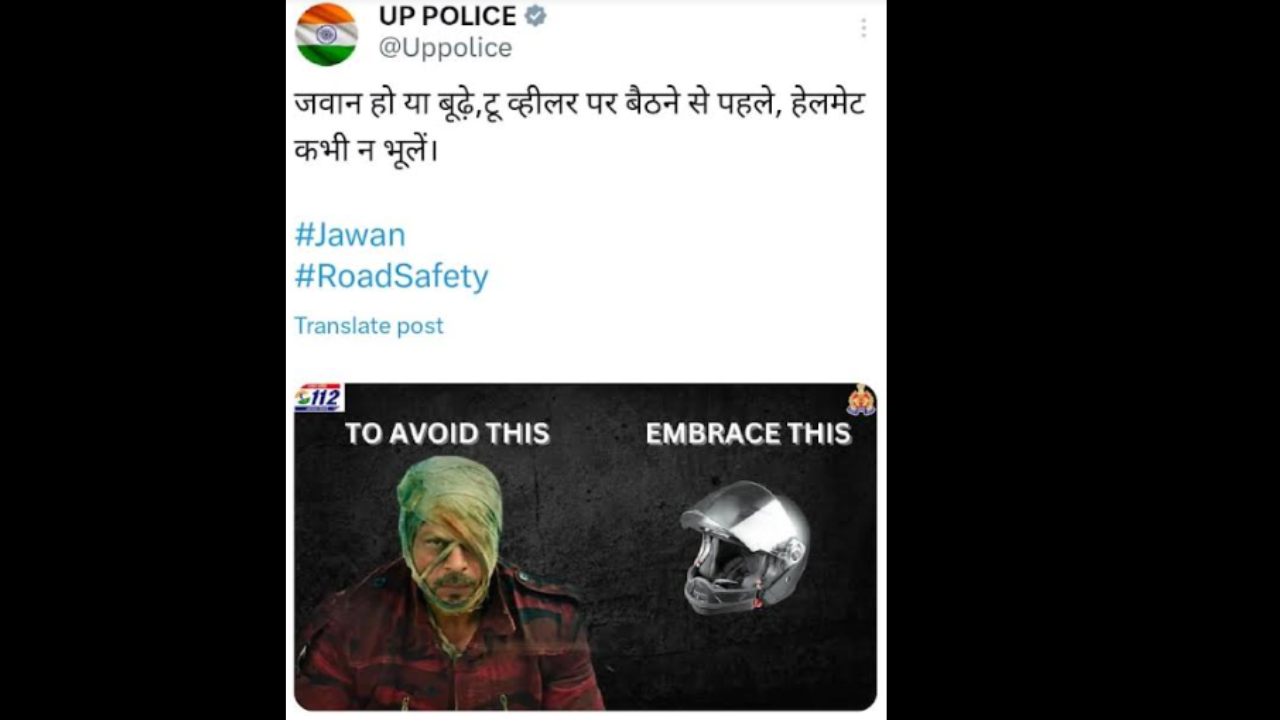 LUCKNOW: In a creative tweak to the poster of Shahrukh Khan starrer "Jawan", Uttar Pradesh Police created a meme with the catch line — "Jawan ho ya budhe, two-wheeler pe baithne se pehle, helmet kabhi na bhule (Young or old, never forget helmet while riding a bike)". The eye-catching tweet garnered 15 lakh views and 1 lakh likes on microblogging site X.
UP Police has been giving creative spins to Bollywood songs and films to send out social messages to the masses.
The state police insisted on wearing a helmet while riding a bike to avoid getting the face all bandaged up. To visualise this, they used SRK's still from the movie, where his face could be seen covered in bandages.
Netizens on X showered praise on the innovative public awareness campaign. "What an apt use of pictures," said one user. Another one posted, "Hilarious! Great work by the UP police social team." "Take a bow whoever is handling the account," read another comment.
Additional SP, UP Police Social Media Cell, Rahul Srivastava, said that a lot of brainstorming is involved in creating such memes.
"We try to stay in tune with the latest trends and focus our messaging around it. This has helped us widen our reach and connect with the people organically," he said.
Of late, the UP Police has been grabbing eyeballs on social media with its cheeky takes on current events and X trends to send across a message to the people on various issues.
Taking a cue from 'Chellam Sir', a character in the popular web series who is extremely cautious in his every move, 'The Family Man-Season 2', UP Police had shared a post: "Every 'Family Man' should safeguard their hard-earned money from scamster! #Chellam Sir is a 'man for all seasons'. Even Sri 'Can't'!"
Actor Manoj Bajpayee, who played the lead role of an intelligence officer, Srikant Tiwari, liked the post and tweeted: "Hahahaha. Nice one @Uppolice."
UP Police's spins on women issues and road safety campaigns were also a big hit. A popular song from Bollywood flick 'Darr', 'Tu haan kar ya naa kar, tu hai meri Kiran', was used by UP Police to drive home a very serious message. As the character of Rahul Mehra (played by Shahrukh Khan) is seen as trying to forcibly woo the heroine without her consent, a bold message is reflected after the clip which says "Kiran's No is a NO."