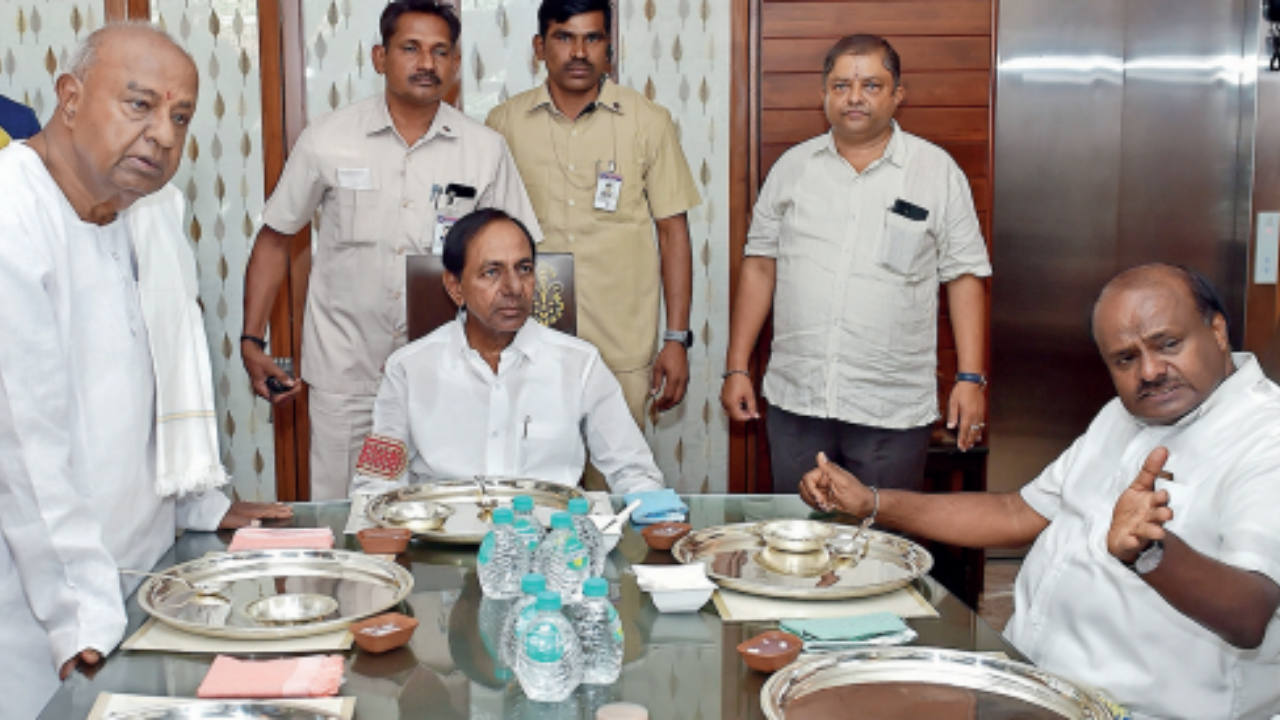 BENGALURU: Just an hour before Prime Minister Narendra Modi's visit to Hyderabad, Telangana CM and TRS president K Chandrashekar Rao left the city and flew down to Bengaluru, where he met former PM and JD(S) supremo HD Deve Gowda at his residence on Thursday.
The meeting is a part of a series KCR has held with several top politicians with the aim of building an alternative to BJP and Congress ahead of the 2024 general elections. Former Karnataka CM and Gowda's son HD Kumaraswamy was also present at the meeting. Last week, KCR had met AAP supremo Arvind Kejriwal and Samajwadi Party chief Akhilesh Yadav in Delhi.
"There will be change at the national level as nobody is happy with the present situation," said KCR, adding: "Nobody can stop this change. India will change. Talking always happens. This country needs to rise above 'isms'." He went on to say: "It is not about which party will form the government.
It could be Congress or a government without Congress. I can only say a prosperous India will be formed. You will get sensational news in two-three months." In a tweet, Gowda said: "Hon'ble CM of Telangana, Shri K Chandrashekhar Rao, visited me at my residence today. We exchanged views on various topics of national importance. It was a candid and cordial meeting." KCR left Hyderabad before Modi could arrive in the Telangana capital to attend an event at Indian School of Business (ISB) there. This is the second time KCR, who has been openly critical of the PM, has skipped meeting Modi.
In February, KCR did not meet Modi at the Hyderabad airport when the PM visited to unveil the statue of equality at Muchintal. The CM had cited health reasons then. TRS functionaries, however, said KCR's absence in Hyderabad on Thursday was a mere coincidence. "People are free to interpret the development in their own way," said TRS secretary general and Rajya Sabha member K Keshav Rao.
"The fact is that KCR's meeting with Gowda was pre-scheduled and his Bengaluru visit had nothing to do with Modi's visit to Hyderabad," he added. After Thursday's meeting, Kumaraswamy said: "KCR is working on establishing an alternative front and he is meeting several leaders in various states.
He wants to save the country and bring change in the interest of the nation and the poor." Sources said efforts to form a federal front have yielded "limited results". KCR is also trying to build consensus among regional parties to field a common candidate in the upcoming elections for President of India, scheduled in August, they said.