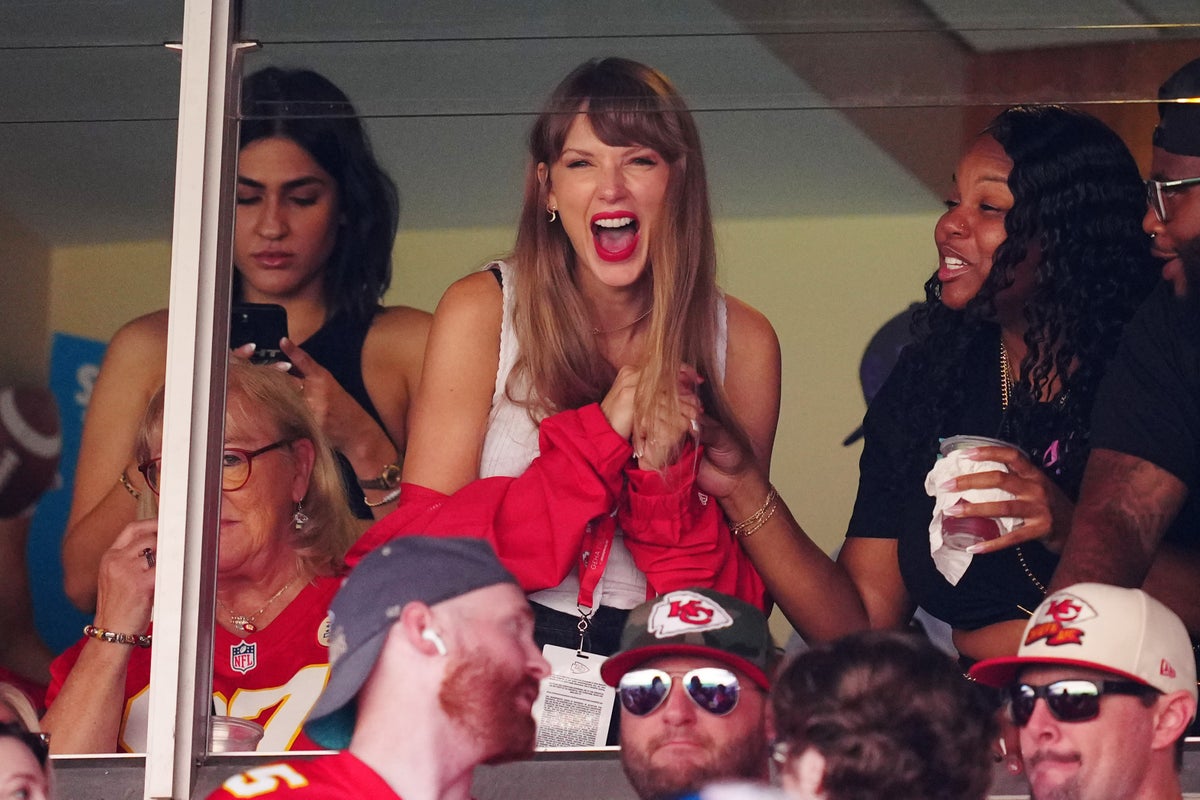 Taylor Swift's team reportedly stopped Fox from playing her music during her recent NFL visit due to "speculation" about her dating life.
Following rumours that the "Anti-Hero" star is dating American footballer player Kelce, Swift fanned the flames on Sunday (24 September) as she was seen attending his team's most recent game.
Swift was photographed enthusiastically cheering as Kelce's team, the Kansas City Chiefs, beat the Chicago Bears 41-10 at the Arrowhead Stadium in Kansas City, Missouri. Swift and Kelce were also seen leaving the match together.
Now, the Fox Sports team have spoken about the moment they learnt Swift was attending the game, and their attempts to reflect this in the coverage.
Writing on the Fox Sports blog, lead producer Richie Zyontz explained that the team had heard rumours about the potential relationship earlier in the week and had subsequently "sought permission to use some of Swift's music" in their broadcast.
"Not a chance," Zyontz wrote. "Per the Fox music department, Swift's record label and publishing company denied our request 'in conjunction with speculations on or about her private/personal/dating life'."
The Independent has contacted Swift's representatives for comment.
Swift was seen enjoying the game

— (Getty Images)
During the game, Swift seemed immersed in the action, and was seen shouting "let's f***ing go" in response to Kelce's third-quarter touchdown reception. She also had a conversation with his mother Donna.
After the game, the pair escaped the crowd at Arrowhead Stadium in Kelce's convertible, and reportedly rented out a restaurant for a private, post-game celebration.
Neither Swift or Kelce have confirmed the relationship, but the football player discussed the event on his podcast, saying that his friends and family had "nothing but great things to say" about her.
"I just thought it was awesome how everybody in the suite had nothing but great things to say about her, friends and family," Kelce said.
Kelce and Swift have not confirmed the relationship

— (AP)
"She looked amazing, everybody was talking about her in great light."
Speculation about their rumoured romance originally began when Kelce revealed that he had tried and failed to give the pop star his number using a friendship bracelet when he saw her play at the Eras Tour.
"I didn't get to hand her one of the bracelets I made for her," he said.
You can find a timeline of their relationship so far here.
In April, Swift ended her six year relationship with British actor Joe Alwyn. She was subsequently linked to The 1975 star Matty Healy.