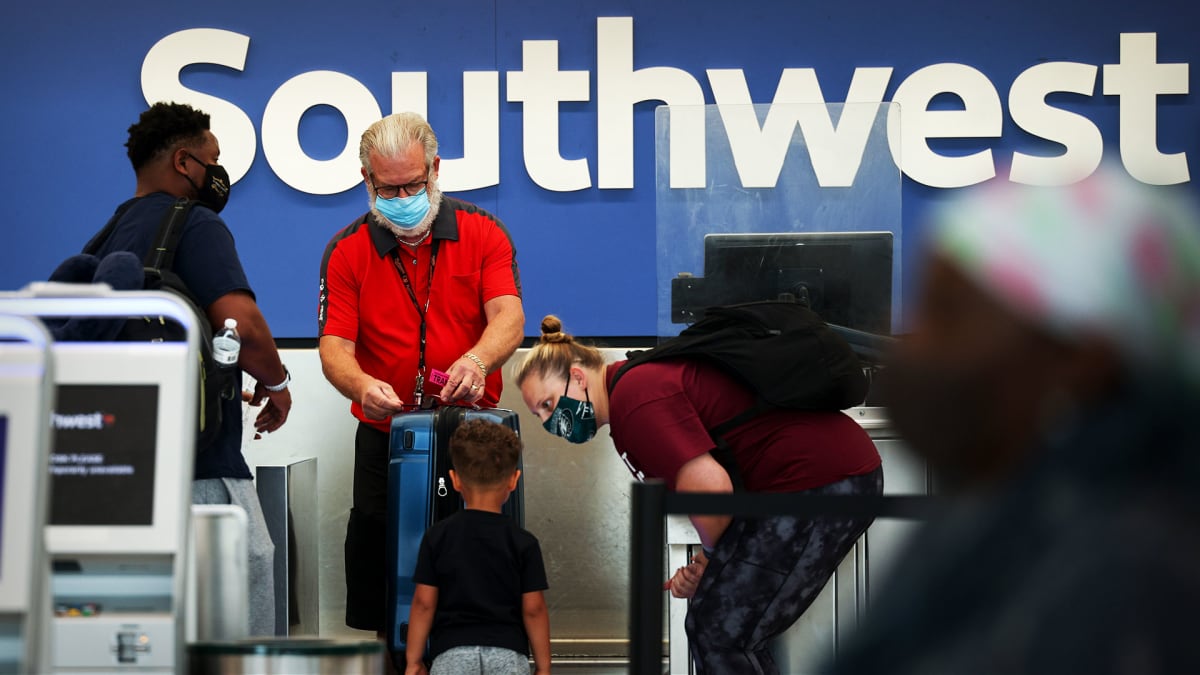 Holiday travel is stressful under the best of circumstances, but passengers who opted for Southwest Airlines last month had an especially harrowing ordeal.
A winter storm wreaked havoc on America over the holidays, resulting in thousands of canceled flights. But Southwest was hit especially hard, canceling 15,000 flights, or more than 60% of its planned flights, at one point scrapping nearly 2,500 each day.
Twitter was filled with scenes of stranded passengers who were told they wouldn't be able to fly home for days, with many deeming it a "total collapse" on the part of the airline. 
Even President Biden weighed in, noting "Our Administration is working to ensure airlines are held accountable" and directing affected passengers to the Department of Transportation to see if they are eligible for compensation.
While all airlines were hit hard, Southwest (LUV) seemed especially ill-suited to handle the storm, owing to a combination of outdated scheduling software and a lack of employees. 
Southwest's Problems Didn't Begin Here
Last year, Southwest employees began picketing to bring attention to their allegations that the company's new management has not been spending enough to hire new employees or make necessary upgrades to their infrastructure, in lieu of paying executives large bonuses.
But while the holidays are over, it would appear that Southwest's problems are not in the rearview mirror.
The airline has been sued by passengers that claim the airline failed to provide refunds, according to Yahoo! News.
The proposed class action was filed on Dec. 30 in New Orleans federal court. 
Passenger Eric Capdeville accused Southwest of breach of contract, claiming that the airline only offered him and his daughter a credit after scrapping their December 27 flight to Portland, Oregon from New Orleans. He is seeking damages for passengers on Southwest flights canceled since December 24 that have not received refunds or reimbursements.
The complaint says that affected customers "cannot use their airline tickets through no fault of their own and they are not getting the benefit of their bargain with the defendant."
Southwest Takes Responsibility
Southwest has stated it intends to reimburse impacted passengers for expenses such as last-minute hotel, rental car, and dining costs, but that might take several weeks.
After the lawsuit was filed, CEO Bob Jordan apologized.
"On behalf of Southwest, I want to let you know we're so sorry," said Jordan said in an email to impacted customers. "Our Purpose has always been to connect our Customers to what's important in their lives. And this holiday season, as you made plans with us to do just that, we fell short."
Jordan also offered impacted customers 25,000 reward points — valued around $300 — toward the company's frequent flyer program "as a gesture of goodwill."