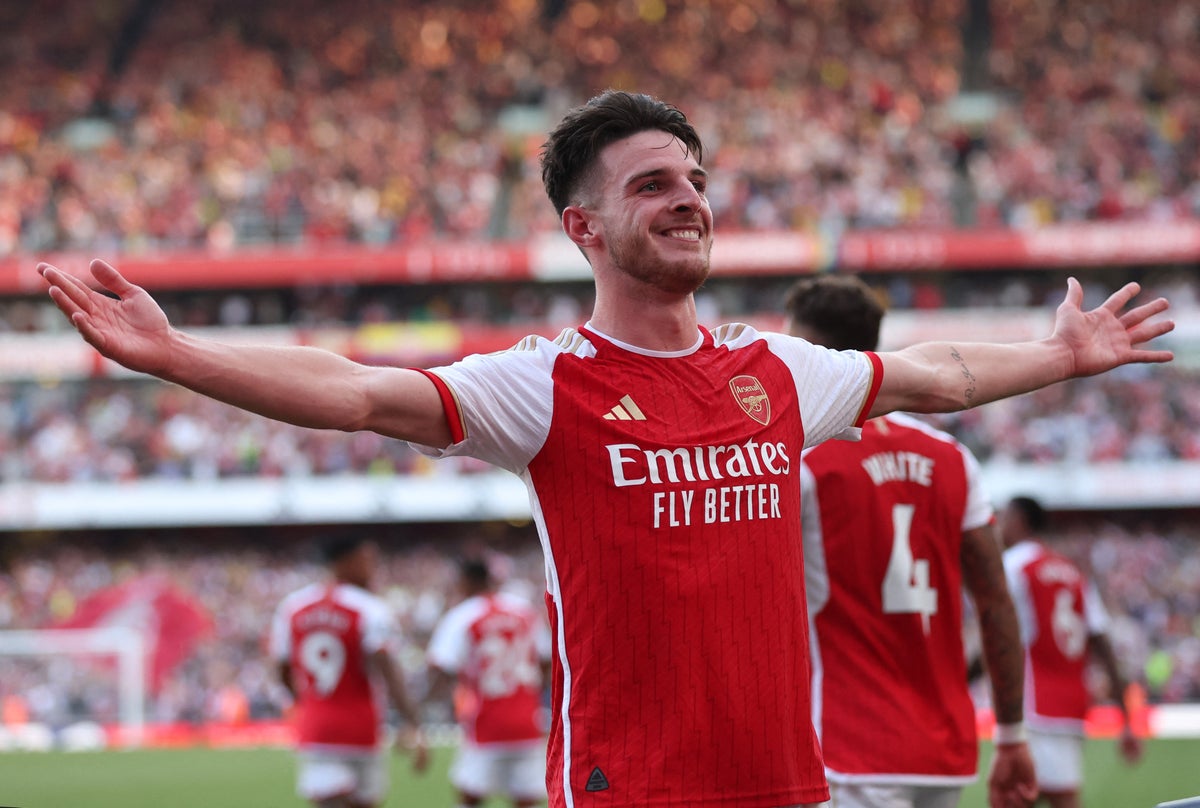 Declan Rice has his first big moment in an Arsenal shirt, and their season may have lift-off. His 96th-minute goal to give Mikel Arteta's side a late 3-1 win over Manchester United was all the more uplifting for the home crowd and all the better for him because neither he nor the home side had been at their best. It was an erratic game.
None of that will now matter, as everything about their performance will feel so much better. Gabriel Jesus's late breakaway strike to make it 3-1 made it look even better on paper. It also genuinely matters in the table, even as early as the 3rd of September. Had United hung on for the draw here, Arsenal would have found themselves four points behind Manchester City already, something that didn't happen until May last season.
That could have been it, even now. You could feel that weighing over the game in Arsenal's raucous celebration, and how Arteta so vigorously enjoyed it. There was more here than beating a historic rival, even this late.
There was also much more to Arsenal than United. They are so much further along in development, even allowing for injuries, although these also framed the game.
Even Rice's crucial goal came because United's massed defence started to come apart for the first time. Whereas the match had been characterised by Arsenal barely having any space to move in the United box, late fatigue amid an injury crisis left Rice with five yards of space and the chance to collect himself after a heavy-chested ball.
He did more than that, firing the ball through substitute Jonny Evans for a deflection to also take it past Andre Onana.
Declan Rice fired home the decisive strike late on

— (Reuters)
It was all the more galling for United given that they'd gone from the relish of celebrating a late breakaway goal for Alejandro Garnacho, ruled out by the thinnest of margins, to the complete opposite emotion.
There was even the irony of Jesus' final late touch coming from the kind of counter United had been using as their only source of attack all game.
Arsenal had the idea and the ball. United could only work around that, a side that still represent so much of a compromise to what Ten Hag wants.
Arteta has this so much closer to what he wants from his own team, even if elements emphasised they are not there yet. They still cough up so many counter-attacks and chances.
It did contribute to a strange match – you couldn't take your eyes off but it wasn't always pretty to watch.
For a long time, the two earlier goals felt like an aberration in an otherwise erratic game, all the more so because they came in such quick succession. There were just minutes between the balls hitting either net but a mere 35 seconds in actual play.
Rashford's superb finish put United ahead

— (AP)
That feeling was all the more pronounced for the Rashford goal given it came out of nothing. It was not just their first shot of the game but their first attack of any note. The move did admittedly come from something that set the pattern of the game. Arsenal were completely imposing their game on United, but it meant there were often at least 10 players around Onana's box. That made it very difficult for Arteta's side to play through, all the more so when Kai Havertz totally mis-hit the best chance of the match.
It was almost comic but represented a contradiction in the German's game. He can go from a Dennis Bergkamp touch one moment to looking like he doesn't know how to control a ball or even where to position himself.
The United goal did come after a misstep from a player who has been much more reliable for Arsenal. With his side trying to rebuild an attack, Gabriel Martinelli played a ball straight to Christian Eriksen.
The Dane suddenly had the space of the Arsenal half to play the ball into, a contrast from the other end which allowed the opportunity. Eriksen, of course, used that superbly.
The through ball to Rashford was divine, exploiting a slight misstep from Ben White. Rashford then took it on superbly, both in terms of the aesthetic fluency of the move and his next touch. The forward cut inside to drive the cleanest strike in high off the post.
The irony is that it was the bit of spark Arsenal needed. They had been the better team without actually looking that good themselves. What followed was pure quality. For one of the few times in the game, Arsenal worked their way around the massed defence with an exquisitely exact passing move, the extra focus no doubt elevating them. United didn't even have time to know where to go.
Odegaard knew exactly where he was putting it from Martinelli's pass, powering the ball into the corner.
Martin Odegaard's equaliser was crucial for Arsenal

— (EPA)
This was to be the game now: Arsenal forced into more elaborate build-ups as United looked to break at pace. The numbers almost aided Arteta's side again as Havertz got caught between Casemiro and Aaron Wan-Bissaka. He went down, but there was no contact, and a penalty was overruled by VAR.
That did gradually evolve into an absorbing final spell, especially when Rasmus Hojlund came on for his United debut. They looked like they felt the benefit of having a reference, even if Arsenal's greater development as a team meant that they still had much more of the ball. Bukayo Saka, who wasn't at his best due to heavy attention from the United backline, should have had the ball in the net late on. Onana did superbly to deflect an effort from right in front of him, another rare moment which Arsenal worked through.
It was the warning. United were tiring. Ten Hag tried to address it with subs. That initially seemed to work with Garnacho. But he'd gone that bit too early.
It allowed Arsenal to claim it late, and ensure the title race doesn't get away from them this early either. It might seem harsh to fixate on that so early in the campaign and with a finish like this. Arteta, more than anyone, will no doubt emphasise that these are the stakes.
Rice has maybe now risen to them.