Woman 'removed from JetBlue flight in handcuffs' after 'refusing to wear a mask' in viral TikTok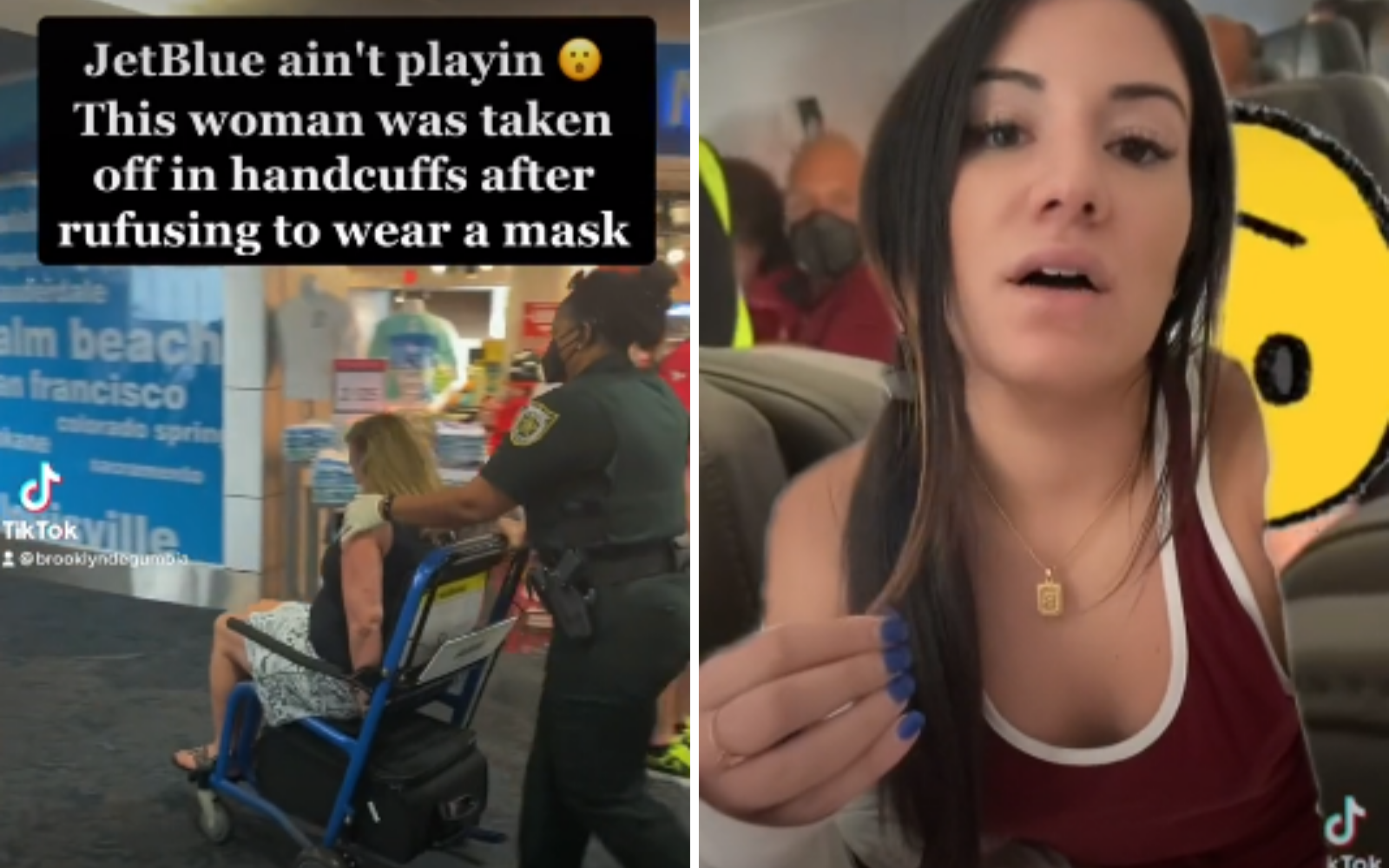 A woman was allegedly removed from a JetBlue flight in handcuffs after refusing to wear a mask on board the plane.
In a viral TikTok uploaded by @brooklyndegumbia, a woman is seen being escorted through the airport in a wheelchair after allegedly causing a three-hour delay to the flight.
The caption reads: "This woman was handcuffed and wheeled off a JetBlue flight after refusing to wear a mask. Our flight was delayed 3hrs." [sic]
The video shows the woman arguing with a staff member on the plane. The woman claims to have done nothing wrong, while the flight attendant threatened to deplane the entire aircraft — which ended up happening.
"Okay you want to make it hard, we're going to make it hard," the attendant said.
"I haven't done anything wrong," the woman protested. She added that her daughter is going to college, although it is unclear why she said this.
Once the woman was escorted off, everybody else was able to get back on the plane and continue their journey.
The top comment on the TikTok reads: "If it's important she stay on the plane, then wear a mask. I do it 12 hours a day 6 days a week. Not hard of harmful."
Another person added: "Good job JetBlue."
In a follow-up video posted yesterday, @brooklyndegumbia said: "We got delayed three hours, I was supposed to be in New York that night and I couldn't even get there.
"I am in no way shape or form condoning this behaviour at all, obviously ya'll can see TSA does not play. They took her off in handcuffs and in a wheelchair."
She also clarified that the woman was wearing a mask, but she kept putting it up and down, leading to the confrontation.
She added: "Ya'll don't play with TSA, don't be like this woman, be safe."
On JetBlue's Covid-19 information hub, they state: "The mask is not an ask.
"Federal law requires masks to be worn by all travelers 2 years and older at all times throughout the flight including during boarding and deplaning, and in the airport.
"Any individual who fails to comply with this law may be subject to denied boarding, removal from the aircraft and/or penalties under federal law."
Refusing to wear a mask certainly seems like a more valid reason for removing someone from a flight compared to this musician, who was apparently deplaned for wearing a crop top.
Indy100 has reached out to JetBlue for comment.