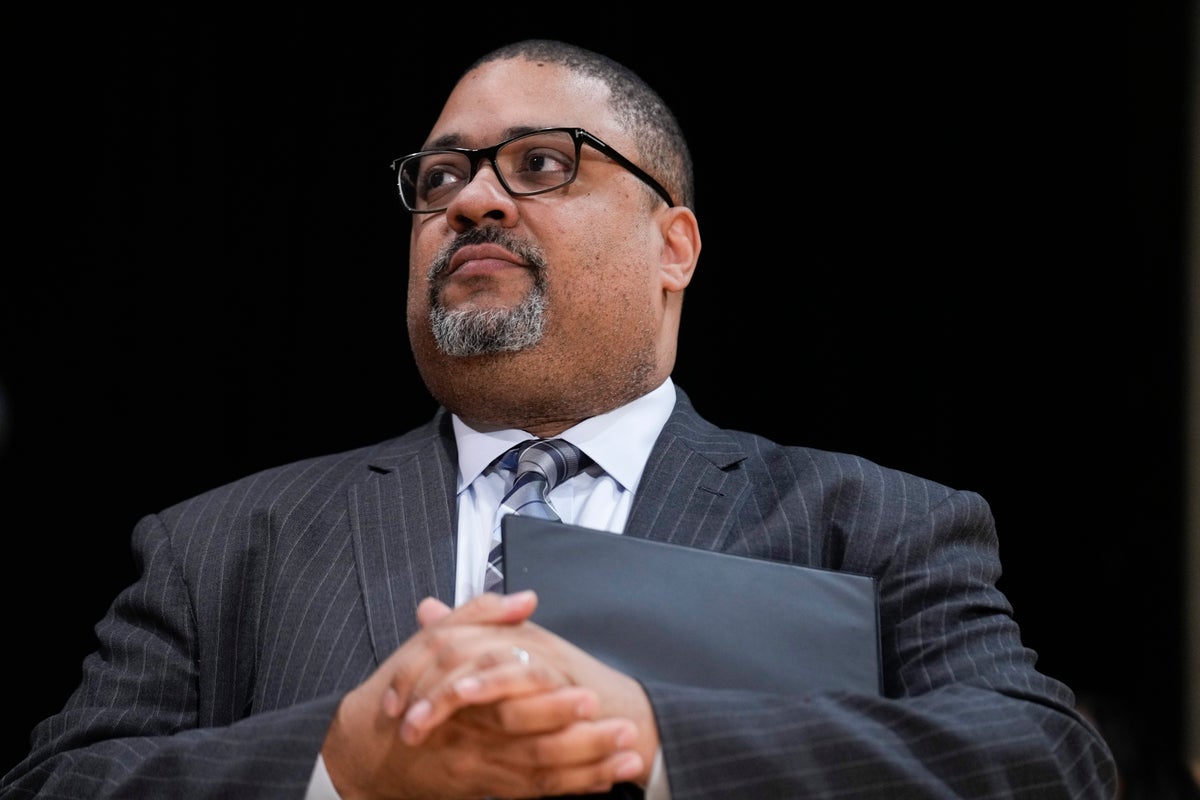 Former president Donald Trump fired out three furious all-caps posts on his Truth Social page on 18 March, invoking images of burning cities and World War III while stoking unrest with a call for his supporters to "protest, protest, protest" what he predicted would be his arrest in New York.
Alvin Bragg – the Manhattan district attorney whose office is overseeing a criminal investigation into the former president's business practices following long-running allegations of fraud – issued a memo to his staff in response, stressing that he does "not tolerate attempts to intimidate our office or threaten the rule of law in New York."
His internal message did not mention the former president by name or his incendiary rhetoric, but he referred to "public comments surrounding an ongoing investigation by this office."
Mr Bragg has been tight-lipped about the case and his office's work, ensuring in his recent memo that, "as with all of our investigations, we will continue to apply the law evenly and fairly, and speak publicly only when appropriate."
But he could make history with a looming indictment against the former president, potentially the first to ever face criminal charges.
Right-wing opponents, meanwhile, have bombarded Mr Bragg's office with claims of election interference or raised baseless conspiracy theories, including antisemitic and racist attacks, that accuse Mr Bragg of leading a politically motivated case against the 2024 candidate for president.
Mr Trump's allies and right-wing pundits have baselessly accused Manhattan prosecutors of mounting a politically motivated investigation while ignoring violent crime.
Last year, homicides in New York City fell by 12 per cent while shootings dropped by 17 per cent compared to 2021, the lowest rates since 2019, and significantly lower than massive surges in 1980s and 1990s. Spikes in robberies and burglaries drove a 22 per cent overall jump in so-called major crimes, and overall crimes dropped precipitously in February with significant decreases in murders, shootings and subway crimes, continuing what New York City Police Department officials report as a downward trend.
The former president and other right-wing conspiracy theorists have also placed Mr Bragg at the centre of antisemitic and racist conspiracy theories, alleging Jewish billionaire philanthropist George Soros is directing Mr Bragg's investigation at the expense of the lives of Black New Yorkers. On 19 March, Fox News programme Fox & Friends said that the Black prosecutor "has to pay his master back" by prosecuting Mr Trump.
Manhattan's first-ever Black district attorney was overwhelmingly elected to the role in 2021 with 84 per cent of the borough's vote.
A criminal investigation into Mr Trump's business empire includes a hush-money payment to adult film star Stormy Daniels and long-running allegations that he inflated the value of his properties and assets to fraudulently obtain loans and defraud his lenders, which also is at the centre of a separate civil lawsuit from the office of the New York Attorney General.
Mr Bragg inherited the case from his predecessor Cy Vance, who began his investigation into Mr Trump while he was still in the White House.
The 49-year-old former state attorney and federal prosecutor from Harlem has been involved with lawsuits against the Trump administration more than 100 times.
As the chief deputy attorney general for the state of New York, Mr Bragg led a lawsuit against the Donald J Trump Foundation, which resulted in then-president Trump admitting that he used the organisation for political purposes and for his business under an alleged scheme that the office of New York attorney general called "a shocking pattern of illegality". The foundation agreed to pay out $2m to charities and agreed to dissolve.
In November 2021, Mr Bragg handily defeated Republican opponent Thomas Kenniff in a general election for New York County District Attorney. He was sworn into office on 1 January 2022.
"In addition to being the first Black district attorney, I think I'll probably be the first district attorney who's had police point a gun at him," Mr Bragg said during a victory speech after his election.
"I think I'll be the first district attorney who's had a homicide victim on his doorstop. I think I'll be the first district attorney in Manhattan who's had a semi-automatic weapon pointed at him. I think I'll be the first district attorney in Manhattan who's had a loved one re-enter from incarceration and stay with him," he added. "And I'm going to govern from that perspective."
An early memo from Mr Bragg's office said he would only seek jail time for the most serious offences with a goal to keep non-violent or first-time offenders out of jail, stressing that locking people up does not stop or slow crime. After widespread criticism from police groups and public officials, he later clarified that prosecutors ultimately have that discretion.
But the pledge outraged right-wing tabloids and Republican officials; Mr Bragg's policy likely would have had a significant impact on hundreds of people routinely sent to jail for non-violent crimes, an effort that has increasingly seen bipartisan support.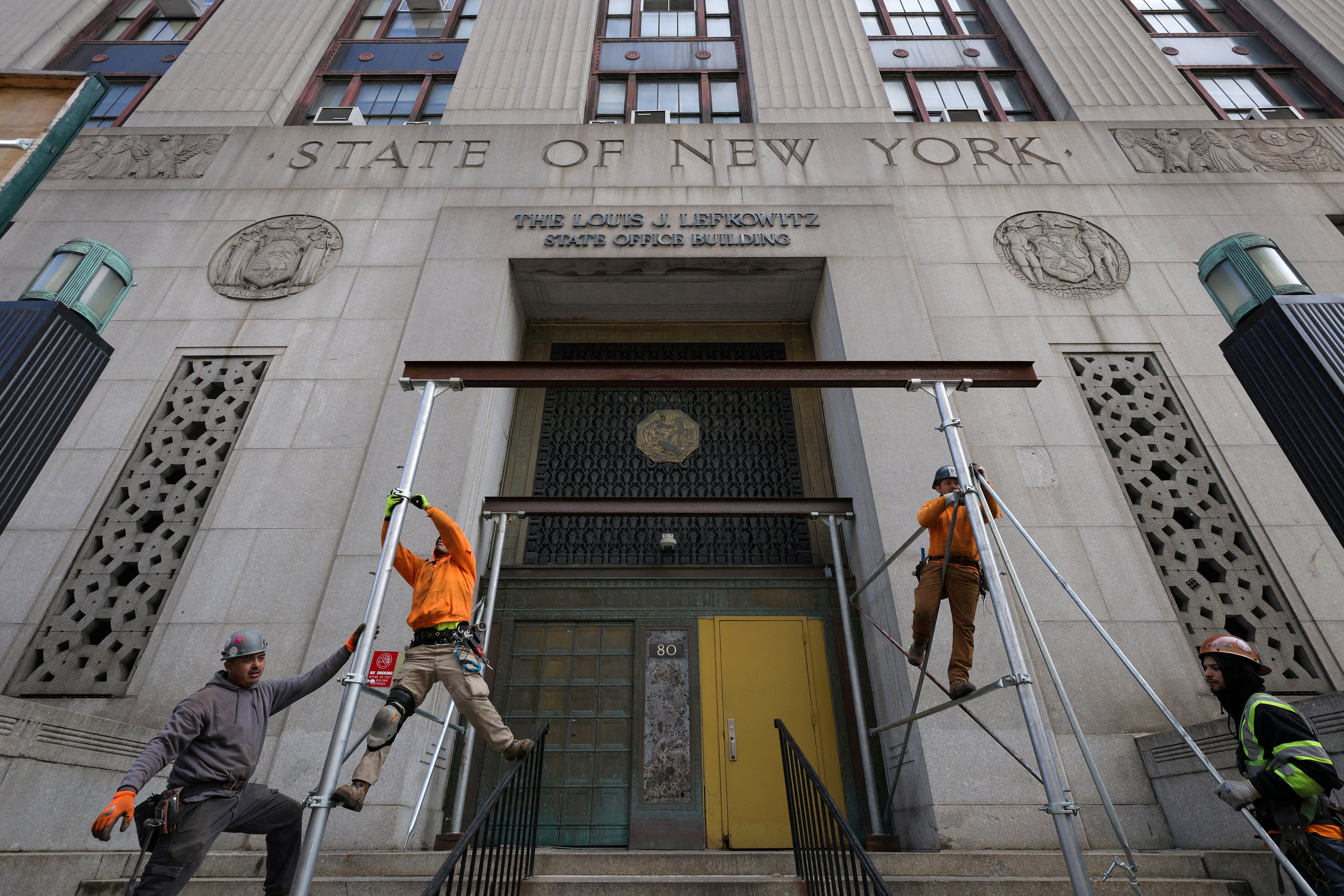 Right-wing media and Republican officials routinely painted New York City as lawless and crime-infested, pointing the blame at recent laws aimed at reforming the money bail system.
New York's Division of Criminal Justice Services, however, has reported that the re-arrest rate is "nearly identical" since the reforms were implemented in 2020. Criminologists have not made any meaningful connections between crime rates and so-called "progressive" prosecutors.
Mr Bragg's office and investigations were roundly criticised by Republican candidates across the country in last year's elections, including by then-candidate for New York governor Lee Zeldin, a campaign that the GOP hoped would chip away at the state's reliable Democratic firewall ahead of 2024.
Mr Zeldin accused the district attorney of abandoning his duties and "refusing to enforce the law" after Mr Bragg pledged that his office would limit the kinds of cases for which prosecutors would seek prison sentences, a line of attack that echoed across the country as candidates pounced on progressive prosecutors to advance a "tough on crime" message. (Mr Zeldin's campaign also aired a violent advert telling voters to cast their ballots "like their lives depended on it".)
While in office, Mr Bragg also opened a new Special Victims Division to focus on sex crimes, human trafficking and domestic violence. The office's hate crimes unit also has expanded with additional prosecutors and investigators.
After he was repeatedly asked that year whether an investigation into Mr Trump and his Trump Organization was still ongoing, Mr Bragg said: "It is."
Prosecutors "are going through documents, interviewing witnesses and exploring evidence not previously explored," he added.
Mr Trump's former personal attorney Michael Cohen pleaded guilty in 2018 to a federal charge relating to a $130,000 payment made to adult film star Stormy Daniels two years earlier in the run up to 2016's presidential election. Notably, the case from federal prosecutors during the Trump administration who outlined Cohen's actions made in service of then-President Trump.
The payment allegedly intended to buy Ms Daniels' silence before she spoke publicly about an alleged affair with then-candidate Trump. Cohen was allegedly repaid the money he gave to her in payments that could be grounds for felony falsification of business records. Mr Trump has continued to deny the affair.
Mr Trump appears to have been the only person to have "leaked" news of his predicted arrest. He made similar claims during a federal law enforcement search of his Mar-a-Lago property in Florida, publicising that a "raid" was underway before law enforcement agencies did.
Media outlets had previously reported that the former president could face possible criminal charges in New York; Mr Trump did not publicly announce whether he had been informed by law enforcement about any charges. A spokesperson for Mr Trump later clarified that there "has been no notification" of any such charges or plans for an arrest.