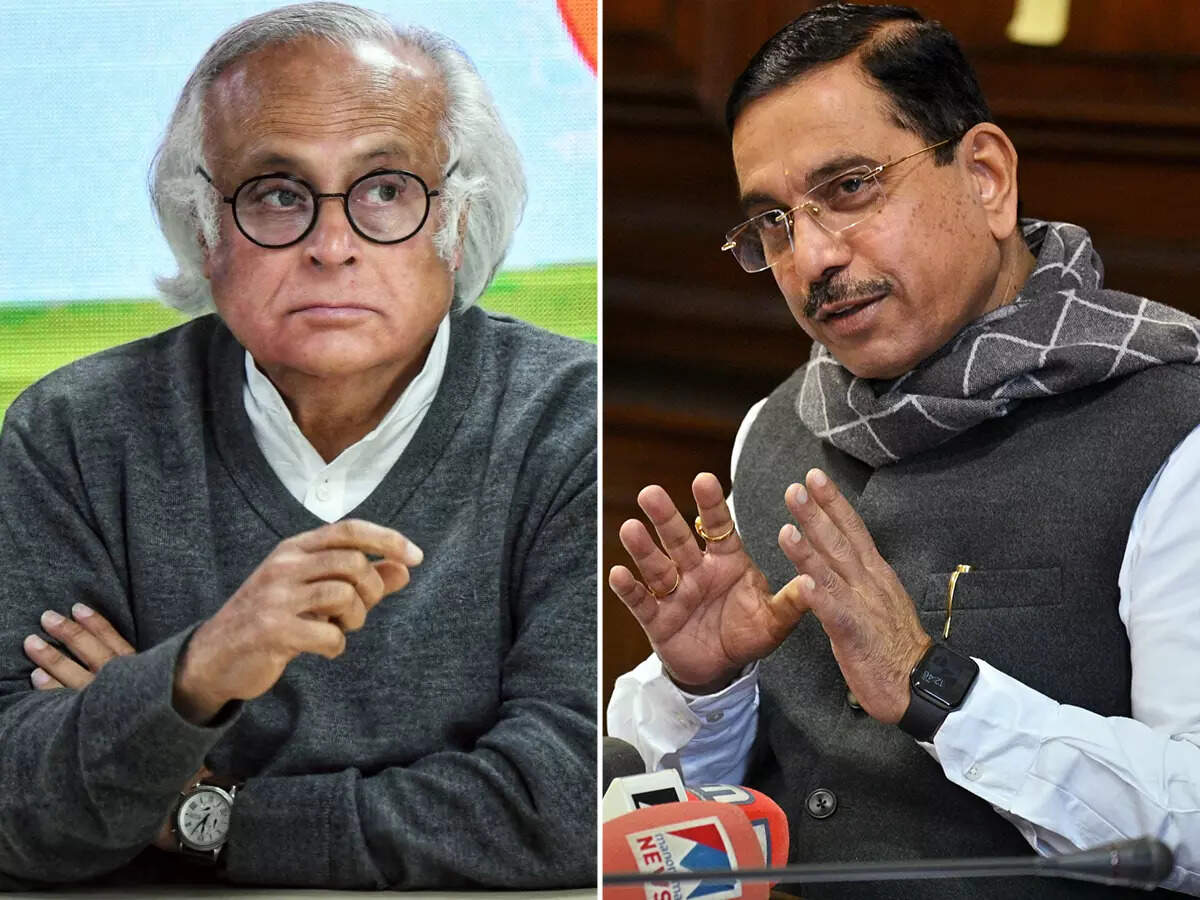 NEW DELHI: Union parliamentary affairs minister Pralhad Joshi, after having proved wrong over his claim that the Bharat Jodo Yatra had been suspended for a few days in the last week of December for Rahul Gandhi to holiday abroad, continues to evade the Congress's persistent demand to apologise.
In an unusual stance, Congress leaders have doggedly pursued Joshi to apologise for stating that Rahul Gandhi would holiday abroad during the Bharat Jodo Yatra's nine-day break from December 25 to January 2 after reaching Delhi.
Congress leaders have demanded the Union minister's apology on at least four different occasions. Joshi has so far neither apologised nor replied to Congress leaders' repeated demands for apology.
The Bharat Jodo Yatra, which was flagged off from Kanyakumari in Tamil Nadu on September 7, reached the national capital on December 24. The yatra went into a break for the repair and maintenance of the containers and to make them ready for the winter season before it proceeded towards Punjab, Himachal Pradesh and Jammu and Kashmir.
A war of words ensued between Congress leaders and Joshi after Parliament was adjourned sine die on December 23, six days before its scheduled adjournment of the winter session on December 29.
Rajya Sabha MP and Congress general secretary in-charge of communications Jairam Ramesh said the early adjournment vindicated the demand of the opposition parties as not many Bills were left for discussion and passage in Parliament.
He said, "Parliament will adjourn sine die tomorrow at 11.30 am.This was a demand by the opposition parties long ago since there weren't many Bills to be passed. The Modi government which never listens, suddenly agreed so that its use of Covid-19 to defame and derail Bharat Jodo Yatra acquires a shade of respectability."
Ramesh also took a dig at the Narendra Modi government for issuing an advisory to the Congress for following Covid-19 guidelines in the yatra. He was referring to Union health minister Mansukh Mandaviya's letter written in December to Rahul Gandhi and Rajasthan chief minister Ashok Gehlot to follow Covid-19 protocol or suspend the Bharat Jodo Yatra in "national interest".
The Congress leader further said, "Now, will the Modi government make masks and sanitisers compulsory, curtail international flights and ban public gatherings? The #BharatJodoYatra will abide by a science-based and medical evidence-based protocol."
Responding to Ramesh, Pralhad Joshi mocked Rahul over his alleged frequent foreign visits, particularly on Christmas and new year, in the past. "We waited the entire #WinterSession2022 to see you and your leader in the House, but to no avail. But as always, your leader is breaking the yatra to holiday abroad. You remembered Parliament now!... You sing different tunes and have no control over (your) own leaders in Parliament. They demanded a curtailing of the session on the 23rd and it seems you differ?"
The minister also said, "It was a unanimous decision to adjourn the winter session ahead of its schedule... I want Rahul Gandhi to continue (Bharat Jodo Yatra). There is a track record that wherever he goes, Congress will be defeated there but I hope he will follow health guidelines."
Joshi's barb seems to have irked the Congress leaders. Ramesh claimed that Rahul would not go abroad during the break. He also threw a challenge saying if Rahul went abroad, he would apologise to the minister and if he did not go, the minister would have to tender an apology to him.
The Congress leaders waited for the opportune time to hit back. They lashed out at the minister first when Rahul stayed put in the national capital on Christmas.
The next morning, he paid tributes at the memorials of Mahatma Gandhi and former prime ministers Jawaharlal Nehru, Indira Gandhi, Lal Bahadur Shastri, Rajiv Gandhi, Chaudhary Charan Singh and Atal Bihari Vajpayee.
While addressing media persons later on December 26, Congress spokesperson Supriya Shrinate demanded the BJP leader's apology.
She said, "BJP leaders used to say that Rahul Gandhi will go abroad to spend the Christmas holidays. But today in the bitter cold, when the BJP leaders were engaged in breaking India while wearing blankets, Rahul Gandhi was paying homage at the memorials of great men. Will the army of 'Mafiveer' apologise? They have a habit of apologising. It should not be a problem for them to apologise once again."
The next occasion when the Congress demanded Joshi's apology was on December 31, the day Rahul addressed the media persons at the All India Congress Committee (AICC) headquarters in the capital.
Ramesh said, "@JoshiPralhad-avare. Awaiting your public apology. I won the challenge thrown after your absolutely bogus remarks on @RahulGandhi a few days back. You were proved totally wrong!"
Jairam Ramesh persisted with his demand for an apology from Joshi on January 2, a day before the Bharat Jodo Yatra resumed its journey from Delhi. "C'mon @JoshiPralhad-avare! You make big, bold and bogus statements hoping to get away with it. You have been caught lying! Least you apologised for what you had said on @RahulGandhi and #BharatJodoYatra," he said.
Ramesh, former Union environment minister in the Manmohan Singh government, targetted the parliamentary affairs minister at the announcement of Parliament's budget session.
Joshi, in a tweet, said, "Budget Session, 2023 of Parliament will commence from 31 January and continue till 6 April with 27 sittings spread over 66 days with usual recess. Amid Amrit Kaal looking forward to discussions on Motion of Thanks on the President's Address, Union Budget and other items… During the Budget Session, 2023 the recess will be from 14 February till 12 March to enable the department related Parliamentary Standing Committees to examine the Demands for Grants and make reports relating to their Ministries/ Departments."
Ramesh seized the opportunity to corner Joshi once again. He said, "When are you going to apologise Joshi-avare @JoshiPralhad? I had challenged you for your lies on @RahulGandhi during 9-day break of #BharatJodoYatra. If you were proved right, I'd apologise. If you were proved wrong, which you have been, you should. Daro Mat. Maafi Maang Lijiye!"
A response from Joshi is still awaited.