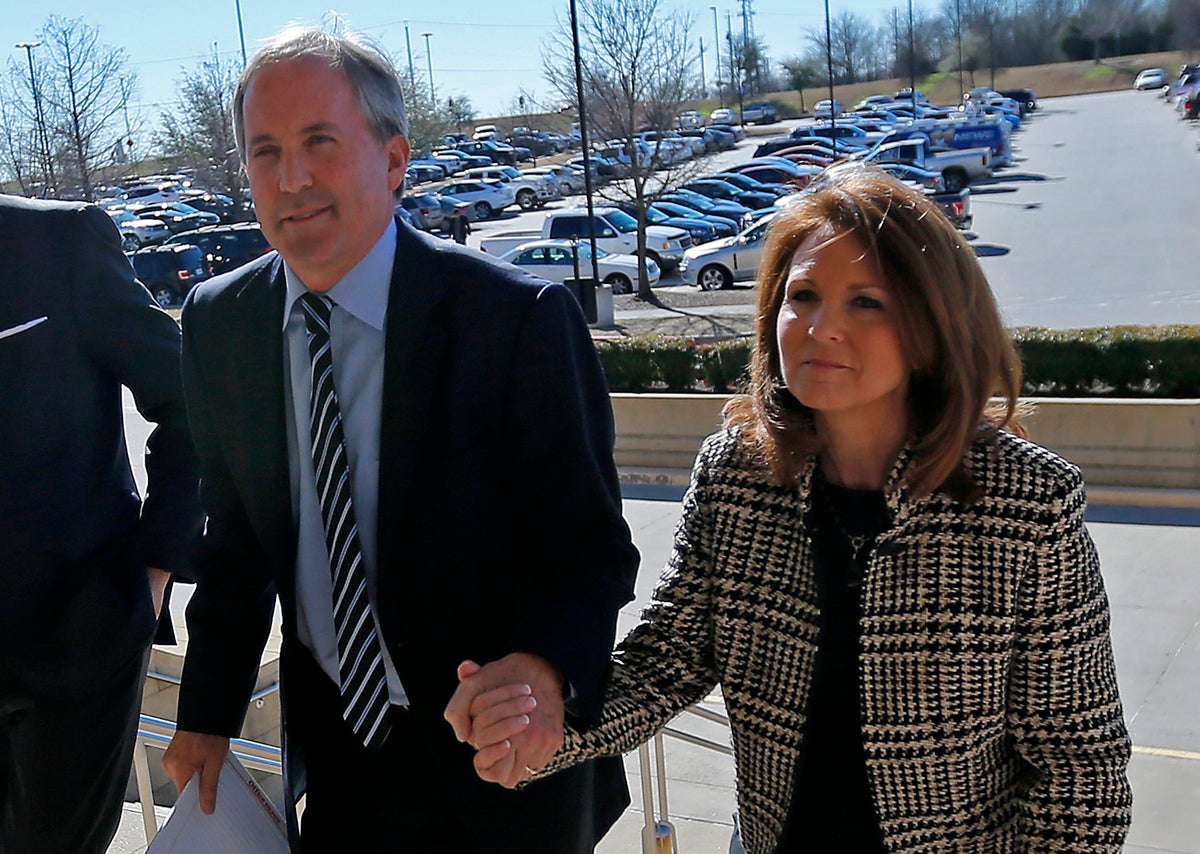 The Texas Senate is set to gavel in Tuesday for the impeachment trial of state Attorney General Ken Paxton – a formal airing of corruption allegations that could lead Republican lawmakers to oust one of their own as lead lawyer for America's largest red state.
In May, the state House of Representatives voted overwhelmingly to impeach Mr Paxton on articles including bribery and abuse of public trust.
It was a sudden rebuke by the GOP-controlled chamber of a star of the conservative legal movement who has weathered years of scandal and alleged crimes.
Mr Paxton is only the third sitting official in Texas' nearly 200-year history to be impeached.
The House vote suspended the 60-year-old from the office he used in 2020 to ask the US Supreme Court to overturn President Joe Biden's electoral defeat of Donald Trump.
Mr Paxton decried the impeachment as a "politically motivated sham" and said he expects to be acquitted. His lawyers have said he won't testify before the Senate, but the trial remains fraught with political and legal risk.
The attorney general is under federal investigation for the same conduct that prompted his impeachment, and his lawyers say removal from office would open the door to Mr Paxton taking a plea in a long-stalled state fraud case.
Here's what Mr Paxton is accused of and how the trial will work:
Why was Paxton impeached?
At the centre of Mr Paxton's impeachment is his relationship with a wealthy donor that prompted the attorney general's top deputies to revolt.
In 2020, the group reported their boss to the FBI, saying he broke the law to help Austin real estate developer Nate Paul fight a separate federal investigation. Mr Paul allegedly reciprocated, including by employing a woman with whom Mr Paxton had an extramarital affair.
Mr Paul was indicted in June on federal criminal charges that he made false statements to banks to get more than $170m in loans. He pleaded not guilty.
Mr Paul gave Mr Paxton a $25,000 campaign donation in 2018 and the men bonded over a shared feeling that they were the targets of corrupt law enforcement, according to a memo by one of the staffers who went to the FBI. Mr Paxton was indicted on securities fraud charges in 2015 but is yet to stand trial.
Texas Attorney General Ken Paxton and his wife

— (The Dallas Morning News)
The eight deputies who reported Mr Paxton – largely staunch conservatives whom he handpicked for their jobs – went to law enforcement after he ignored their warnings to not hire an outside lawyer to investigate Paul's allegations of wrongdoing by the FBI. All eight were subsequently fired or quit and four of them sued under the state whistleblower act.
Mr Paxton is also accused of pressuring his staff to intervene in other of Mr Paul's legal troubles, including litigation with an Austin-based nonprofit group and property foreclosure sales.
What did Paxton get in return?
In return, the impeachment prosecutors say Mr Paul bankrolled renovations to one of Mr Paxton's homes and facilitated his affair.
Mr Paxton privately acknowledged the affair with a state Senate aide in 2018 and told a small group of staff that it was over. But the impeachment prosecutors say Mr Paxton carried on with the woman, who Mr Paul hired in Austin so she could be closer to the attorney general.
The developer also allegedly set up an Uber account under a pseudonym that Mr Paxton used to discreetly see the woman.
After Mr Paxton's staff revolted, the attorney general rushed to cover up that Mr Paul had paid for costly renovations to his million-dollar Austin home, according to the prosecutors.
Mr Paxton's lawyers released documents showing he paid a company tied to Mr Paul hours after his deputies went to the FBI.
How will the impeachment trial work?
The Senate trial is expected to last two or three weeks and will have elements that resemble proceedings in criminal and civil courts.
There's a defendant, defense lawyers, prosecutors, opening statements, closing arguments and witnesses who will be called to testify and can be cross-examined. The "jury" is the 31-member Senate. Lt. Gov. Dan Patrick, a Republican, presides over the Senate and will serve as the "judge."
Ken Paxton says gun control laws 'wouldn't have stopped' deadly school shooting
A two-thirds majority of the chamber — or 21 of the 31 senators — must vote against Mr Paxton to secure a conviction. That's where the politics come into play. There are 19 Senate Republicans and 12 Democrats. If all 12 Democrats vote to convict Mr Paxton, they still need at least nine Republicans.
Or, the Senate could vote by a simple majority to dismiss the charges against him.
Among the senators is Mr Paxton's wife, Angela Paxton. Trial rules don't allow her to participate or to vote. But her presence, which is mandated by state law, means she counts as one of the 31 senators present at the trial.
There are other conflicts that likely wouldn't be allowed in a court of law.
Mr Patrick loaned Mr Paxton's 2022 reelection campaign $125,000, and this year accepted $3m in campaign donations and loans from Defend Texas Liberty, a pro-Paxton political action committee.
Another Republican senator, Brian Hughes, may be called by prosecutors to testify, and the woman Mr Paxton had an affair with used to work for Republican Senator Donna Campbell.
What happens if Paxton is convicted?
Mr Paxton has been suspended without pay since the House voted in May to impeach him. If the Senate convicts him, he would be removed from office.
But it would take another Senate vote to decide whether he should be permanently barred from holding office. That would also require a two-thirds majority, or 21 votes.
In 1917, Governor James "Pa" Ferguson was removed from office for misapplication of public funds, embezzlement and the diversion of a special fund. The Senate also voted to bar him from holding future office.
That didn't entirely remove him from Texas politics. Mr Ferguson's wife, Miriam "Ma" Ferguson, ran for governor in 1924 promising she would seek her husband's advice and Texas would "get two governors for the price of one." She was elected twice, first in 1924 and again in 1932.