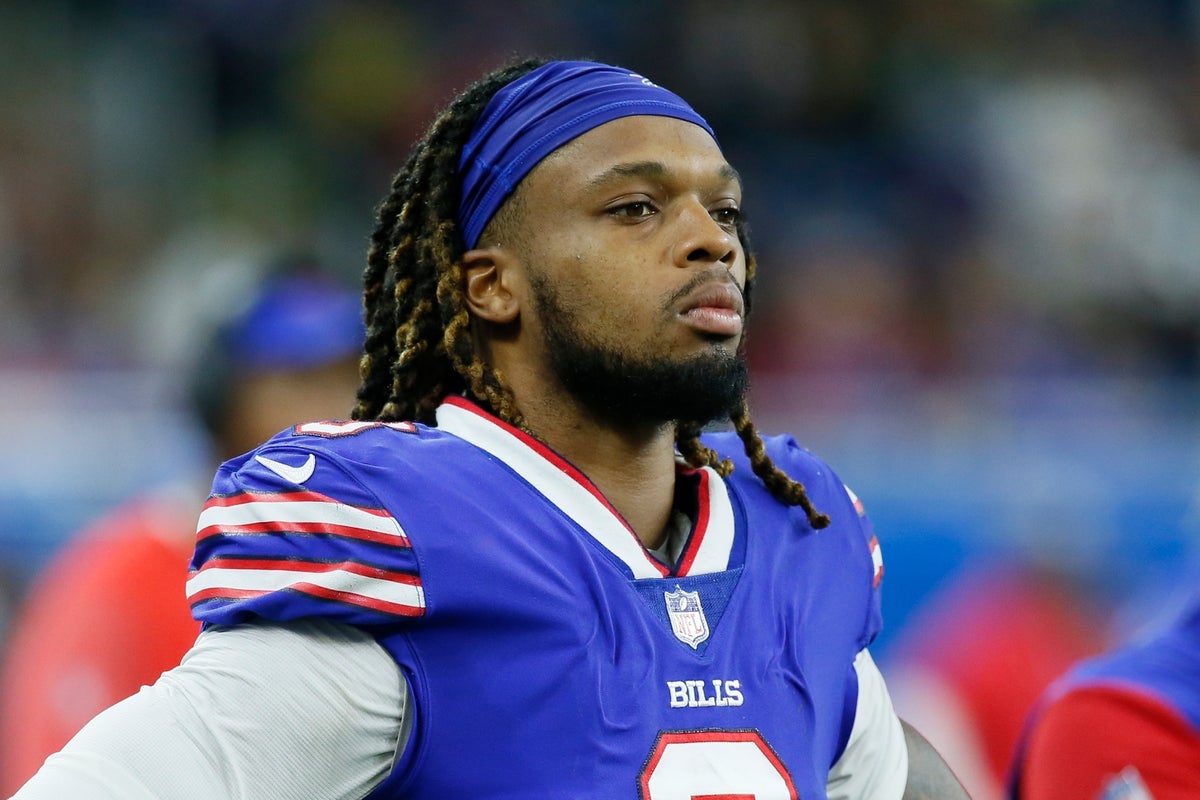 NFL player Damar Hamlin suffered a cardiac arrest during a game on 2 January.
The Buffalo Bills safety collapsed on the field shortly after making a tackle during the clash with the Cincinnati Bengals at the Paycor Stadium in Cincinnati.
Team and independent medical personnel and local paramedics administered CPR and restored Hamlin's heartbeat before he was taken from the field in an ambulance and on to the University of Cincinnati Medical Center.
The Bills later confirmed he had been sedated and "listed in a critical condition." The next day, Hamlin's family explained that while he was still in a critical condition in the ICU, he was at least "trending upwards" and that good news was echoed on 4 January with an update saying he was moving in "a positive direction".
There were further updates on 5 January as the Bills released a statement saying Hamlin had "shown remarkable improvement" and appears to be "neurologically intact", with his teammate Kaiir Elam going on to say that the 24-year-old safety was "awake" in hospital, while other reports stated that he had opened his eyes and was gripping the hands of those close to him.
Hamlin's teammates were visibly emotional as he was initially treated on the field with several, including star wide receiver Stefon Diggs, staying behind to be with him when the team returned to New York in the early hours of 3 January.
Fans of both teams gathered outside the hospital, holding lit candles and praying.
The game, pivotal in the AFC playoff race with just a week remaining of the regular season, was postponed with the NFL confirming it won't be played.
What happened to Damar Hamlin?
Hamlin was hurt while tackling Bengals receiver Tee Higgins in the first quarter of the game on a seemingly routine play that didn't appear unusually violent.
Higgins was running with the ball on a 13-yard pass from Joe Burrow when he led with his right shoulder, hitting Hamlin in the chest.
Hamlin then wrapped his arms around Higgins' shoulders and helmet to drag him down. Hamlin quickly got to his feet, appeared to adjust his face mask with his right hand, and then fell backwards about three seconds later and lay motionless.
Hamlin was down for 19 minutes while receiving medical attention. Local reports in Cincinnati said that Hamlin required an automated external defibrillator (AED) in addition to CPR on the field.
What did the NFL and teams say?
A Bills statement read: "Damar Hamlin suffered a cardiac arrest following a hit in our game versus the Bengals.
"His heartbeat was restored on the field and he was transferred to the UC Medical Center for further testing and treatment. He is currently sedated and listed in critical condition."
In a further statement, the NFL said: "Hamlin received immediate medical attention on the field by team and independent medical staff and local paramedics.
"He was then transported to a local hospital where he is in a critical condition."
A statement from the NFL Players Association said: "The NFLPA and everyone in our community is praying for Damar Hamlin.
"We have been in touch with Bills and Bengals players, and with the NFL. The only thing that matters at this moment is Damar's health and well-being."
Jordon Rooney, Damar Hamlin's friend and marketing representative, published a statement on behalf of the Hamlin family on Tuesday.
"On behalf of our family, we want to express our sincere gratitude for the love and support shown to Damar during this challenging time. We are deeply moved by the prayers, kind words, and donations from fans around the country.
"We also want to acknowledge the dedicated first responders and healthcare professionals at the University of Cincinnati Medical Center who have provided exceptional care to Damar. We feel so blessed to be part of the Buffalo Bills organization and to have their support.
"We also want to thank Coach Taylor and the Bengals for everything they've done. Your generosity and compassion mean the world to us.
"Please keep Damar in your prayers. We will release updates as soon as we have them."
About a week after his injury, Hamlin left hospital in Cincinnati and continued his recovery in Buffalo. He is now resuming his recovery at home, with Hamlin showing remarkable progress in the days and weeks after suffering cardiac arrest on the field.
What about players?
Higgins, the player Hamlin tackled, tweeted: "My prayers and thoughts go out to HamlinIsland the Hamlin Family. I'm praying that you pull through bro. Love." Higgins added a prayer and blue heart emoji.
Bills quarterback Josh Allen said on his personal Twitter account: "Please pray for our brother."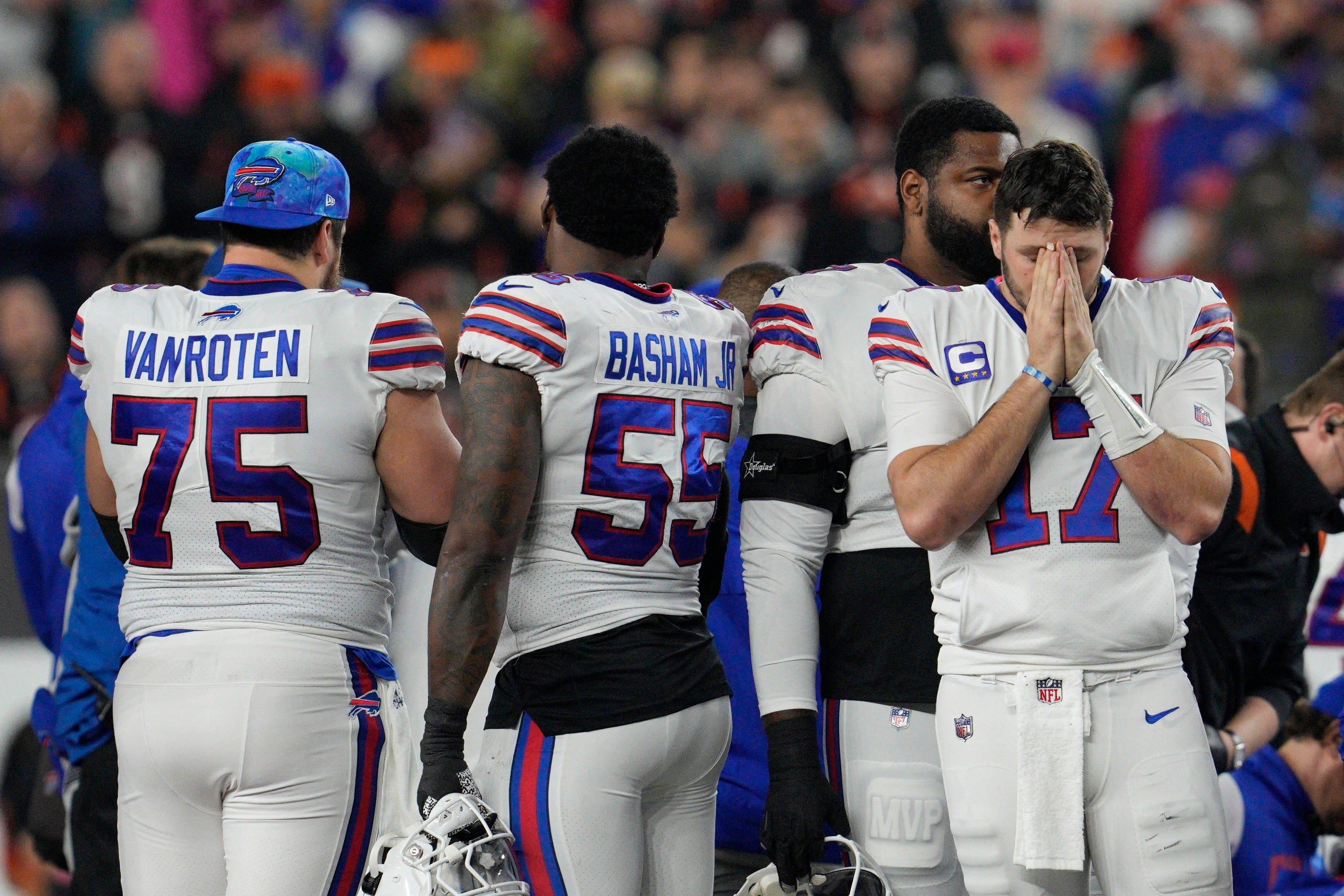 Arizona Cardinals' JJ Watt, a three-time NFL defensive player of the year tweeted: "The game is not important. Damar Hamlin's life is important. Please be ok. Please."
Basketball star LeBron James also offered has prayers to Hamlin following the Los Angeles Lakers' victory over the Charlotte Hornets on Monday night.
James said: "My thoughts and super prayers go up to the skies above for that kid's family, for him, for that brotherhood of the NFL and everybody part of the NFL family.
"It was definitely the right call to suspend that game. The safety of players in all sports is always the most important.
"It was a terrible thing to see and I wish nothing but the best for that kid, for the city of Buffalo, the franchise of the Bills, the rest of the NFL and the Bengals who were playing in that game."
Why did the NFL take so long to postpone the game?
It took the NFL about one hour after Hamlin collapsed to officially suspend the game because league executives were gathering information and communicating with referee Shawn Smith, coaches from both teams and the NFL Players Association.
Troy Vincent, the league's executive vice president of football operations, said that the NFL's Emergency Action Plan was activated. Vincent communicated with NFL Commissioner Roger Goodell and NFL Players Association executive director DeMaurice Smith.
Dawn Aponte, the league's chief football administrative officer, was at the game and communicated with Bills coach Sean McDermott and Bengals coach Zac Taylor and the referee.
"It was fluid and things were changing by the minute," Vincent said. "It was obvious on the phone that the emotions were extremely high. It was a very volatile situation."
Vincent refuted ESPN's broadcast report that both teams were given a five-minute warmup period to resume playing.
"I'm not sure where that came from," Vincent said. "It never crossed our mind to talk about warming up to resume play. That's ridiculous. That's insensitive. That's not a place we should ever be in."
What is Hamlin's background?
Hamlin spent five years of college at Pittsburgh - his hometown - and appeared in 48 games for the Panthers over that span. He was a second-team All-ACC performer as a senior, was voted a team captain and was picked to play in the Senior Bowl.
Drafted in the sixth round by the Bills in 2021, Hamlin played in 14 games as a rookie and then became a starter this season after usual starter Micah Hyde was injured.
In 2020, Hamlin began organizing an annual Christmas toy drive in his hometown of McKees Rocks, Pa. By Wednesday morning, a community toy drive organised by Hamlin had surged past the $5.5m (£4.6m) mark in donations and was approaching $6m. His stated goal was $2,500.
Several notable names from within the world of NFL have contributed, with Tampa Bay quarterback Tom Brady donating $10,000 (£8,300). Other big donations include £18,000 from Robert Kraft and the New England Patriots, £12,000 from LA Rams quarterback Matthew Stafford and the single current biggest amount of $20,000 from Jason Hanold.
Bills offensive lineman Rodger Saffold, in a post on Twitter, described Hamlin as a "kind, caring, extremely hard worker." Saffold wrote that Hamlin is "loyal, honest and can always put a smile on your face. He is more than an athlete, he is a son and brother."
Will the NFL reschedule the game?
The Bengals vs Bills game has major playoff implications. Both teams are battling for the AFC's No 1 seed. The Bills (12-3) entered the game in the top spot while the Bengals (11-4) had a chance to clinch the AFC North with a victory and also were in the mix for the No 1 seed along with Kansas City (13-3).
The Bengals led 7-3 in the first quarter when the game was stopped.
The NFL confirmed that the game would not be played.
A league statement read: "After speaking with both teams and NFLPA leadership, NFL Commissioner Roger Goodell informed the clubs today that the Bills-Bengals game will not be resumed. Eventually, the NFL said the game would not be rescheduled.
On Saturday 14 November, Hamlin was reunited with his teammates in Buffalo for the first time since suffering his on-field collapse. Hamlin cheered on the team on 15 January from home in Buffalo.