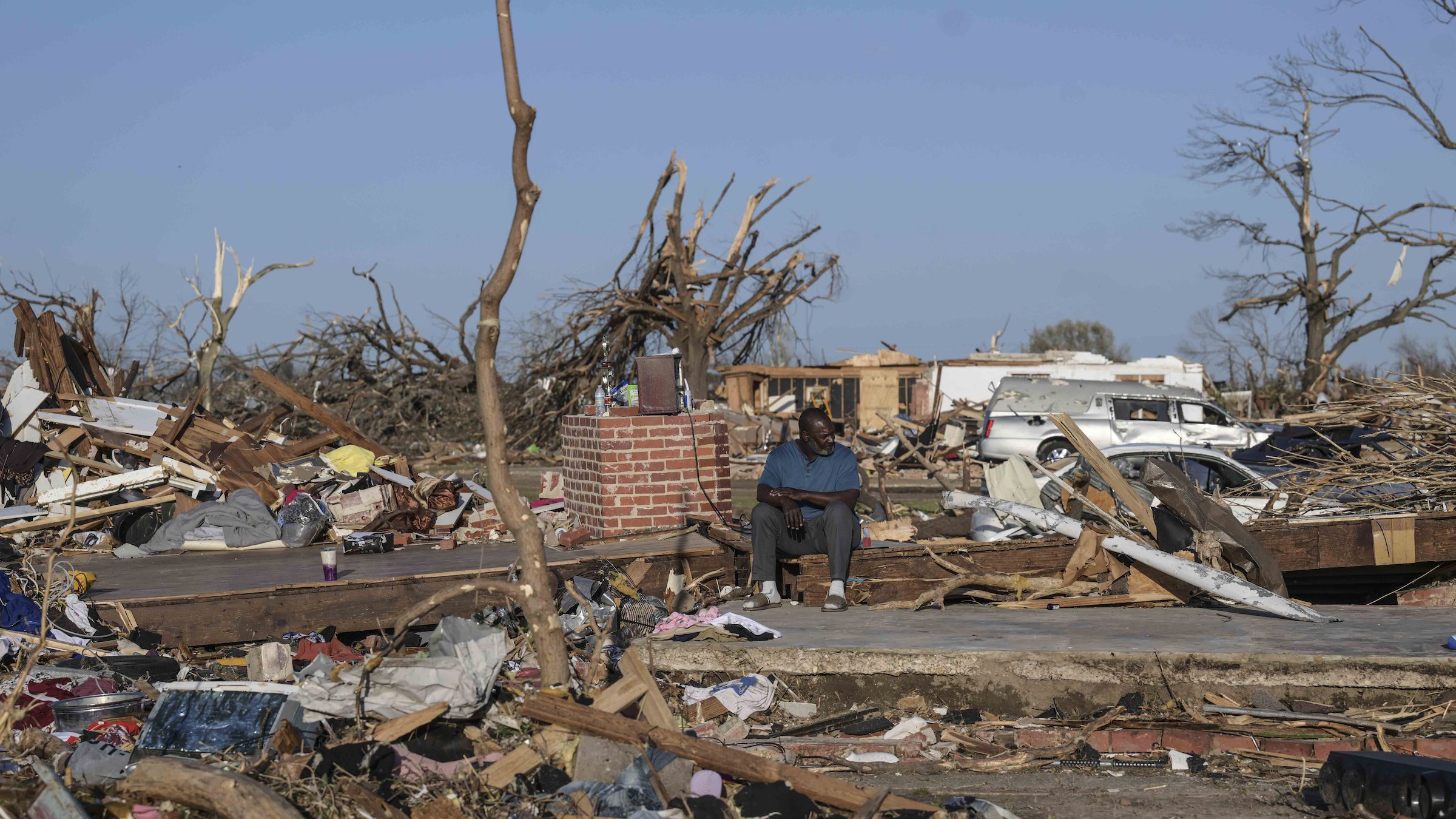 A massive tornado that was nearly a mile (1.2 kilometers) long has killed at least 26 people and injured dozens more after devastating parts of western Mississippi on Friday (March 24) night.
The storm is the deadliest in over 50 years in Mississippi, records from the National Weather Service (NWS) suggest. It hit several small towns with violent, 166 to 200 mph (267 to 322 km/h) gusts of wind, and has received a preliminary rating of EF4 on the Enhanced Fujita Scale — the second-highest category in the NWS rating system — according to a Twitter post from the NWS in Jackson, Mississippi.
"Friday night was like nothing I've ever experienced," Zachary Hall, a storm chaser who watched the tornado sweep through the small town of Rolling Fork, wrote on Twitter. "This tornado was just… different. It was scary. It was loud. It had a growl. It was a terrifying beast in the dark that literally destroyed a town."
The tornado appeared broader than its height as it thundered through the Mississippi Delta, prompting storm observers to call it a "wedge tornado" after its unusual shape. However, the informal description carries no scientific meaning, as many factors can shape the width of a tornado, according to the National Oceanic and Atmospheric Administration.
Related: Bizarre 'worm tornado' in New Jersey has scientists baffled
My final view of the Rolling Fork, Mississippi #tornado before it moved into town. Low quality screengrab from a video. I'm telling you, this tornado had a roar like I've never heard. Intense, scary tornado that inflicted major damage. @wx_Frankie pic.twitter.com/iI3lwFbIQKMarch 25, 2023
The storm that caused the tornado was one of a larger storm system that raged across California and triggered severe flooding in Arizona, eastern Oklahoma and northern Virginia, according to the Washington Post. It gathered in strength as it traveled, fueled by high surface temperatures over the Gulf of Mexico and high altitude winds from the jet stream, which generated the spin necessary to whip up a violent tornado.
The wide, upside-down triangle tornado developed into a supercell storm — an uncommon but highly destructive thunderstorm with a rotating updraft and a separate downward air spiral, according to the NWS. These opposite air currents, which enable supercell storms to sustain themselves for longer than other storms, powered the deadly twister for 1 hour and 10 minutes over a distance of 170 miles (274 km).
"The conditions were just perfect for the storm to last a very long time, and that is usually not common," Lance Perrilloux, a meteorologist with the NWS in Jackson, told the BBC. "It caused that tornado to wreak havoc for a long distance."
The White House declared a federal emergency on Sunday (March 26) morning and unlocked funding for temporary housing, repairs and relief, according to a presidential statement.
While this monster storm was devastating, it was not the biggest on record. The widest ever documented tornado was the 2.6 mile-wide (4.2 km) El Reno tornado that churned across central Oklahoma in May 2013, killing eight people and injuring 151.