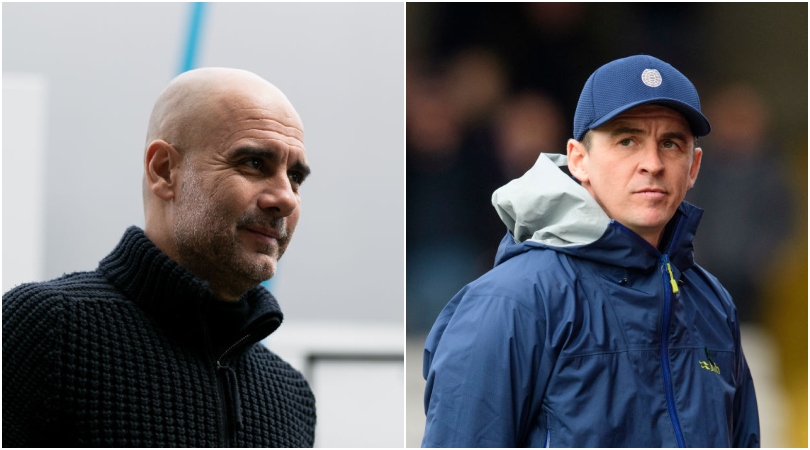 Pep Guardiola is arguably the greatest manager in world football, the Spaniard having transformed Manchester City into a dominant Premier League side since taking over in 2016.
The Spaniard's story with the club started far earlier, though, 11 years prior to taking over as manager, in fact. In 2005, aged 34 and coming to the end of his playing career, Guardiola was offered a trial at the club by then-City manager Stuart Pearce. 
Joey Barton, now managing in League One with Bristol Rovers, was a 23-year-old player for the team at the time, and recalls changing next to Guardiola in the dressing room. City didn't offer Guardiola a contract, the Spaniard ending his career at Mexican side for Dorados, but the next time Barton saw him things had completely changed.
"He changed next to me for a few weeks and we got on fantastically well – then I didn't see him again for more than 10 years and he became the best manager in the world," Barton told FourFourTwo.
"He was joking with me, saying, 'Why didn't you want me to sign for City?!' I said, 'It was nothing to do with me, it was Stuart Pearce. I'd have loved you in the team!'"
Barton has been in Guardiola's company since, using the time to learn how he has become so successful and the methods he uses to motivate his players. The Bristol Rovers boss has shunned Guardiola's invite to return to Manchester City, though, suggesting he only wants to do so when the time is right. 
"I was lucky to spend some time with Pep Guardiola at an LMA event, and I was struck by what he said, that his job was to tell the players the truth," Barton explains.
" He said, 'That isn't always easy, but I have to find that relationship with them where I can tell them the truth and the player is willing to receive it'. You have to build those relationships so that the players know when you praise them, it's authentic, and when you critique them, it's for the right reason – to make them better.
"He also said, 'Manchester City is your club, why do you never come back?' But I've just not tended to do that – all the fanboy stuff. If I go back, I'll earn the right to be there. I'm hoping to get good enough at this job to take the teams I'm working with to the Etihad as an opposing boss, or maybe one day manage some of the clubs I played for."