Vortex sucks up export earnings during Covid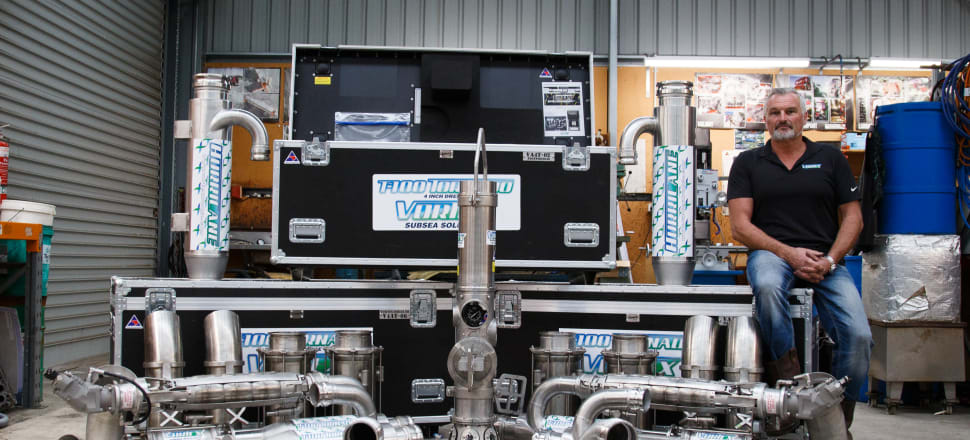 A Taranaki manufacturer hasn't let the hurdles of the Covid pandemic slow its exports of specialist underwater tools, and continues to attract international interest.
From Vortex's backyard New Plymouth workshop, high-powered, remote-operated underwater dredges, winches, and cutting tools are being manufactured and exported all around the world, continuing to earn export dollars throughout the year of Covid.
Owner Joe Goodin is a classic hands-on Kiwi designer – an out-of-the-box thinker who is constantly calculating how tools can work better. Then he makes them.
Originally trained as an engine reconditioner, Goodin was working on one of Taranaki's offshore oil and gas fields more than 10 years ago as an ROV (Remote Operated Vehicle) operator when he saw a need for a better dredge - basically a high-powered underwater vacuum cleaner.
A lot of backyard experimentation later, with support from other Taranaki engineering workshops, Joe's Vortex range of dredges are the most powerful and effective in the world. They're now being sold and hired out all around the globe – but not before he had to protect his designs with patents and lawsuits, and himself personally to prevent the concept being stolen by scurrilous operators.
"I had to physically sit on top of our first offshore dredge in a warehouse in England to avoid it being stolen by corrupt operators," remembers Goodin. "Everything was hinging on that tool so we could rent it out and start our business."
With that lesson hard learnt, he then went to Aberdeen and met Ashtead Technology which has offices in every regional oil and gas market of the world and is acknowledged as the offshore rental company with the most modern, highest performing equipment.
That was in 2009, and Ashtead Technology has now had an exclusive partnership with Vortex for more than 10 years for the supply of best-in-class dredging equipment, says Ashtead Technology's CEO, Allan Pirie.
"Vortex dredges are renowned for their performance, efficiency and reliability," says Pirie. "This agreement has strengthened Ashtead Technology's extensive global rental pool of dredging equipment and allowed us to continually supply the most advanced dredging technology to ROV and diving contractors worldwide."
In the past 12 months alone, Ashtead Technology has placed orders for Brazilian operators C-Innovation, Fugro and Oceania for sub-sea Vortex tools. Bigger contracts are on the horizon providing valuable export earnings for Vortex and supportive Taranaki engineering firms languishing with the slowdown in New Zealand's oil and gas industry.
"What has real growth potential is an order to supply the China National Offshore Oil Corporation," says Goodin.
While Goodin predominantly built the business around dredge equipment, demand for custom sub-sea tools means Vortex now specialises in others such as winches that carry 3D scanning, survey tools with lights and cameras, and cutting equipment for decommissioning old oil fields and offshore wind farms.
"We only release a new tool if it performs a task better or more efficiently than what is out there currently. The range is changing all the time. If there is a need, and it doesn't exist, we will make it."
Goodin even has ROV tools that are marine growth samplers to capture and assess biology on natural and manmade structures.
As large New Zealand operators such as Fonterra, OMV and Firstgas also start to knock on Goodin's door for tool design solutions, he attributes Vortex's success to the quality of engineering and machine shops in New Plymouth and around New Zealand.
"While I manufacture the prototype units in our workshop in New Plymouth, we subcontract out all of our production items to companies all over the North Island then bring the components to New Plymouth for assembly, commissioning and distribution to Ashtead's main hubs in Houston, Aberdeen and Singapore," says Goodin.
"The quality of the New Zealand suppliers I work with is simply world class. I have never been in another city anywhere in the world where an idea can go from a quiet beer to a market leader solving a problem for the client in such a short time."
Goodin credits those subcontractor relationships as a key part of Vortex's success.
"Sometimes it takes more than one shot at a design to hit the mark," Goodin admits. "But the time it takes to get it right is significantly reduced with our subcontractors' use of computer modelling, Finite Element Analysis (FEA), Simulated Load Testing and 3D printing in plastics and titanium."
It's a model that has been welcomed by Ashtead Technology who continue to place lucrative orders for Vortex tools and inject money into the New Zealand economy in three currencies – US dollars, Singapore dollars, and British pounds.
"It's been a pleasure to work with Joe and his team for the past decade and we look forward to continuing our partnership and supporting the market together for many more years to come," says Allan Pirie.
Goodin firmly believes New Zealand has to grow this collaborative economic model to create a value-added aspect to our advanced engineering sectors.
"Many high-end Kiwi businesses fly under the radar, quietly going about their work and content to be humbly proficient in what they do. But that attitude needs to change so we can encourage more New Zealand companies to see what is possible on the international stage."
While most of Goodin's clients are English speaking, language is still sometimes a barrier.
"I have learned to try and speak slower," says the naturally enthusiastic Goodin. "The kiwi accent can be kind of hard to understand even in other English-speaking countries. We understand ourselves - but others often do not!"
Goodin's final piece of advice about how to be successful on the international stage is to use the best tool in his toolbox – his attitude.
"Don't be afraid to take a calculated risk. When you fall down, get back up and try being smarter than before you fell. Find the best people you trust to be around you to share your ideas and grow them into reality. Some will work, and some won't. And whatever you do, do it better than anyone else."