Viral prank where man pours coffee from a balcony onto strangers gets heavily criticised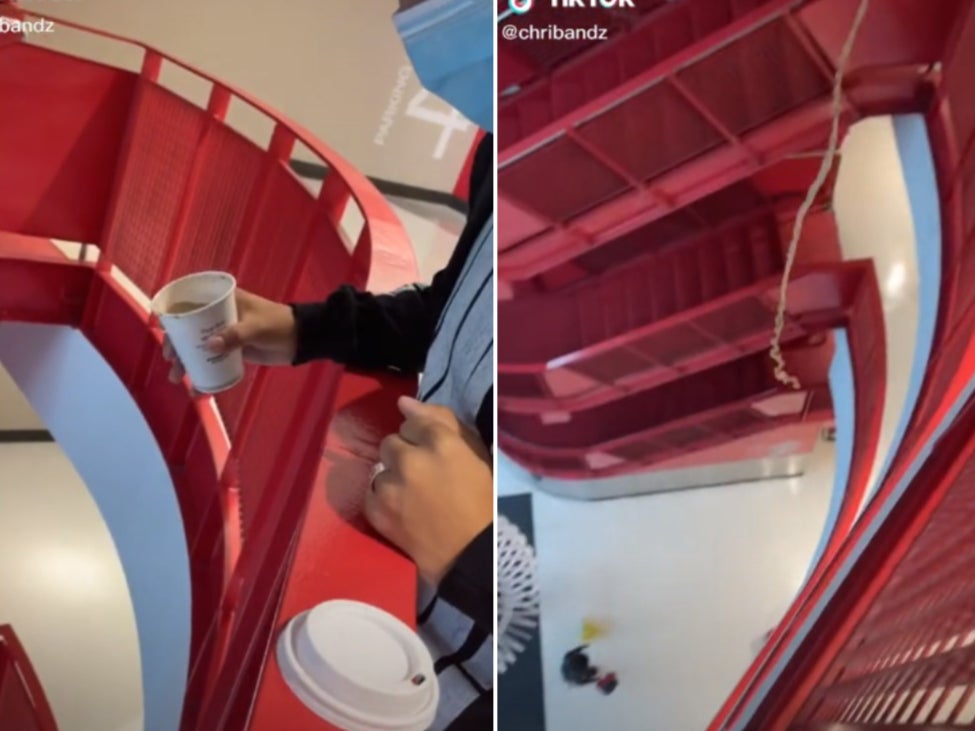 A video of a man pouring coffee off a balcony onto random strangers below has gone viral with people condemning his actions.
Posted by TikToker Chris Boat (@chrisboat), the footage shows a man wearing a mask holding a takeaway cup of coffee while leaning over the indoor balcony at a Target in Stamford, Connecticut.
The man then proceeds to tip the cup over the edge where the coffee then pours out landing on two oblivious people below. As soon as the coffee reached the floor, the man and the person filming begin to sprint away from the scene so that they wouldn't get caught.
It is only the second video that TikToker has uploaded to his account, and has already been viewed 3.1m times since it was uploaded on 10th September.
Sign up to our free Indy100 weekly newsletter 'The Viral Democracy'
The post has also received 637,000 likes and over 10,000 comments from people who have slammed the controversial prank.
One person wrote: "This will ruin someone's day."
"'Yeah bro let's ruin someone's day that'd be so funny,'" another person said.
Someone else added: "Just not funny, she could've been having a [Pile of Poo emoji] day and you did that, but it's ok since you wanna be TikTok famous so it's ok."
"Kids are starting to get more and more disrespectful," a fourth person commented.
Meanwhile, people noted that coffee was a particularly cruel liquid to use as it stains clothes and so suggested to the TikToker that he should have just used water instead.
One person said: "Water dries and comes off... coffee stains are really hard out and you ruined that person's clothes."
But the TikToker didn't seem too bothered about this and in response to this comment, replied: "Oh well."
"If it was water, this would've been funny," another person commented.
Someone else added: "I maybe would've laughed if it was water, but that's ruining their shoes and clothes."
"It would be ok if this is a warm temperature liquid but using coffee someone could actually get severe burns," a fourth person wrote
Chris commented in response that "it was cold old coffee" he found at the Target store - at least he had the courtesy not to scold them.
Indy100 has contacted Target for comment.