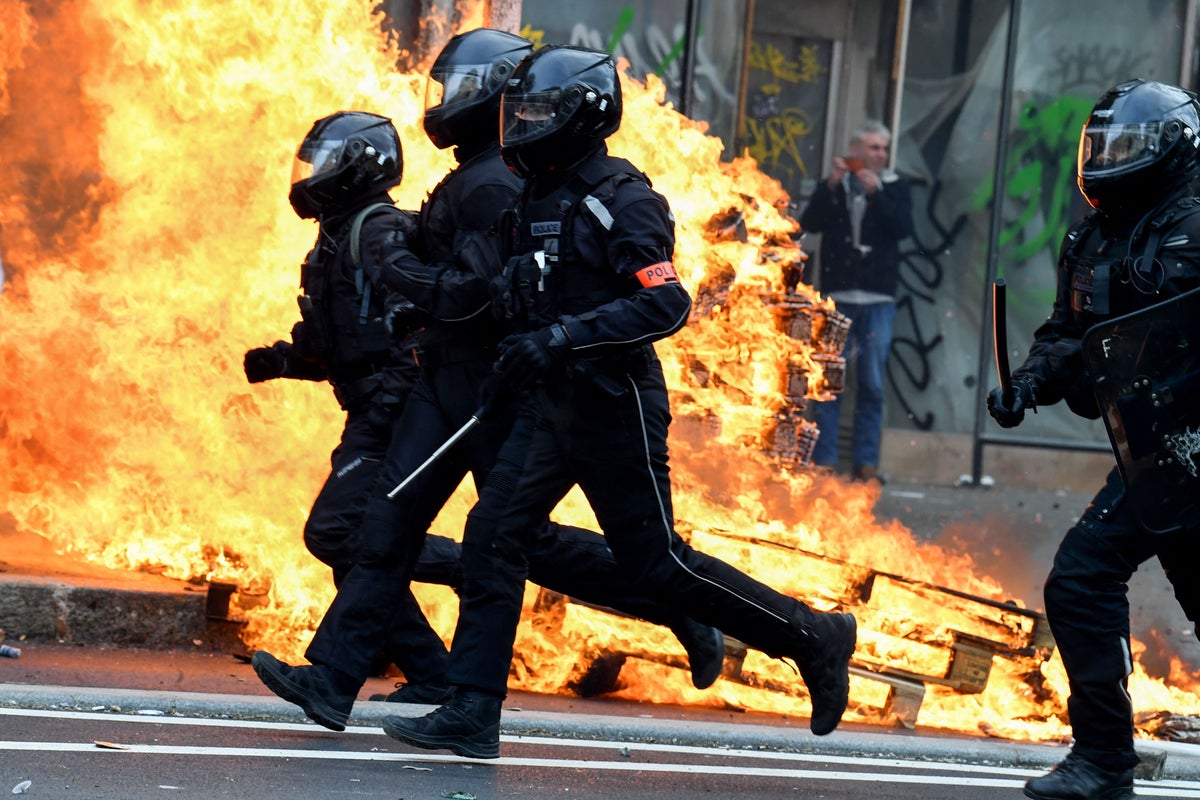 Protesters angry with president Emmanuel Macron and his plan to raise the pension age clashed with police across France on Thursday as demonstrations and strikes threaten to overshadow King Charles' official visit this weekend.
In central Paris, police used tear gas after protesters threw projectiles and set fire to uncollected rubbish piled high in the streets. A McDonald's restaurant was also ransacked.
Small groups of "Black Bloc" anarchists were seen among the protesters. Unions fear that protests could turn more violent if there continues to be no political response from the government.
Charles De Gaulle airport was hit by wildcat strike action, while high-speed trains and other public transport were disrupted nationwide. About 30 per cent of flights at Paris Orly Airport were cancelled.
The Eiffel Tower and the Versailles Palace were closed, major roads and junctions were blockaded, power output was reduced and around one-quarter of public teachers joined a national walkout.
Police fired tear gas at protesters in several cities, including the western cities of Nantes and Bordeaux. In Rennes, they used water cannons. In the western town of Lorient, Ouest-France newspaper said projectiles caused a brief fire in the yard of a police station.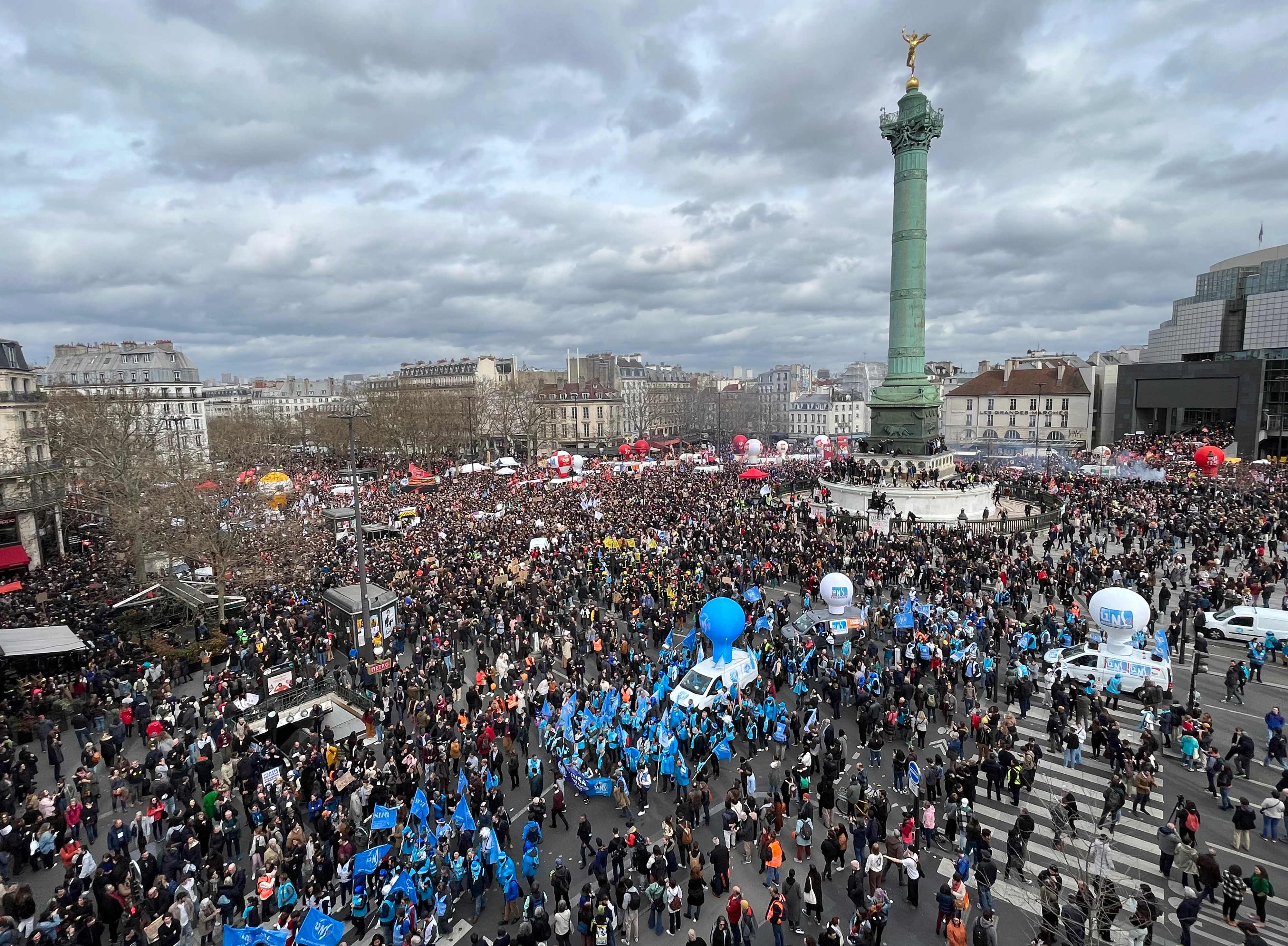 Interior minister Gerald Darmanin denounced "unacceptable assaults and damage" and said such "cannot remain unpunished".
Macron broke weeks of silence on his policy on Wednesday to say he would stand firm and the law would come into force by the end of the year. He likened the protests to the storming of the US Capitol in 2021.
"There is a lot of anger, an explosive situation," said Philippe Martinez, leader of the hardline CGT union which claimed some 800,000 protesters had taken part in a rally in Paris. He said Macron "threw petrol on the fire" with his comments.
Opinion polls have long shown that a majority of voters oppose delaying retirement age by two years to 64. Voters were further angered by the government's decision last week to push the pension changes through parliament.
"The street has legitimacy in France. If Mr Macron can't remember this historic reality, I don't know what he is doing here," 42-year-old Willy Mancel said at the Nantes rally.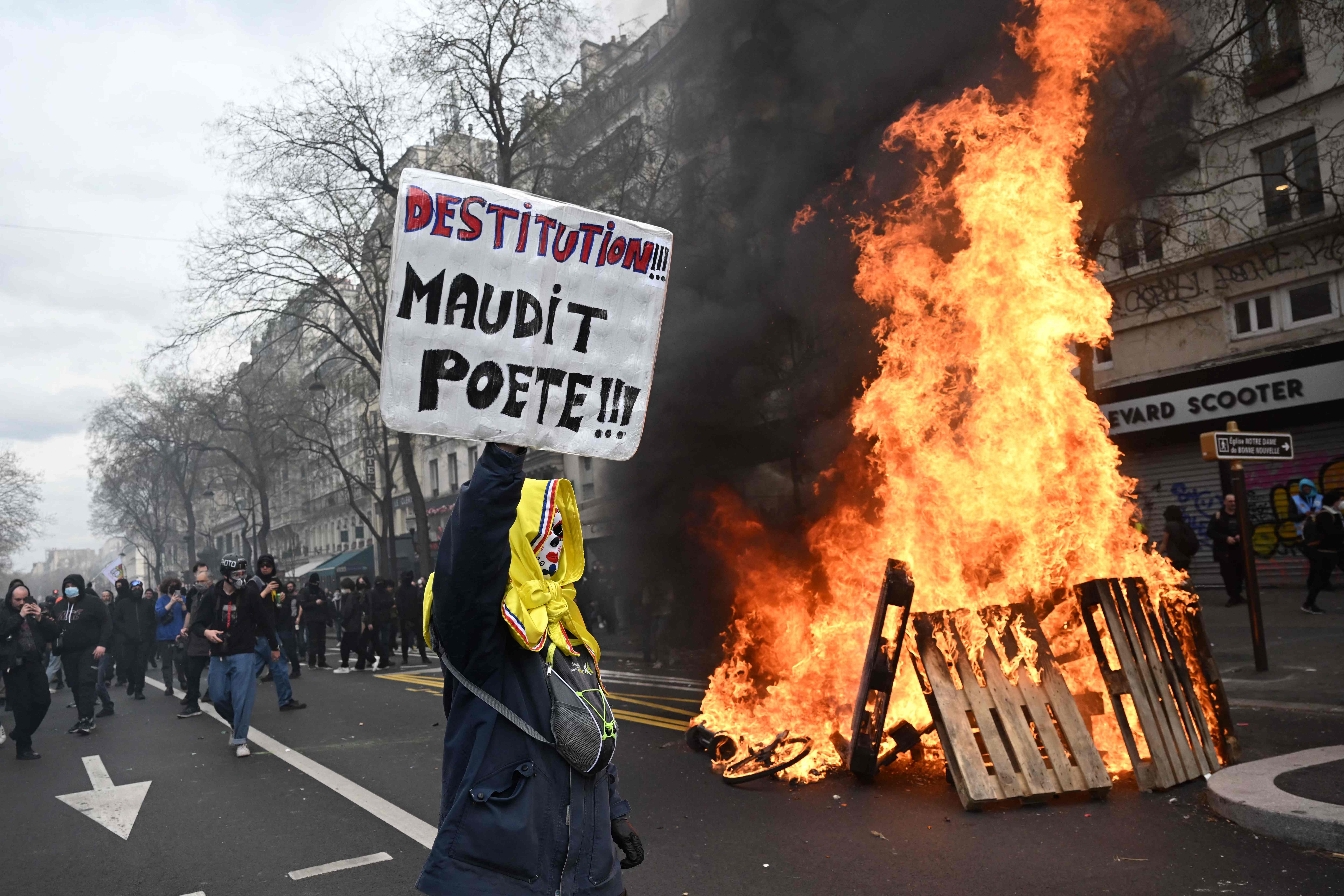 Mr Macron's government survived two no-confidence votes in the lower chamber of parliament. The 45-year-old centrist president, in his second and final term, has repeatedly said he is convinced that France's retirement system needs to be modified to make it sustainable.
Opponents proposed other solutions, including higher taxes on the wealthy or companies, which Mr Macron says would damage the economy.
The unrest is tarnishing the sheen of Charles' first overseas trip as monarch, with striking workers literally refusing to roll out a red carpet following pension reform protests and calls for the visit to be cancelled altogether.
"It's very bad timing. Normally the French would welcome a British king. But in this moment, people protesting are on high alert for any sign of privilege and wealth," said Paris-based writer Stephen Clarke, the author of Elizabeth II, Queen of Laughs.
CGT said its members at Mobilier National, the institution in charge of providing red carpets, flags and furniture for public buildings, would snub a reception for his arrival in Paris on Sunday. The Elysee Palace said non-striking workers would set up the event instead.
The three-day trip with Queen Consort Camilla includes a visit to the Musee d'Orsay, a wreath-laying ceremony at the Arc de Triomphe and a lavish dinner at the former royal residence, Versailles.
"Unbelievable! We are going to have Emmanuel Macron, the Republican monarch, welcoming King Charles III in Versailles... while the people in the street are demonstrating," Sandrine Rousseau, a lawmaker from France's Green Party, told BFM TV. "Of course" the king should cancel his visit, she added.
Queen Elizabeth, who spoke fluent French, made five state visits to France, in 1957, 1972, 1992, 2004 and 2014, but her son remains in her shadow.
"The problem with Charles is that he is not the queen. She was very loved here," Paris resident Geraldine Duberret, 62, said. "Charles does not have such a good reputation here. He seems a bit spoiled."
Reuters and Associated Press contributed to this report