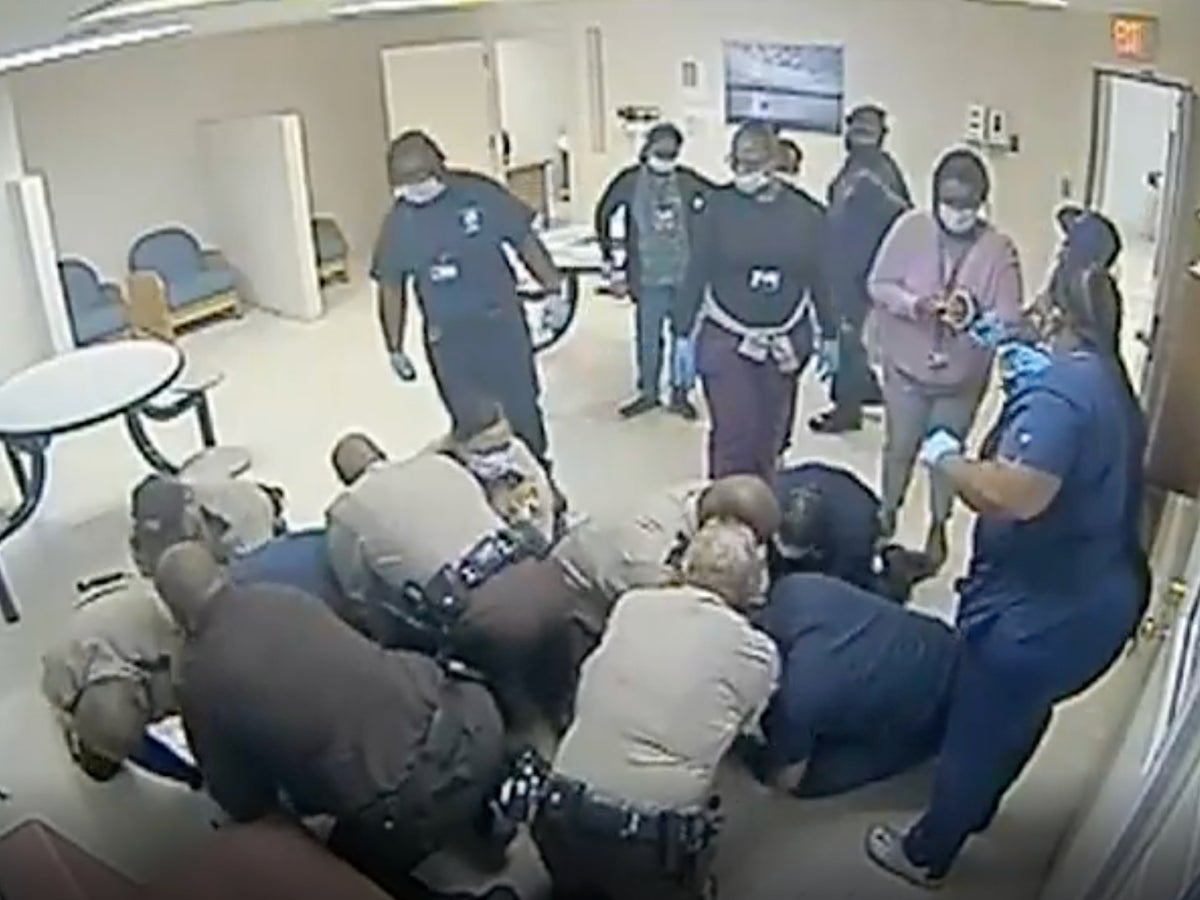 Video footage of the moments leading up to the death of Irvo Otieno, 28, has been released.
It shows about 10 sheriff's deputies and medical employees at Central State Hospital in Virginia holding down a shackled Mr Otieno for about 12 minutes before he stops moving.
The footage from hospital surveillance cameras has no sound. It was filmed on 6 March, the day Mr Otieno died.
It shows deputies from Henrico County dragging Mr Otieno into the admissions area of the hospital in handcuffs and leg irons, restraining him for about 12 minutes, before his still body is released at about 4.40pm.
Minutes pass before staff start to perform chest compressions and use a defibrillator on Mr Otieno. A medical technician covered his body with a white sheet at 5.48pm, The Washington Post notes.
Ten people – seven deputies and three hospital workers – have been charged with second-degree murder.
Virginia prosecutor Ann Cabell Baskervill has said that she expects further arrests and charges.
Lawyers representing two of the defendants attempted to block the release of the footage on Monday, arguing that it sharing evidence or statements with the media would potentially influence the jury pool and possibly give defendants an unfair trial.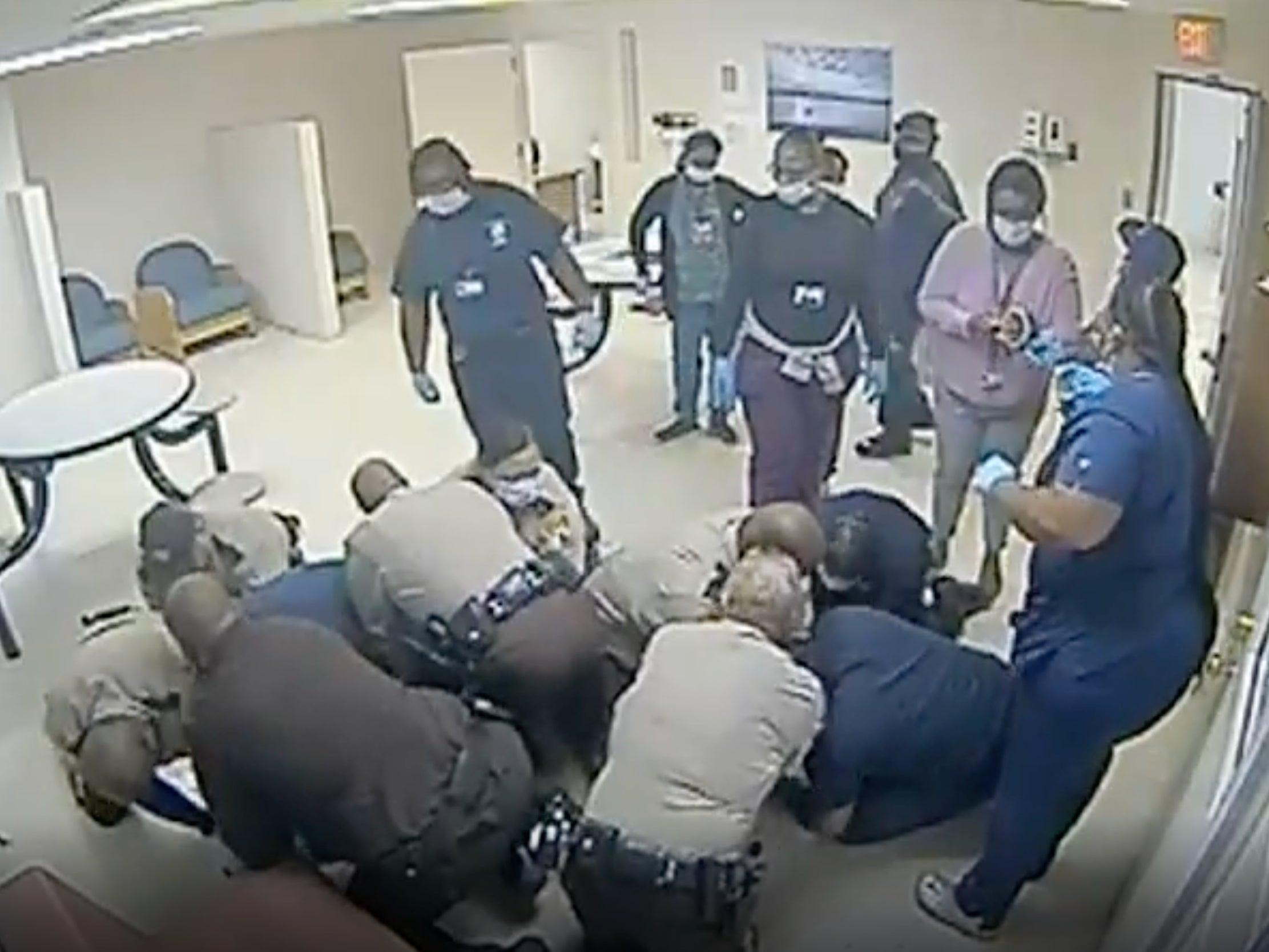 The office of Ms Basketvill said she would seek an indictment on Tuesday for all 10 individuals charged. Court records revealed that a grand jury was set to meet on Tuesday.
Ms Baskervill has said that Mr Otieno died of asphyxia.
As the video has no sound, it's unclear what was said, but Mark Krudys, a civil rights attorney representing the family along with fellow lawyer Ben Crump, said it seemed as if one of the deputies laughed at one point.
The family and lawyers viewed the footage last week.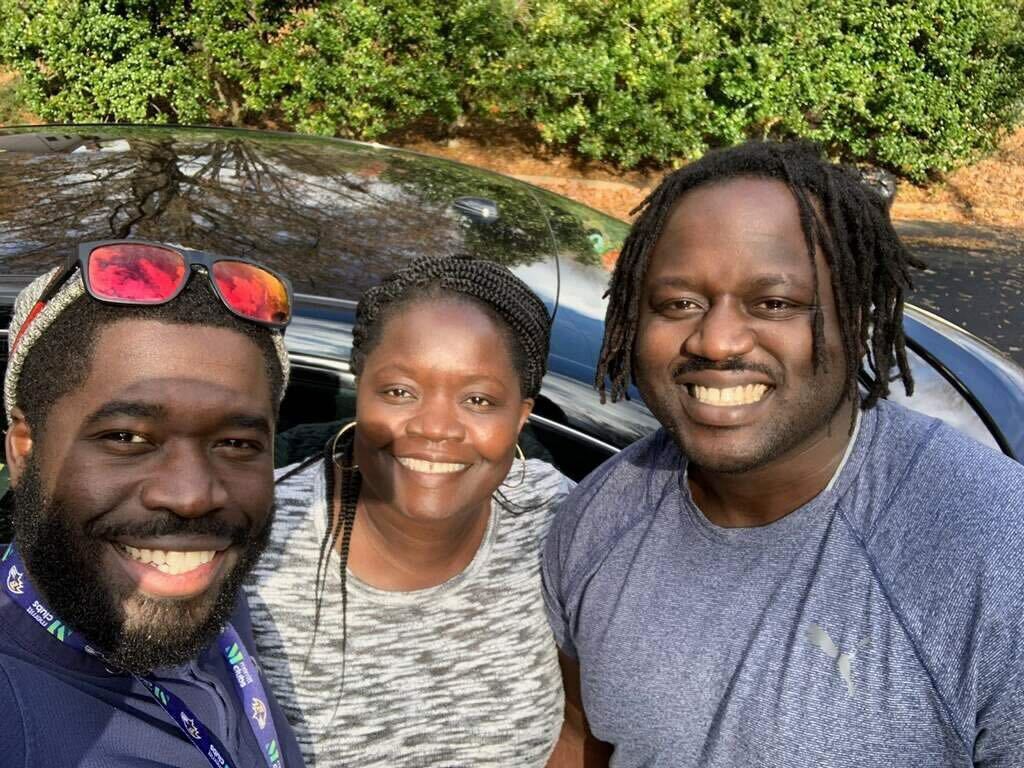 Mr Otieno can be seen on the footage arriving at the hospital on 6 March, and a legal filing by Ms Baskervill includes 911 tapes of hospital staff calling for help, according to The Post.
Security footage from outside the building shows two SUVs arriving at 3.58pm, timestamps on the video state. Mr Otieno exits one of the vehicles at 4.16pm and he's walked into the building by deputies.
Video from the hospital entrance shows deputies forcing Mr Otieno to move forward as he remains standing. He's taken down a hallway and through an open door at 4.17pm. He's next spotted on the footage at 4.19pm when enters the admissions area.
He's dragged into the admissions room by four or five deputies. Two deputies hold him down where he sits on the floor, his back against a seat.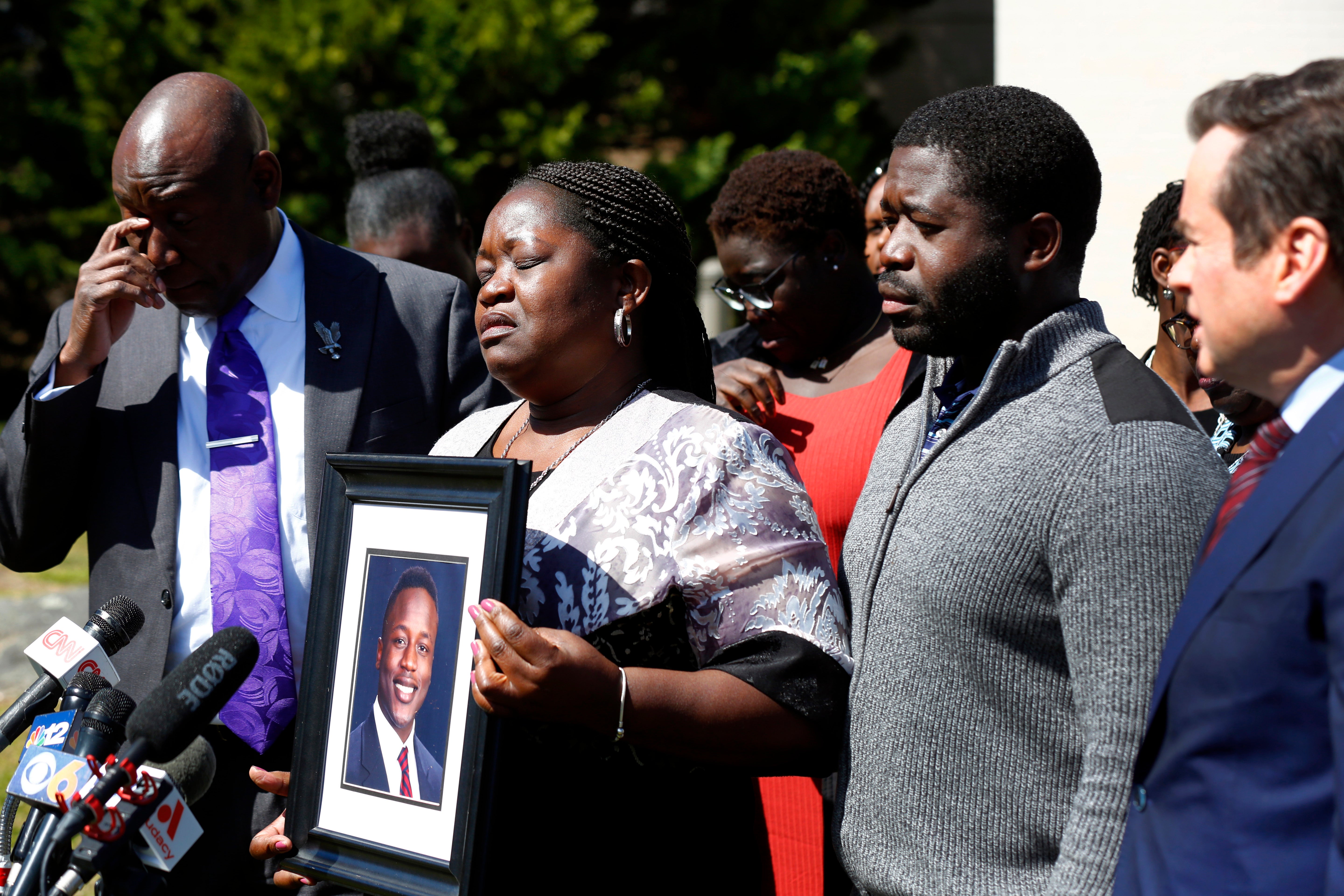 He seems to move at 4.28pm, prompting deputies and staff to react. A minimum of eight people get on top of him, holding down his legs and limiting the movement of his upper body.
They appear to lose control at 4.31pm and they roll him around on the floor, with nine or ten people holding on to him. Hospital staff are either monitoring the situation or helping to hold him down.
The restraint doesn't ease up until 4.40pm when they roll him onto his side. He's shirtless and seems to not be moving. A minute passes before a medical staffer lowers the top of his pants and administers an injection, but he remains still.
Efforts to resuscitate Mr Otieno then proceed.
"You'll note that those resuscitation efforts were very slow in beginning," Mr Krudys said on Monday, according to The Post.
He added that Mr Otieno's mother "feels very strongly that the public should see what happened to her son".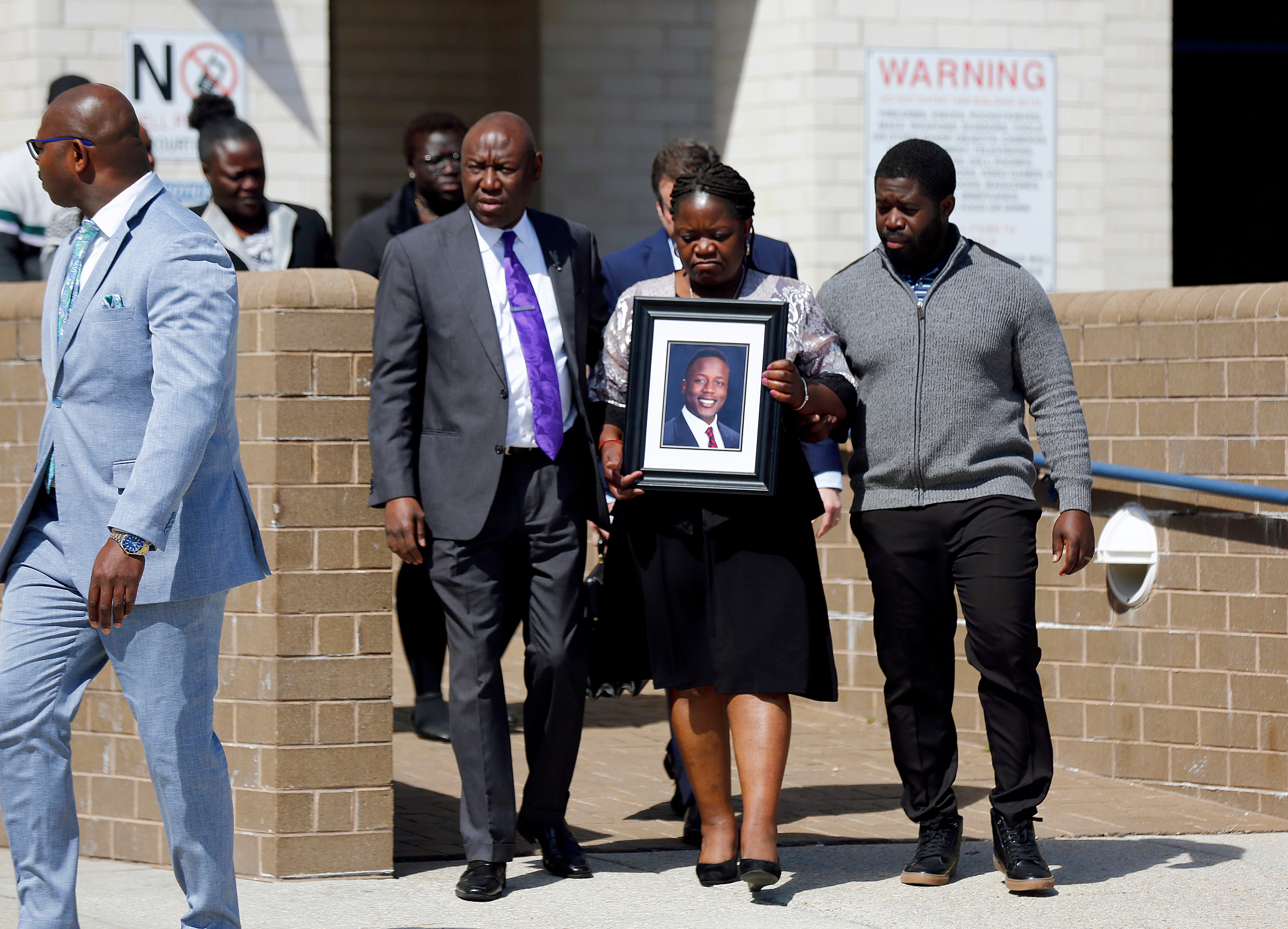 Douglas Ramseur represents hospital worker Wavie Jones, one of those charged.
"We are concerned that this response was filed by the prosecution with the intention of making the information available to the media and public after having received a motion by the defense seeking to prevent just such a disclosure," he told The Post. "We are considering all our legal remedies."
Ms Baskervill said she thinks the video should be made public and that the jurors can be screened for bias when the trial begins.
"There is no agenda here other than transparency," she told the paper.