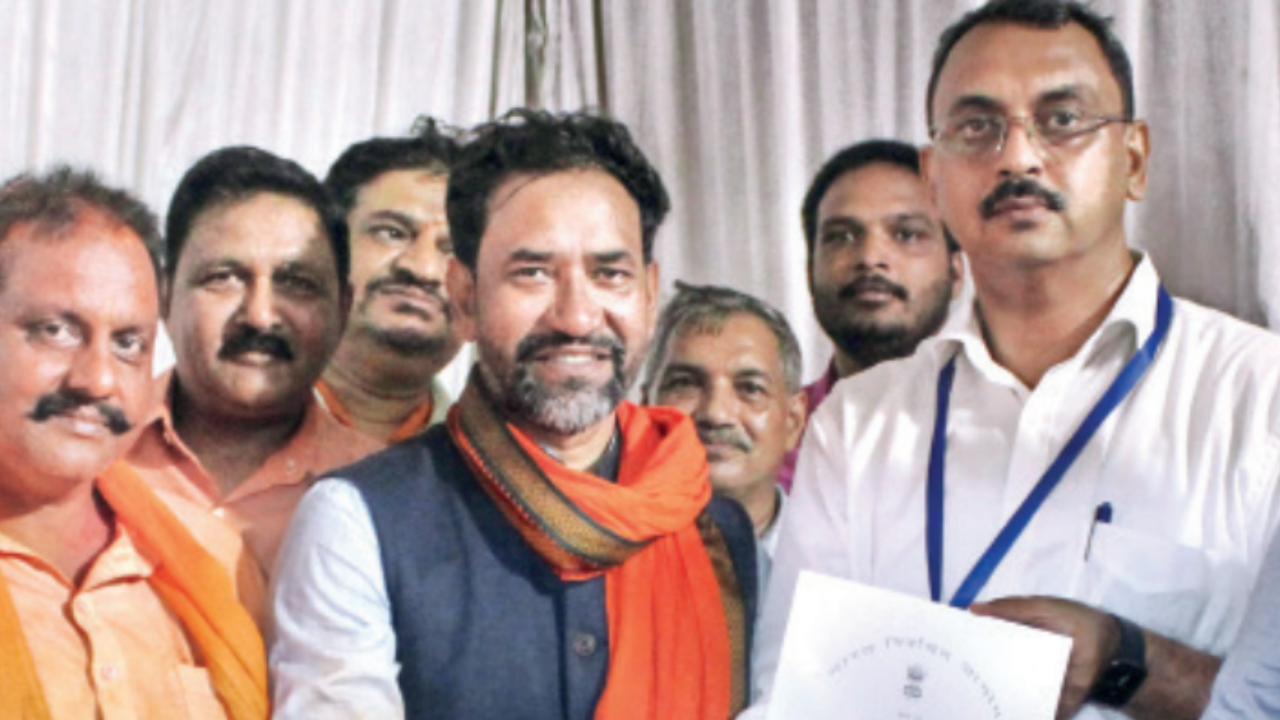 LUCKNOW: In a stunning upset, BJP wrested Azamgarh and Rampur Lok Sabha seats from the Samajwadi Party in the bypolls on Sunday. Azamgarh was vacated by SP chief Akhilesh Yadav and Rampur by party veteran Azam Khan. While SP-import Ghanshyam Lodhi won by over 42,000 votes against Azam's man Friday Asim Raja in Rampur, Bhojpuri film star and BJP's 'balladeer' Nirahua won a roller-coaster Azamgarh battle, which kept swinging both ways throughout the day.
Nirahua ultimately won by nearly over 8,500 votes, breaking the myth of Muslim-Yadav votebank that gave all 10 seats of the district to SP in the just-concluded assembly polls. He had also contested against SP chief Akhilesh Yadav in 2019 Lok Sabha elections and polled more than 3.5 lakh votes. His vote share this time was a little less -- 3.12 lakh.
That time, Akhilesh was an SP-BSP alliance candidate. Therefore, the BJP has definitely been benefited by a formidable BSP candidate, Shah Alam Guddu 'Jamali', who polled more than 2.6 lakh votes to dent the prospects of SP's Dharmendra Yadav, a cousin of SP chief Akhilesh Yadav.
Azamgarh seat was vacated by Akhilesh and Rampur by Azam after the two contested the 2022 assembly elections and won. In 2014, Azamagarh was won by SP patriarch Mulayam Singh Yadav, who had also won from Mainpuri but chose to retain the east UP seat. The results also mark BJP's revenge for the bypoll loss it suffered when the saffron party lost both Gorakhpur and Phoolpur in 2018, won by Yogi and Keshav Maurya respectively in 2014, to the SP.
Chief Minister Yogi Adityanath said that the BJP victory had sent a clear signal that people of UP were not ready to accept dynastic and casteist parties, and those who incite communal tensions and criminals. The Samajwadi Party, on the other hand, blamed the defeat on 'misuse of official machinery' by the BJP.
"Let elections be conducted honestly. I say the international court of justice should come and conduct elections here. If my candidate gets defeated then, I will leave politics," Azam told reporters in Rampur after results were declared. "This is a victory for the people of Rampur," Lodhi said, adding that he would now work as their "chowkidar".
It is victory of people, says Nirahua
It is the victory of people. Residents of Azamgarh have done wonderful work. I dedicate this victory to your trust and the hard work of party workers who are like God to me," Nirahua tweeted, addressing Azamgarh voters. He had started his political career with BJP in 90s and was a confidant of former CM Kalyan Singh. But shifted to BSP and SP over a period of time. He, however, came back to BJP just before the 2022 assembly polls.
Both Rampur and Azamgarh are considered SP bastions because of heavy concentration of Muslim and Yadav voters, tradtionally considered to be SP supporters since the inception of the party in 1992. Azamgarh, especially, remained loyal to SP even during the saffron sweep in 2014 and 2019. Muslim voters, in fact, are in majority in Rampur. Therefore, the party was confident of its victory and Akhilesh didn't even go for campaigning even once.
The day started with SP lead in both the constituencies and Asim Raja was ahead in early hours, though the lead was slender. Lodhi, however, started catching up post noon and gradually took over. He kept increasing his lead thereafter and eventually won by 42,192 votes, polling 3,67,397 votes. In 2014, when BJP's Nepal Singh had won the seat, he had polled 3.58 lakh votes.
In Azamgarh, Nirahua, who didn't even visit the counting centre in morning like other candidates, took a lead of 4,000 votes around 12 noon after trailing in the beginning. Only 25% of votes had been counted then. Thereafter, Dharmendra could manage the leading position just once. BSP's Jamali severaly damaged his prospects by winning over a large chunk of Muslim votes. A two-time MLA, Jamali enjoys a strong support in the local community and had also polled 2.65 lakh votes in 2014 Lok Sabha polls, when he had contested against Mulayam and Ramakant Yadav (then with BJP).
With these victories, BJP's tally in the Lok Sabha has gone up from 62 to 64 while SP is down from five to three members. BSP has 10 Lok Sabha MPs from the state and Congress one. BJP's ally Apna Dal (S) has two members.