Less than two months after the American men were eliminated from the Qatar World Cup, the embryonic 2026 cycle is kicking off amid short- and mid-term uncertainty. 
There's no head coach. Gregg Berhalter's contract has expired and U.S. Soccer's investigation into his conduct—plus that of Gio Reyna's parents and the scandal that unfolded following their contact of Federation officials—has stalled the normal post–World Cup program review and hiring process.
There's also no clear road map toward the 2026 World Cup, which will be staged primarily in the U.S. Absent qualifying, the American men don't have much compelling competition scheduled over the next three-plus years. There have been discussions about an enlarged 2024 Copa América or perhaps a "test event" arranged alongside FIFA. But for now, there's little clarity beyond the two low-key friendlies this month, Concacaf Nations League games in March and possibly June, and then this summer's Gold Cup. The '24 Summer Olympics is a U-23 event (with three over-age players permitted).
Into that limbo steps interim coach Anthony Hudson, Berhalter's World Cup assistant, and a 24-man January camp squad unveiled Wednesday that features a relatively surprising number of veterans and players based abroad. Although they fall outside a FIFA window, the upcoming friendlies against Serbia (Jan. 25) and Colombia (Jan. 28) were important enough to attract the likes of Chelsea goalkeeper Gabriel Slonina, Eintracht Frankfurt midfielder Paxten Aaronson (Brenden's younger brother), Middlesbrough forward Matthew Hoppe and Club América attacker Alejandro Zendejas.
Players from outside MLS are a January camp rarity. But the number of Americans leaving home at younger ages has risen to a point where several who aren't being counted on in the short term by their clubs, but who may be long-term assets to the U.S., are being allowed to participate.
Camp will open Saturday in Los Angeles. The Serbia game will be played at LAFC's Banc of California Stadium. The U.S. then will face Colombia at the LA Galaxy's Dignity Health Sports Park.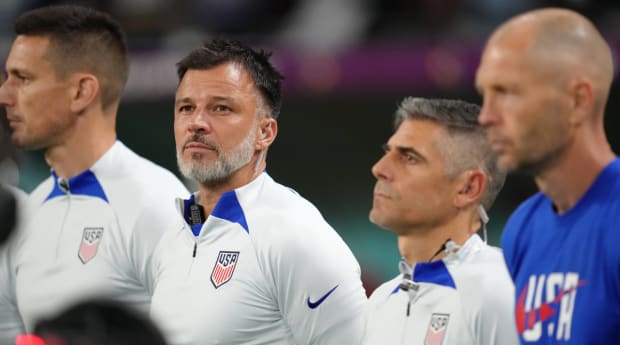 "As we were putting this roster together, the focus has been around identifying positions within our team that would benefit from more depth," Hudson said in a U.S. Soccer Q&A. "Then given the time of year being a January camp, it gives us an opportunity to look at some real high-potential young players and also some players that have been on our radar for some time."
Regarding his January-camp record seven non-MLS players, Hudson said, "The starting point was, 'Who do we want to bring in? Who's available?' Who's not playing first-team football right now overseas, whether it's a young player, whether it's a dual national that we've been looking at, and let's go after it. … The response has been really good. I think it's made this squad stronger."
Hudson's team includes five members of the World Cup squad and eight who will be Olympic eligible. It's a relatively accomplished roster by January camp standards. Serbia, in contrast, is bringing 17 players who've earned a combined four senior caps. Despite the aforementioned limbo and uncertainty, the interim manager is taking this short camp seriously.
"[The World Cup is] the starting point, and then just being clear that's the standard now that we've set, and we now have to keep progressing," Hudson said. "The other side [is] historically we know players in this window that get an opportunity [to] make their debut get seen by the staff, get opportunities to then stay in the team and an opportunity to go to the next World Cup."
Here's a look at the January camp roster:
Goalkeepers
Roman Celentano (FC Cincinnati), Sean Johnson (Free agent), Gabriel Slonina (Chelsea)
There's been no loan for Slonina just yet. The 18-year-old Chicago Fire product officially became a Chelsea player at the beginning of the month. He's already had the chance to train with the first team and then made his competitive club debut with the U-21s in a 2–0 win over Wolverhampton Wanderers last Friday.
If Slonina plays for the U.S. this month, he'd become the youngest American goalkeeper to earn a senior cap. National Soccer Hall of Famer Tony Meola debuted in 1988 at 19 years, 106 days.
Defenders
Jonathan Gómez (Real Sociedad), Julian Gressel (Vancouver Whitecaps), DeJuan Jones (New England Revolution), Aaron Long (Los Angeles FC), Jalen Neal (LA Galaxy), Sam Rogers (Rosenborg), John Tolkin (New York Red Bulls), Walker Zimmerman (Nashville SC)
World Cup vets Long and Zimmerman would offer seasoned stability in central defense if Hudson chooses. Neal, 19, is an Olympic-eligible center back, while Tolkin, 20, and Gómez, 19, are interesting prospects on the left flank. Gómez, a dual national, signed with Louisville City out of the FC Dallas academy then left for Spain last year. He's been a regular with Real Sociedad's reserves. Gómez made his senior U.S. debut as a late sub in a December 2021 friendly against Bosnia-Herzegovina, but then appeared in a friendly for Mexico last April. He returned to the U.S. for some U-20 matches in September. The native Texan is still not cap tied.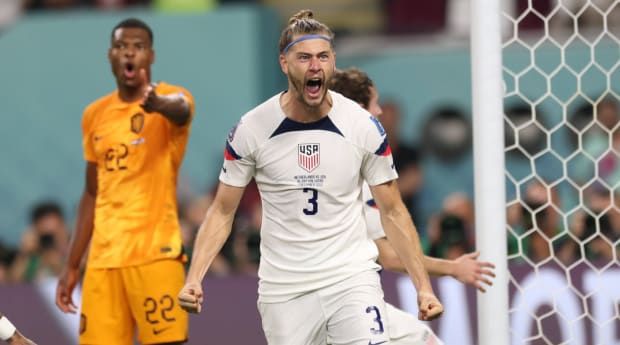 Midfielders
Paxten Aaronson (Eintracht Frankfurt), Kellyn Acosta (Los Angeles FC), Aidan Morris (Columbus Crew), Paxton Pomykal (FC Dallas), Alan Soñora (Free agent), Eryk Williamson (Portland Timbers)
Aaronson, a 19-year-old attacking midfielder, just joined Eintracht Frankfurt on a four-year contract after helping the Philadelphia Union reach the MLS Cup final. He also was the Golden Ball and Golden Boot winner at last year's Concacaf U-20 championship, and had been training with his new team in Dubai ahead of the restart of the Bundesliga season.
He told the league's website that he quickly noticed that he'd taken a step up.
"I'd say the difference—I've only had two training sessions—but I'd say the intensity and the level of closing the ball, just the speed of play, you know? How you press the ball—you don't have a lot of time and the margins get really slim," he said. "You only have like a second to shoot the ball where you might have had two before, but the margins get slimmer and slimmer and I've already noticed that here."
If Paxten features this month, the Aaronsons will become the eighth set of brothers to play for the U.S. 
Forwards
Paul Arriola (FC Dallas), Cade Cowell (San Jose Earthquakes), Jesús Ferreira (FC Dallas), Matthew Hoppe (Middlesbrough), Emmanuel Sabbi (Odense), Brandon Vazquez (FC Cincinnati), Alejandro Zendejas (Club América)
Vazquez and Zendejas are the names that jump out, thanks in part to their dual national status. Vazquez, a 24-year-old striker with 18 goals for FCC last season, plays a position of obvious need in Berhalter's system. None of the strikers in Qatar really stood out, and Berhalter's decision to leave Ricardo Pepi and Jordan Pefok behind was somewhat contentious. Berhalter also seemed to feel that Vazquez emerged a bit too late to get a genuine look, and there was concern that Mexico might try to pry the San Diego native away.
But he told MLS this month that El Tri, who are also without a coach, haven't called, and that he's been aching for an opportunity with the U.S.
"It's a big milestone for me," Vazquez said. "Growing up with the [junior U.S.] national team, and then seeing other teammates get the opportunity and thriving with the men's national team, and not being there, sometimes I compare, you know? So I always wish I'm there, too. I've been wanting to get there for a long time."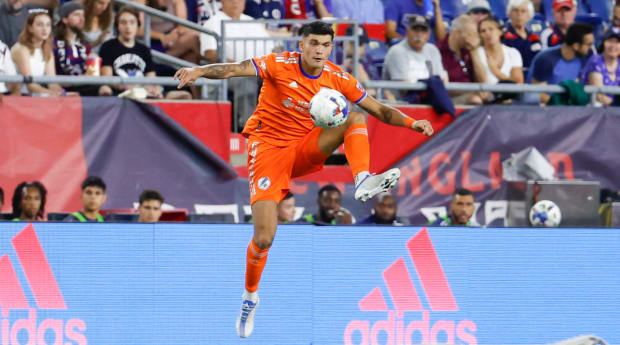 Zendejas, also 24, was born in Ciudad Juárez, Mexico, but grew up in El Paso and came through the FC Dallas system. The winger played for both the U.S. and Mexico as a junior, appearing for the former at the 2015 U-17 World Cup. But he seemed to renounce his American eligibility after signing with Chivas de Guadalajara the following year. He's since moved on to Club América (via Necaxa), where he's now a regular starter for the Mexico City power. Even though Liga MX is in season, and even though he's played in two friendlies for El Tri's senior side, Zendejas will be on his way to L.A. following Club América's match this weekend.
"We're extremely grateful to the club. They've been incredibly supportive," Hudson said. "[Zendejas] was another player we wanted in but didn't think we were going to get. He's an exciting player, a technical player who plays out wide on the right or left, and has a really good final product. We've spoken with him and he is just super excited to come in and obviously has history with the youth national teams. He's a really, really good guy and we're looking forward to working with him."