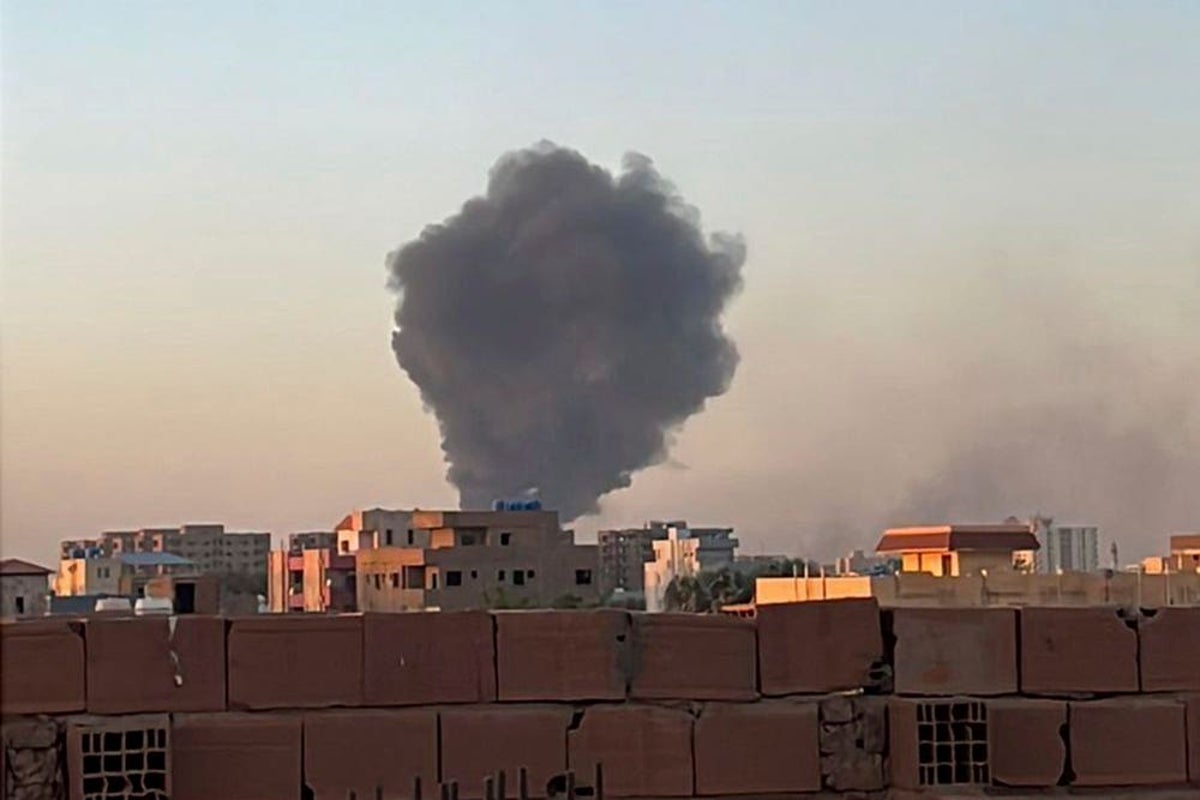 Defence and foreign officials are involved in "prudent planning for various contingencies" as violence continues in Sudan.
Fighting has been taking place between the government's forces in Sudan and the African nation's powerful paramilitary for almost a week, with Western administrations poised to act as the situation worsens.
Sudan's military has ruled out negotiations with its rival, saying it would only accept surrender as the two sides battle in central Khartoum and other parts of the country.
Reports have suggested that UK ministers have put forces on standby should an airlift operation be required to allow British embassy staff and other citizens based in the country to escape.
The Ministry of Defence is supporting the Foreign Office with prudent planning for various contingencies

— UK Government spokesman
The Foreign Office said it was not commenting on reports of a military evacuation.
A UK Government spokesman said: "We are coordinating across Government and with our international partners to provide the best ongoing consular assistance to British nationals and support for our diplomatic staff.
"We will continue to issue updates as the situation develops.
"The Ministry of Defence is supporting the Foreign Commonwealth and Development Office with prudent planning for various contingencies."
The Foreign Commonwealth and Development Office advice to British nationals in Sudan remains the same, urging them to register their presence with the department and to stay indoors.
Prime Minister Rishi Sunak chaired meetings of senior ministers on Thursday and Friday about  the situation in Sudan, with the sessions attended by Foreign Secretary James Cleverly and Defence Secretary Ben Wallace among others.
Mr Cleverly decided to cut short a Pacific tour due to the deteriorating situation in Sudan.
Mr Sunak on Friday spoke with the president of Djibouti, Ismail Omar Guelleh, on Friday to discuss the situation in Sudan.
Djibouti is a small country on the Horn of Africa, sharing a border with Eritrea, Ethiopia and Somalia.
It also is home to a US airbase, with Washington making preparations to evacuate their citizens in Sudan.
Most major airports in Sudan have become battlegrounds and movement out of the capital Khartoum to safer areas is dangerous, meaning alternative air bases have been sought out in the region.
The US military is moving assets to Djibouti for a possible evacuation of American embassy personnel, administration officials have said.
Japan also plans to send military planes to the former French colony.
A No 10 spokesman, offering a readout of Mr Sunak's call with his counterpart in Djibouti, said: "President Guelleh updated on his discussions with the parties in Sudan and both leaders reiterated calls for an immediate cessation of hostilities and a return to talks.
"They agreed that the United Kingdom and Djibouti would continue to co-ordinate efforts to de-escalate the violence and protect civilians, including our citizens."
The Foreign Secretary tweeted saying: "The UK's position is clear. There must be a ceasefire in Sudan.
"I'm in contact with key partners to work towards resolving this conflict peacefully."
He said his diplomacy work has seen him speak with his US counterpart, Secretary Antony Blinken, as well as foreign ministerial colleagues in Djibouti, Saudi Arabia, the United Arab Emirates and Europe.
Britain has historic ties to Sudan. In an unusual arrangement, Britain and Egypt jointly ruled Sudan from 1899 until it gained independence in 1956, but Sudan is not among the group of 56 Commonwealth nations.