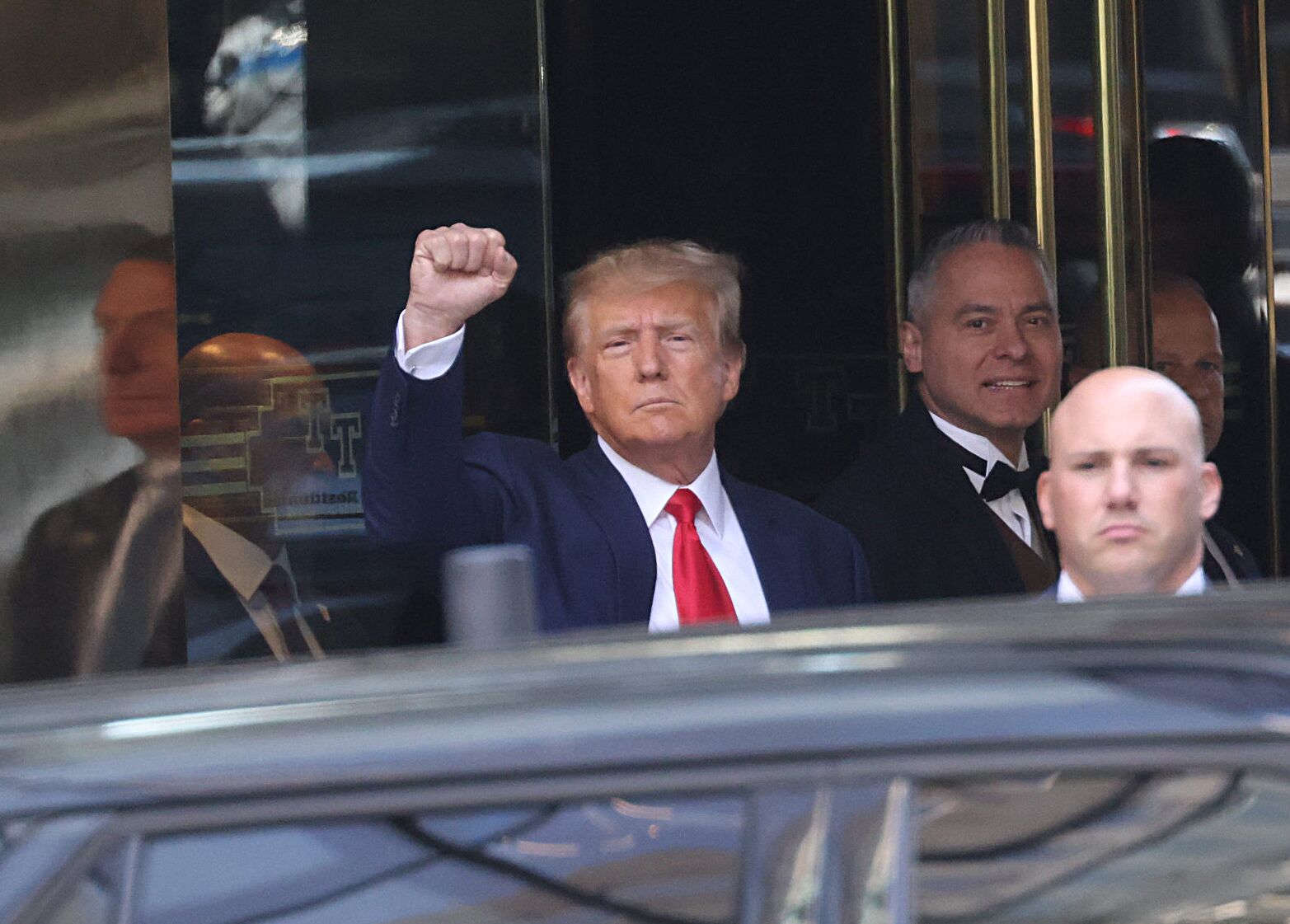 Donald Trump sat stiff and unsmiling in a New York courtroom Tuesday afternoon as he answered "not guilty" to his historic indictment. Immediately after the proceeding, he headed to the airport without uttering a word to throngs of reporters gathered outside.
On his flight back to Florida, over fast food from McDonald's, the former president and his entourage put the final touches on his response: A speech that would serve as both a rebuttal to prosecutors and a reboot of the comeback bid for the White House he launched almost five months ago.
Before hundreds of supporters at his Mar-a-Lago resort in Palm Beach on Tuesday night, Trump assailed the 34-count indictment as politically motivated and sought to link the case to grievances he's long deployed to great effect to hold sway over his supporters.
"The only crime that I've committed is to fearlessly defend our nation from those who seek to destroy it," he said. "They can't beat us at the ballot box, so they try and beat us through the law."
Yet Trump faces an uphill struggle in whipping up outrage among voters much beyond his loyal base. He also faces investigations over his attempt to overturn his 2020 reelection defeat, his role in the Jan. 6 Capitol insurrection and his handling of classified documents upon leaving office.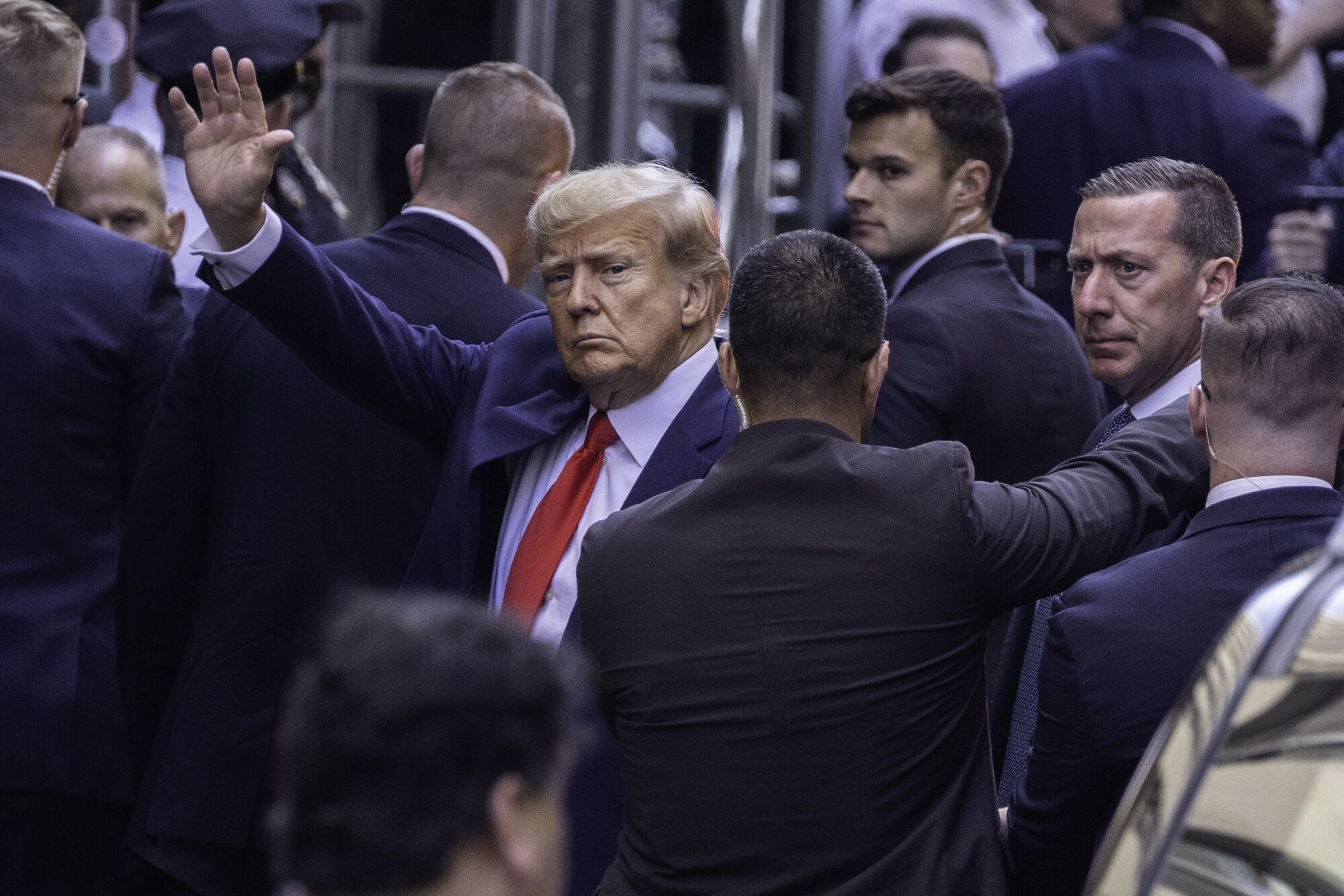 His prime-time remarks capped an extraordinary 36 hours during which Trump — who faced an investigation of his 2016 campaign and two impeachments while in office — became the first former president to be criminally charged after leaving the White House.
Earlier in the day, he was subdued as he walked into the Lower Manhattan courthouse flanked by Secret Service agents, where he was arrested and arraigned on the felony charges. Manhattan District Attorney Alvin Bragg accuses Trump of falsifying business records at his company relating to a $130,000 payment his former lawyer, Michael Cohen, made to adult-film actress Stormy Daniels.
Bragg claims that was part of a larger effort to hide salacious news from the public to win the presidency.
Political Gains
The indictment promises to pay short-term political dividends for Trump. Some allies had raised concern that his lackluster 2024 campaign launch had opened the door for potential challengers such as Florida Governor Ron DeSantis.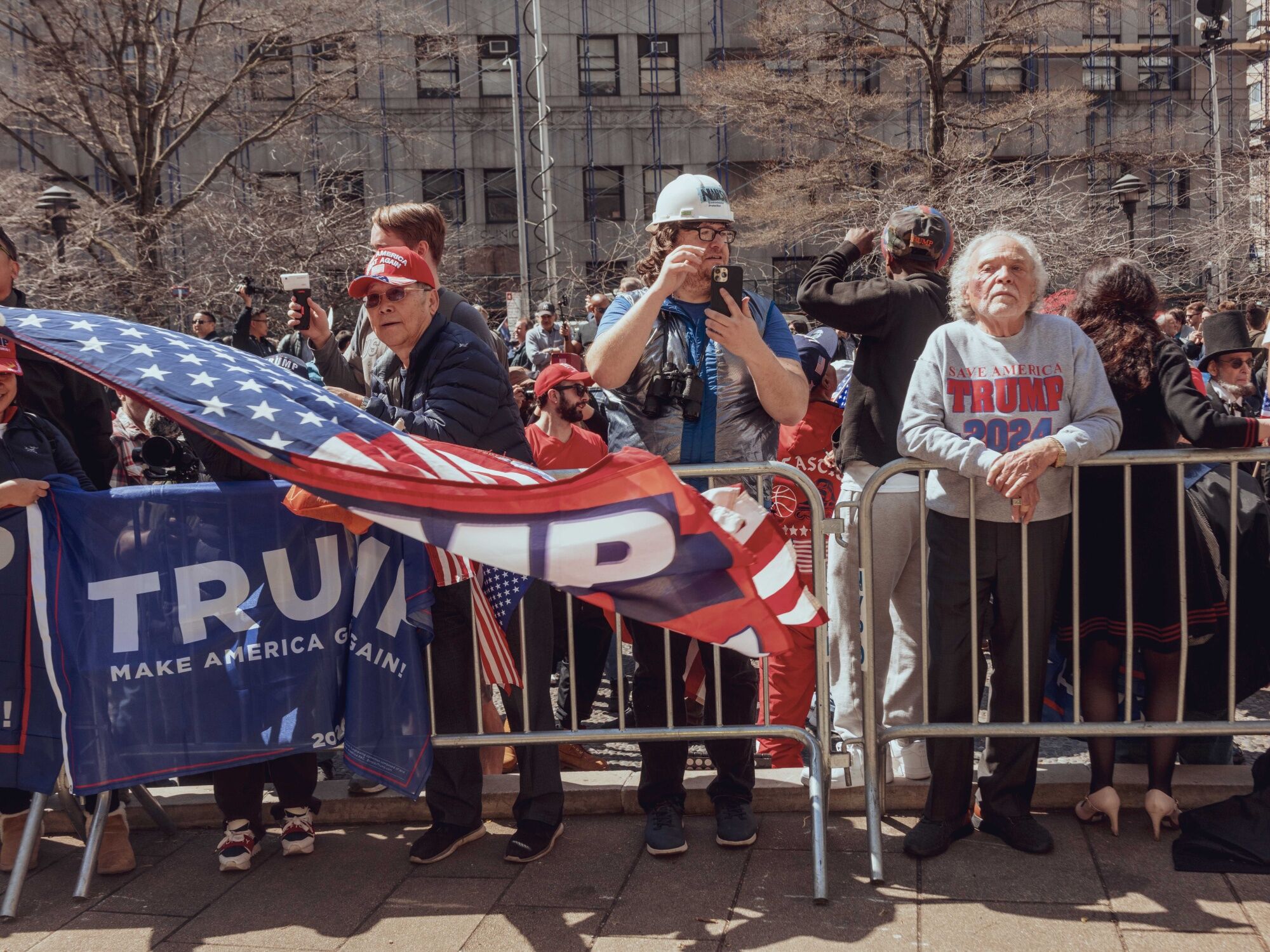 But rather than attack him for his alleged criminality, his Republican opponents have rushed to his defense, illustrating the complexity inherent in dethroning him.
He has seen his lead grow in polls of GOP primary voters and his campaign said Tuesday it had raised more than $10 million since news broke of the charges. 
Even Senator Mitt Romney, a Utah Republican who twice voted to impeach Trump, questioned Bragg's case. "The prosecutor's overreach sets a dangerous precedent for criminalizing political opponents and damages the public's faith in our justice system," he said in a statement.
Republican Senator Cindy Hyde-Smith of Mississippi became the sixth sitting senator to endorse Trump on Tuesday, calling the prosecution a "political stunt."
Longer-term, Trump's political future is fraught. Even without additional criminal charges, he remains deeply unpopular among the broader population of US voters.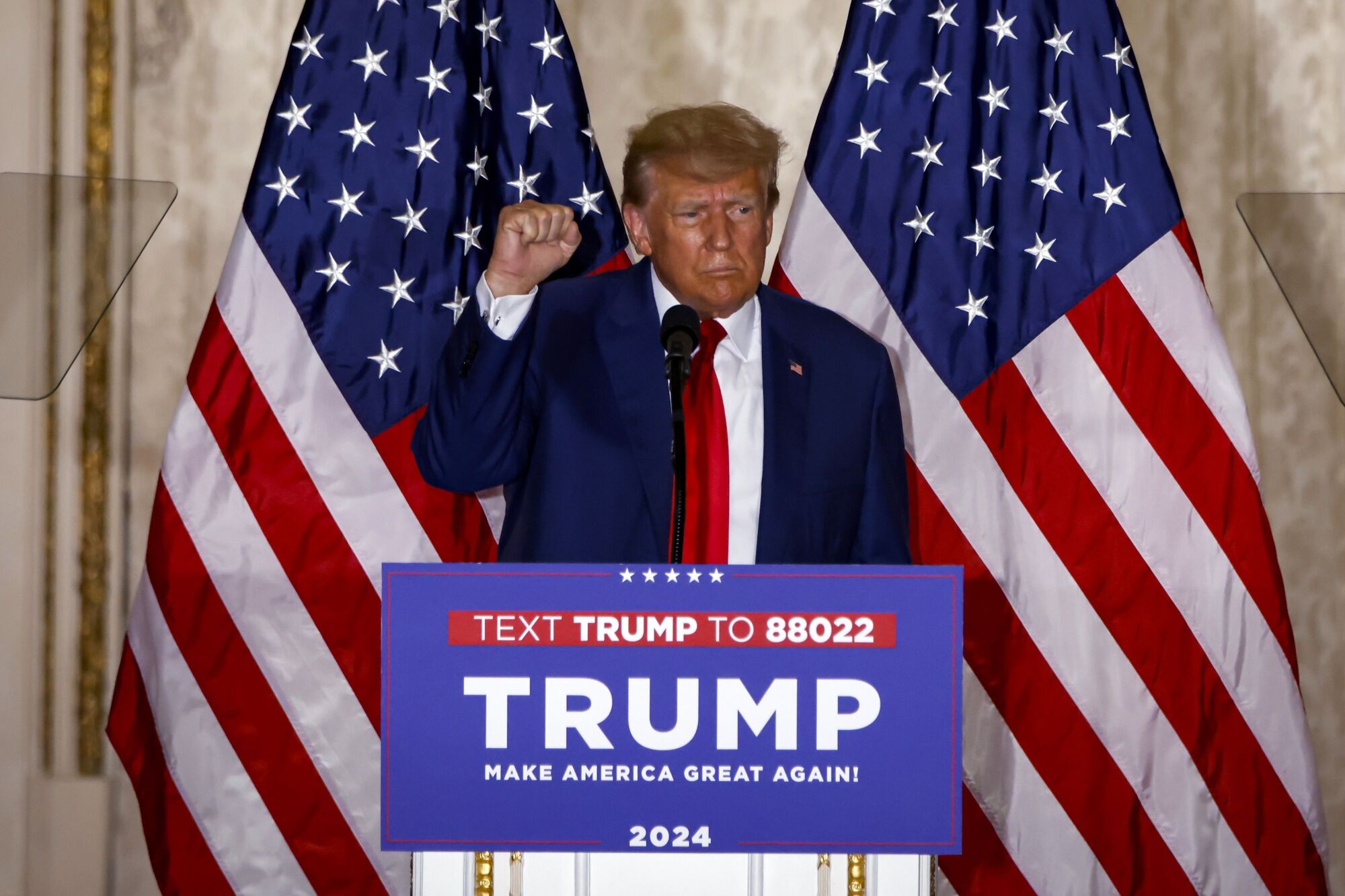 Sarah Longwell, an anti-Trump Republican consultant, said that for now, Bragg had given Trump's campaign new life.
"He was floundering because his grievance was all backward-looking," she said. "Now, he's got a fresh grievance."
In his Mar-a-Lago speech, Trump dismissed the various investigations pending against him as hoaxes and bragged about his single term as president, including his tax overhaul and a law allowing severely ill patients to obtain experimental medications. He criticized President Joe Biden and said that "the country is going to hell."
'Lock Him Up'
Trump's journey began Monday with a flurry of inflammatory social media posts on his Truth Social platform as he prepared to depart Florida.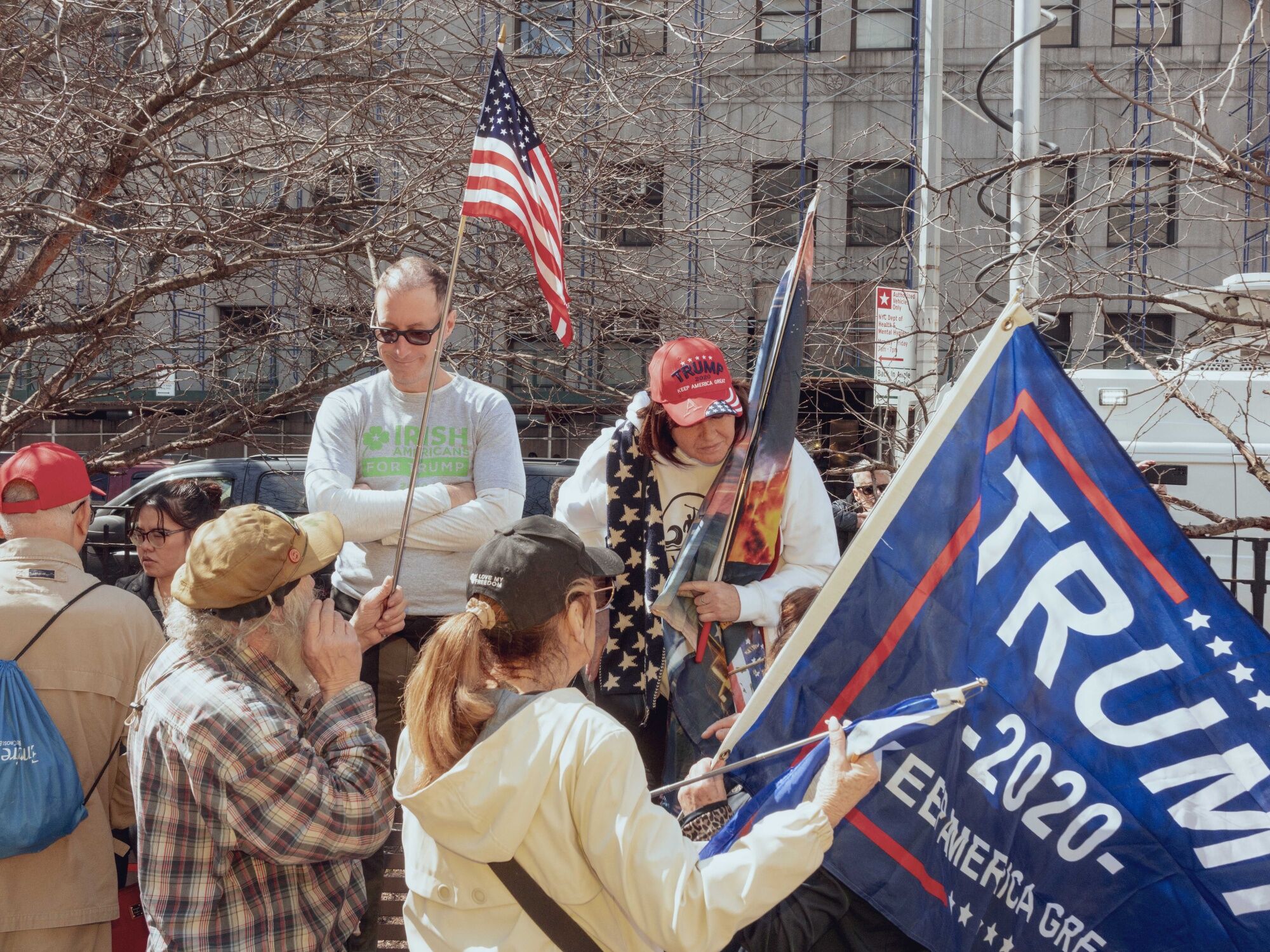 "HEADING TO NEW YORK. MAKE AMERICA GREAT AGAIN!!!" he posted before his plane took off. His travels were closely followed by national media.
Trump supporters and opponents began gathering at Collect Pond Park in Lower Manhattan, across the street from the courthouse, early Tuesday.
One supporter waved a red-and-blue flag that said "Trump or Death." Another burned sage, a New Age ritual meant to cleanse negative energy. 
Separated from the supporters by metal barricades and lines of uniformed police, Trump's opponents chanted, played music and danced. In a play on Trump's 2016 attack line against Democratic nominee Hillary Clinton, the opponents' signs included one reading, "Lock Him Up."
Representative Marjorie Taylor Greene, a Georgia Republican, attempted to deliver a speech by bullhorn but was drowned out by Trump opponents.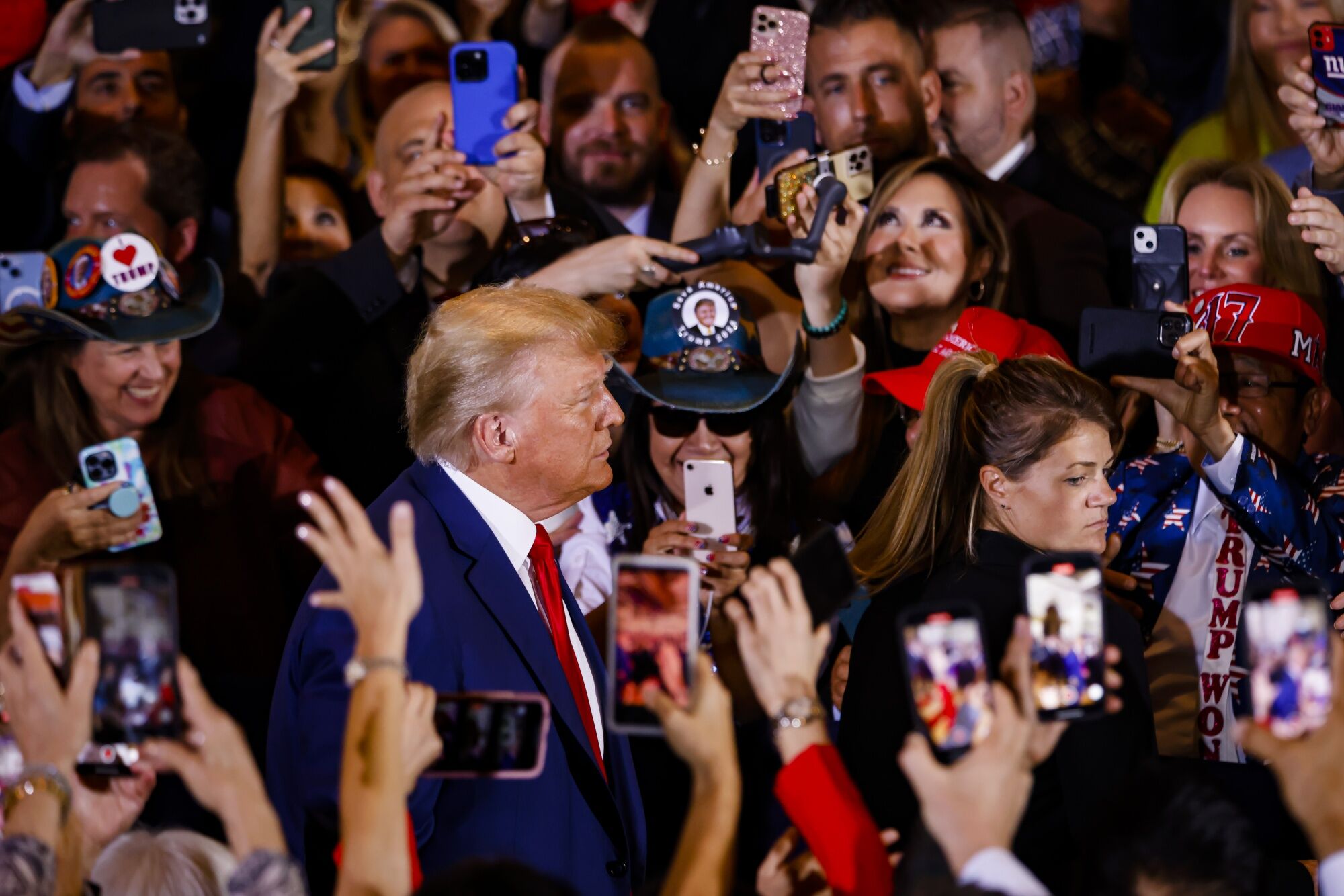 Trump Arrested
The former president pumped his fist for the cameras outside Trump Tower in Midtown with a somber expression. 
At the courthouse, he waved once before walking inside, flanked by a Secret Service detail as helicopters circled overhead. There, at 1:24 p.m., he was officially placed under arrest.
There was no mugshot, handcuffs or perp walk. The glass windows in a hallway leading to the 15th-floor courtroom of New York Supreme Court Justice Juan Merchan were temporarily blacked out.
At 2:29 p.m., Trump walked down the center aisle of the courtroom and sat down, flanked by lawyer Joe Tacopina on his left and Susan Necheles on his right. He clasped his hands and loudly proclaimed himself "not guilty." 
After roughly an hour, the hearing ended. Trump glared at Bragg as he departed the courtroom to get on a motorcade that headed straight to LaGuardia airport and back home.
--With assistance from Annmarie Hordern, Patricia Hurtado, Mario Parker, Nancy Cook, Laura Litvan, William Turton, Billy House, Marvin G. Perez, Mark Niquette and Fola Akinnibi.
©2023 Bloomberg L.P.