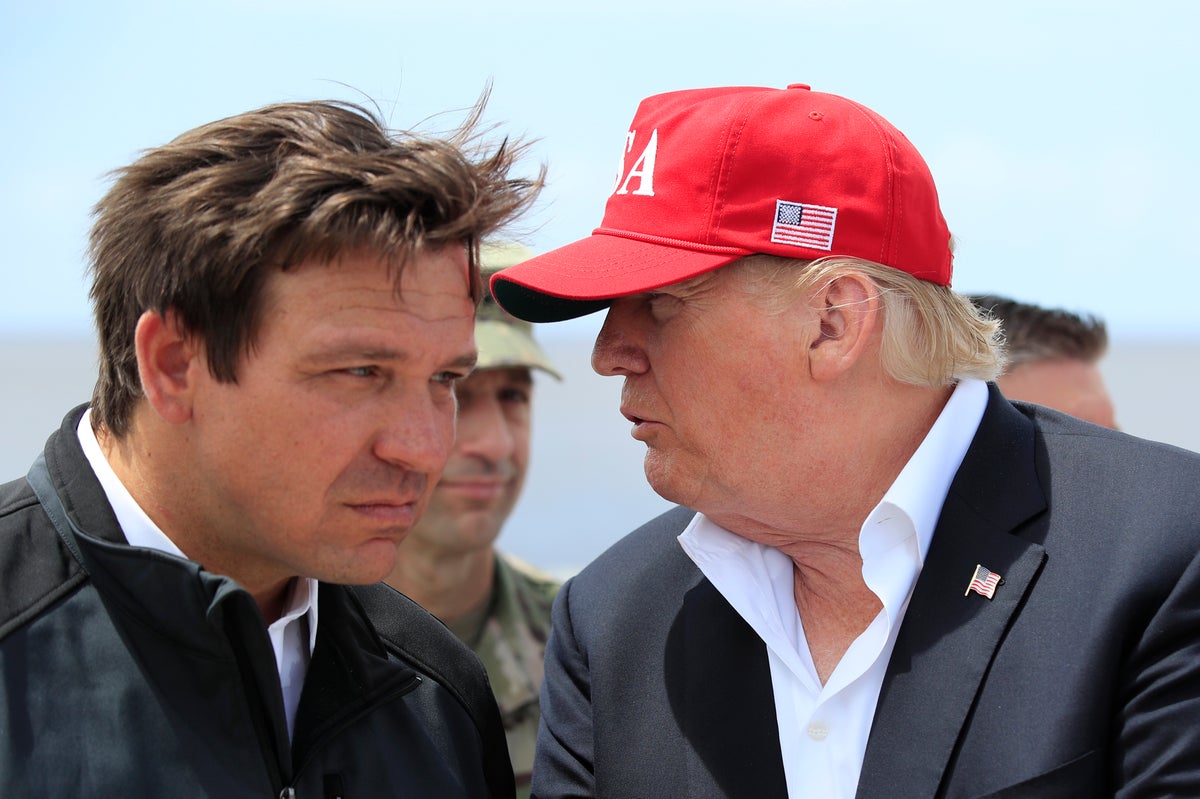 Donald Trump has made it clear he is not considering asking Florida Governor Ron DeSantis to be his 2024 running mate.
The former president was asked by right-wing outlet NewsMax earlier this week if he had ever considered bringing Mr DeSantis on as his vice president candidate. He responded that he had "never thought of it."
"We have a lot of great people in the Republican Party," Mr Trump said. "But I never thought of [Mr DeSantis]."
Mr Trump, who announced he would run for a non-consecutive second presidential term in November, went on to say: "I think that would be a very unlikely alliance."
Mr DeSantis also recently told right-wing media outlet Newsmax that he would not team up if the former president asked him to be his running mate.
The governor said he was "probably more of an executive guy," a possible tease of his own candidacy for the Republican nomination.
"I think that you want to be able to do things," he told NewsMax.
Mr DeSantis has not officially announced his candidacy but there is broad expectation that he will challenge Mr Trump for the Republican nomination.
The two men have been sniping at each other more frequently as the campaign season ramps up. Mr Trump has been busy testing nicknames for Mr DeSantis, including "Ron DeSanctimonious" and allegedly "Meatball Ron", though he has denied the latter.
Mr DeSantis is less direct than his potential opponent. During a recent press conference, Mr DeSantis was asked about the potential indictment hanging over Mr Trump for alleged hush-money payments to adult film star Stormy Daniels.
The Florida governor said that he didn't agree with the investigation, but noted that he wasn't familiar with the ins-and-outs of paying porn stars to keep quiet.
"I don't know what goes into paying hush money to a porn star to secure silence over some type of alleged affair. I just I can't speak to that," he said.
An enraged Mr Trump then took to his social platform, Truth Social, to fire back at Mr DeSantis.
"Ron DeSanctimonious will probably find out about FALSE ACCUSATIONS & FAKE STORIES sometime in the future, as he gets older, wiser and better known, when he's unfairly and illegally attacked by a woman, even classmates that are 'underage' (or possibly a man!)," Mr Trump wrote. "I'm sure he will want to fight these misfits just like I do!"
Mr Trump later deleted the retort.