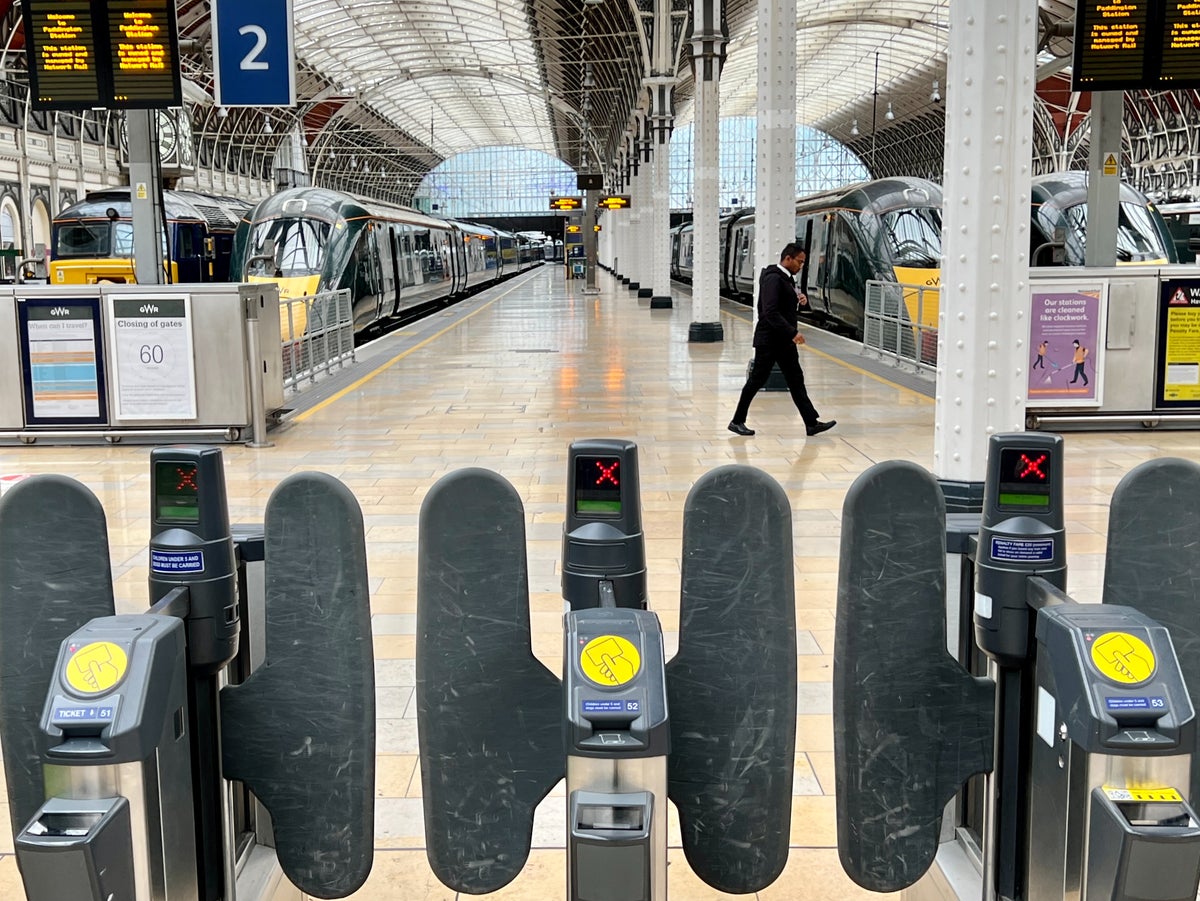 Rail passengers in Britain are enduring the longest and most damaging series of strikes since the 1980s – with Saturday 8 October seeing one of the most disruptive stoppages.
Industrial action by rail workers in disputes over pay, working conditions and jobs have been taking place since June. October is hardest hit.
The first stoppage of the month took place on Saturday 1 October, the day before the Conservative Party conference opened in Birmingham and the eve of the London Marathon.
Members of the RMT union as well as train drivers belonging to Aslef walked out.
The next date, Wednesday 5 October, coincided with the end of the Tory conference ends.
On Thursday 6 and Friday 7 October, white-collar staff belonging to the TSSA and Unite unions took industrial action at East Midlands Railway and Great Western Railway.
A third national strike by RMT workers, on Saturday 8 October, is aimed at wrecking the plans of leisure passengers.
Which train routes and operators are involved and what will the effects be?
The walk-out by 5,000 signallers means half the rail network is closed, with a much-reduced service on the remainder. Non-union members will enable a service to run between 7.30am and 6.30pm across about half the network.
In addition 15 train operators are affected by the RMT stoppage .
Six are mainly longer-distance intercity companies, though with plenty of shorter connections (eg Coventry to Birmingham, Derby to Matlock and Durham to Newcastle):
Avanti West Coast
CrossCountry
East Midlands Railway
Great Western Railway
LNER
TransPennine Express
The remaining nine are largely commuter and shorter-distance operators, though they include operators with some longer journeys such as London to Norwich and to Birmingham:
c2c
Chiltern Railways
Greater Anglia
GTR (including Great Northern, Southern, Thameslink and Gatwick Express)
London Overground
Northern
Southeastern
South Western Railway
West Midlands Trains
Have all trains stopped?
Far from it. Upwards of 20 per cent of trains are expected to run, Rail passengers will have more choice than they have had in any previous national strike. But trains will operate only between 7.30am and 6.30pm.
Most intercity lines to and from London will have regular trains, including – for the first time on an RMT nation strike day – trains from Cardiff to London, Bristol and Bath.
Great Western Railway will also be running its usual hourly "strike shuttle" between London Paddington, Reading, Swindon, Bath and Bristol .
LNER is running a skeleton service of trains on the East Coast main line between London, York and Newcastle. Engineering work north of Newcastle means no trains are running through to Edinburgh.
Avanti West Coast will run from Glasgow to London Euston, with more frequent links – hourly – from Preston, Liverpool and Manchester to the capital. Birmingham is off the schedule – due to planned engineering work on the line to Coventry. But Chiltern will be connecting Birmingham with London Marylebone.
East Midlands Railway will run hourly trains in each direction from London to Sheffield via Derby, Nottingham via Leicester and Corby via Luton airport.
There will also be hourly links from Derby to both Matlock and Nottingham, and between Sheffield and Nottingham.
Southeastern will operate high-speed services from St Pancras to Ashford, as well as shorter, slower journeys from London Bridge to Sevenoaks and to Dartford on routes via Greenwich, Blackheath and Bexley.
Brighton and Gatwick are served from London, while travellers from Southend have a choice of two routes to the capital.
Due to the knock-on effects of the strike, there will be some disruption on Sunday 9 October.
Am I taking a risk by attempting a journey?
The Rail Delivery Group, representing train operators, says: "With trains starting later and finishing much earlier than usual, passengers are asked to only travel by rail if absolutely necessary. Those who must travel should expect disruption, plan ahead and check when their last train will depart."
But experience of previous strikes suggests that you should be fine if you are clear about completing the trip by the time the network shuts down at 6.30pm
Will Eurostar be affected?
Yes. International trains from London to Paris, Brussels and Amsterdam run on High Speed 1, the link from St Pancras International to the Channel Tunnel, which is affected by the walk-out of Network Rail signallers belonging to the RMT union.
Trains did not run early in the morning and will stop early in the evening.
Why are RMT members striking?
"Continued attacks on pay and working conditions at a time when big business profits are at an all-time high," says the union.
The RMT general secretary Mick Lynch says: "We want a settlement to these disputes where our members and their families can get a square deal. And we will not rest until we get a satisfactory outcome."
What do the employers say?
Andrew Haines, chief executive of Network Rail, said: "We want to give our employees a decent pay rise. It isn't fair to ask taxpayers or passengers to fund this so we must fund it ourselves, which is achievable if the unions work with us to modernise and run the railway more efficiently.
"The decision by unions to strike again serves only to prolong disruption for passengers, undermine the railway's recovery from the pandemic and ensure railway staff forgo even more of their pay unnecessarily."
Daniel Mann, director of industry operations at the RDG, said: "These strikes are unnecessary and damaging. They disrupt passengers' plans, undermine struggling businesses, hit major events and harm the industry's recovery."
Could there be more strikes?
Yes. RMT members working for ScotRail plan to strike on Monday 10 October.
Engineering work will also affect some UK rail journeys around the same time.
Train managers on Avanti West Coast who are members of the RMT will walk out on Saturday 22 October and Sunday 6 November in a row over the imposition of rosters.
The rail firm has been given a six-month extension to its contract to run trains between London, the West Midlands, northwest England and southern Scotland. But the union says Avanti West Coast has "slashed services and left staff with poor morale and feeling neglected".
The general secretary, Mick Lynch, said: "Avanti are one of the worst operators we have ever tried to negotiate with.
"They have treated our members appallingly and this strike action is the culmination of months of neglect and a strong response to the arrogance bosses have shown.
"Avanti should never have been given any extension to their franchise contract for all the chaos they have caused passengers. And their contempt of their staff is part and parcel of their disastrous approach."
My expectation is that fresh national strikes are likely to be called over the weekend or early next week. Besides the issues of pay, redundancies and working conditions, the RMT union is concerned about plans to close ticket offices at stations.
In addition, the RMT has signalled further strikes by members working for Transport for London following a funding settlement with the government.
But Aslef and the RMT share with the new transport secretary, Anne-Marie Trevelyan, a strong political bond. They all campaigned enthusiastically and successfully together for Brexit.
Leaders of both unions have met Ms Trevelyan, with Mr Lynch of the RMT saying: "We welcome this more positive approach from the government to engage with us as a first step to finding a suitable settlement."
At the Conservative conference, the transport secretary said "there is a deal to be done".
But Mr Lynch says that for an agreement to be reached, the minister must "unshackle the train operators and give them the remit to negotiate a settlement with the RMT that meets our members' aspirations around job security, pay and working conditions"