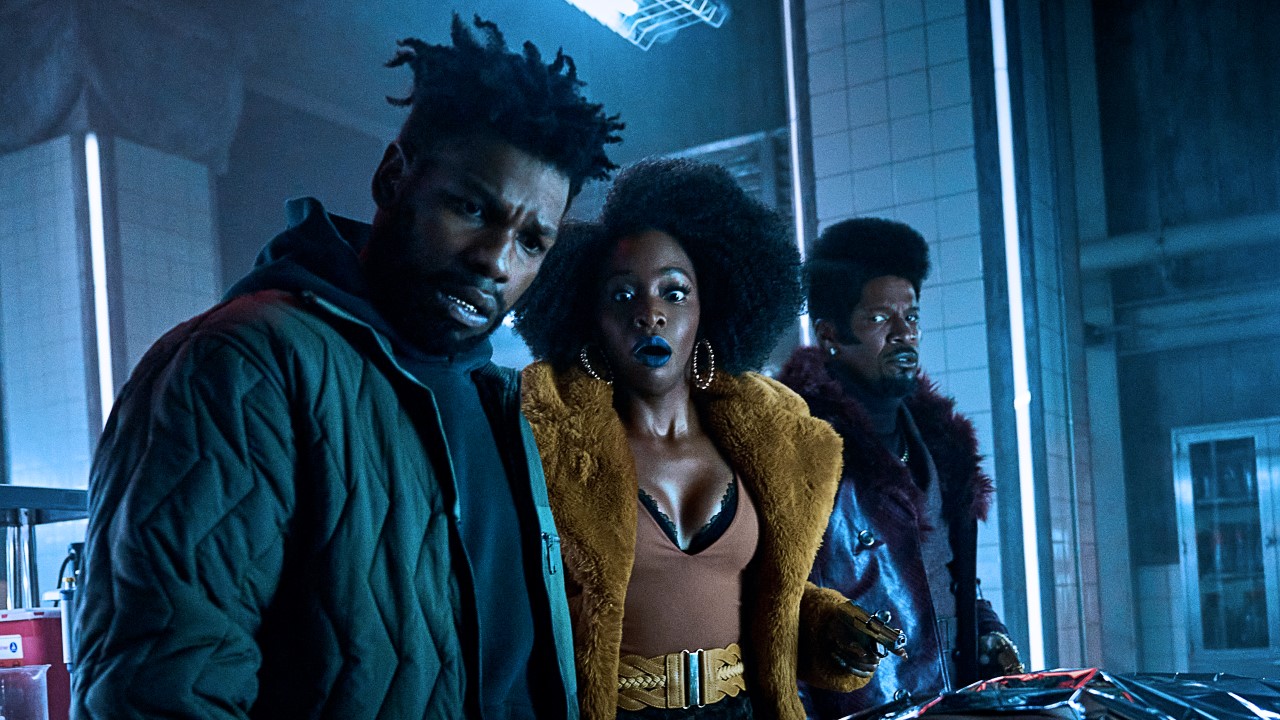 Major spoilers below for They Cloned Tyrone, so tread ever so carefully if you haven't yet watched.
A directly laid-out movie title like They Cloned Tyrone may indicate that the project itself will be similarly straightforward and to the subject-predicate-object point, but that couldn't be further from reality. As headed up by John Boyega, Jamie Foxx and Teyonah Parris, this Netflix Original is a densely plotted and topsy-turvy sci-fi conspiracy thriller that is just as hilarious as it is head-scratching at times. Directed by Juel Taylor, Tyrone is a movie best enjoyed through multiple viewings, with many moments and lines of dialogue gaining further value once viewers have seen everything play out. And even then, the conspiracy, Old Fontaine, and the final scene are still worthy of further explanation. 
So allow me to put on my clarification cap in order to dive into the racially murky waters of They Cloned Tyrone to dig into everything that played out amidst all the expertly delivered dialogue flying out of Foxx's Slick Charles and Parris' Yo-Yo.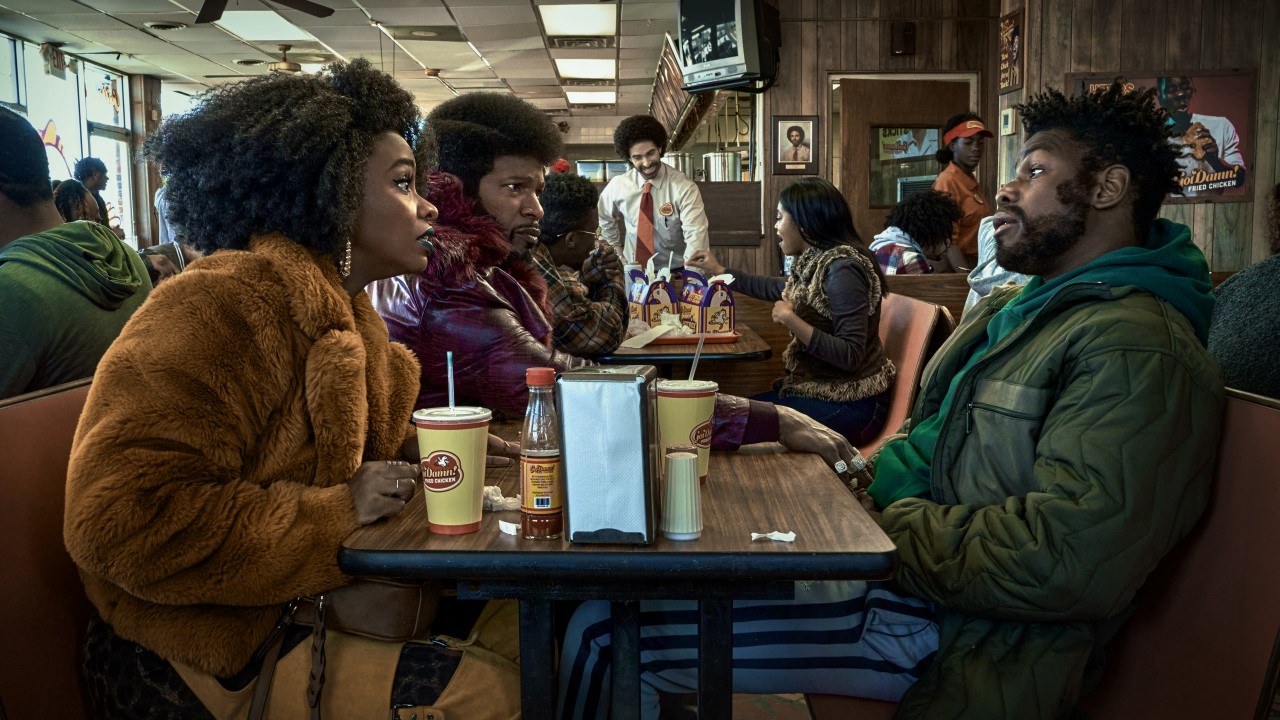 How The Glen Was Central To A Government Conspiracy 
The very first second of They Cloned Tyrone — the blue eyes of a cartoonish white man advertising products to a Black audience — is as brilliant an opener as could possibly exist for a mystery thriller of this nature, as it's the cypher unlocking both sinister plots at the heart of the film's conspiratorial plotting. The Glen is a testing ground for a frighteningly repugnant government-funded experiment couched into the stated goal of promoting unity and discord.
Or, to put it another way: powerful white people have sectioned off entire neighborhoods for the purposes of testing and perfecting mind-control techniques on Black people, both those of biologically pure and cloned natures. Nearly every single element being advertised, enjoyed, and consumed within The Glen was in some way manufactured or tweaked by the shadowy group that Kiefer Sutherland's shitbird character belongs to, from the hair products to the malt liquor to certain songs on the radio (#Ruckus) to fried chicken recipes and beyond. The majority of the local population are lab mice in a maze disguised as a neighborhood, and it's a bunch of neo-Nazis controlling the feeding tubes, and just about everyone is under surveillance. 
The Glen sits atop a physical infrastructure comprising areas dedicated to manufacturing and distributing the aforementioned goods, research and development for brainwashing and mind control, clone storage, and more. Many key locations throughout the neighborhood are connected directly to the underground via elevators, with a vast number of mostly caucasian employees on all levels servicing the cause, from scientists to security guards to federal agents to stockroom grunts.
With all manner of "one equal race" propaganda on display throughout both the underground and the streets above, the Powers That Be use clones as a way of wildly expensive population control, and a way to not raise unnecessary alarm or worry amongst those who haven't (yet?) been cloned. And as seen in the film, sometimes clones are put into their respective cycles when previous versions are still alive and kicking, extending how much of an ethical nightmare it all is. 
Not everything is explained in full about this process, and it's not 100% clear how long it's been in place, which helps the film lean into a strangely timeless vibe, even if there are references to everything from Hollow Man to the superiority of blockchain. (The fact that the audio device serving as Fontaine's "mom" is so old possibly speaks to how long he's been going through those motions.) It's not entirely clear what the chain of command is beyond Kiefer Sutherland's character and his boss, which takes us to…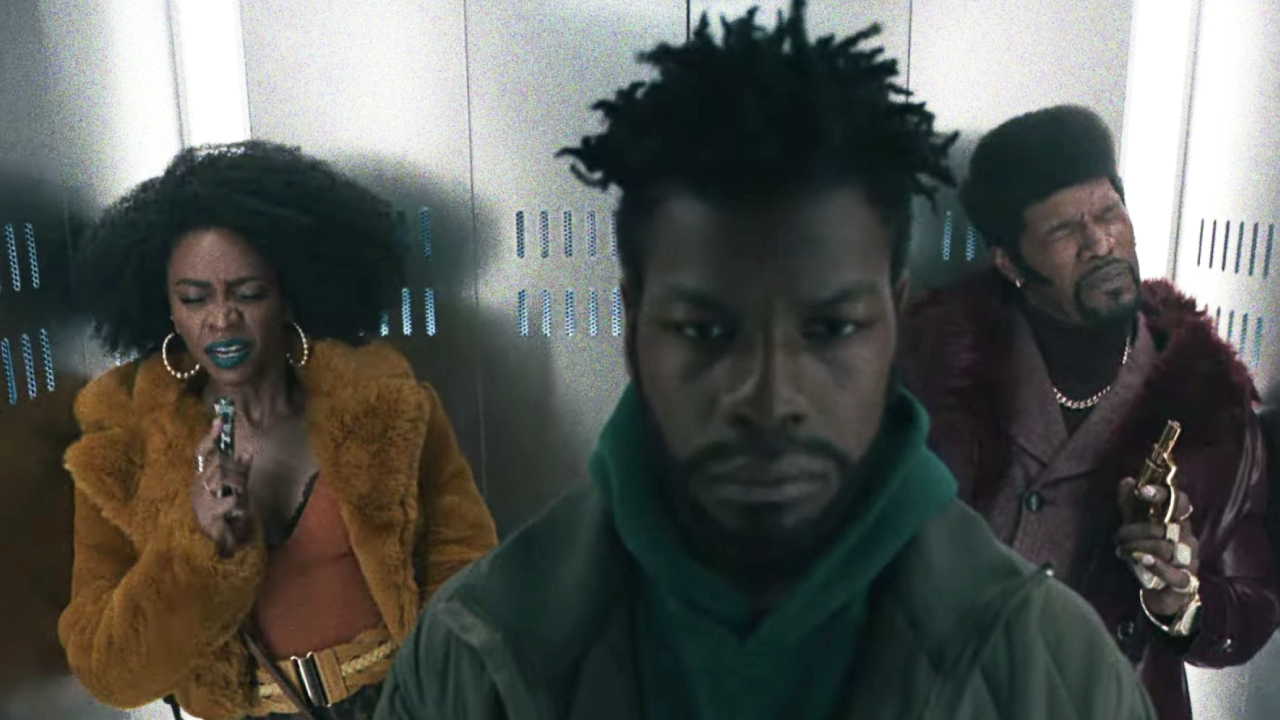 What Old Fontaine's Ultimate Goal Actually Was
When John Boyega's Chester clone was introduced in a bodyguard capacity for Kiefer Sutherland's not-quite-head honcho, that was the audience's first clue that the "Fontaine" clone wasn't the only one drawn from the source DNA. Which made it slightly less shocking to see the actor rocking facial prosthetics as Old Fontaine. (He's introduced as the O.G. version, but given everything else, there's room to speculate that even he was a clone.) At face value, Old Fontaine's quest is virtuous, but it's in the same empty manner as the propaganda flowing through The Glen, and is soiled all the more so by his position as the experiment's lead geneticist.
As it was touched upon earlier in the film, Fontaine is heavily influenced by the death of his younger brother Ronnie, and it's further explained that he was callously shot by a cop who left the child to die on the ground unattended, where medical attention could have saved his life. It clearly happened many years in the past, but Old Fontaine is still sticking with the idealized goal of making sure "what happened to Ronnie can never happen again," even though one has to think They Cloned Tyrone takes place in a reality where similar instances happen at least as often as they do in the real world. I'm admittedly unsure if that speaks to Old Fontaine's mental state being stretched thin, or if he's so dedicated that he can't see outside of his own trauma.
O.F.'s goal, which employs technology and research in part funded by neighborhood experiments like The Glen, is only slightly more nuanced than those of his colleagues. To him, brainwashing and mind control aren't the best way to get people to agree with each other. In his mind, that problem can be solved if everyone just has the same brain, more or less, as opposed to all being of the same skin color, sexuality or nationality. And it appears he developed/created five perfect specimens to go out into the world to spread their homogenized DNA, with more of their kind presumed to follow. 
Done Watching They Cloned Tyrone?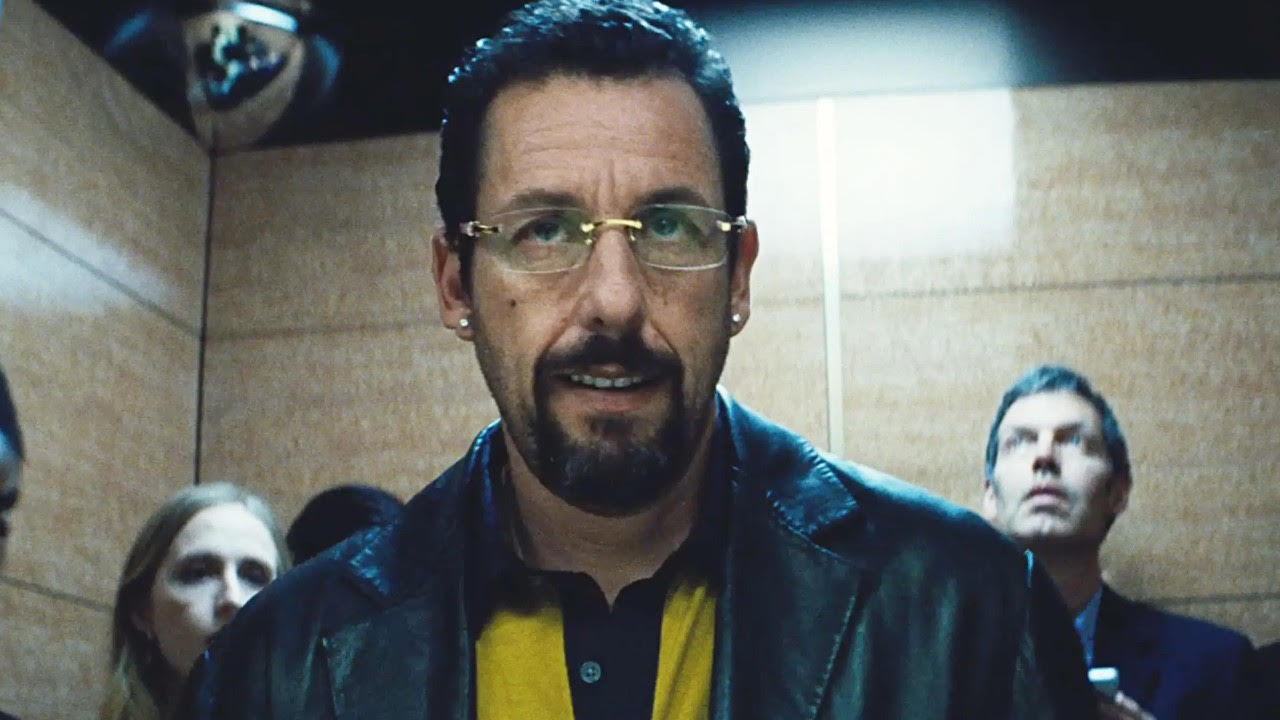 Whether or not those follow-ups would differ from the five examples lined up in his office, it's unclear. It's also not 100% clear if anyone else that Old Fontaine worked with was fully aware of his subset to-do list, but it didn't seem like his work was fully sanctioned. Not only because he referred to the others' efforts as being short-sighted, but because they're a bunch of racists whose initial clone-breeding efforts led to afro-topped white dudes who are horny for Black women.
Old Fontaine's efforts were possibly all in vain, however, as he was shot (presumably to death) by Chester, at the command of the younger clone. Which is perhaps the best sign of just how far the character had strayed from his core self, since it took Fontaine no time at all to react negatively to what he was hearing, and didn't hesitate to have his maker, as it were, killed off amidst all of the clones being freed throughout the neighborhood.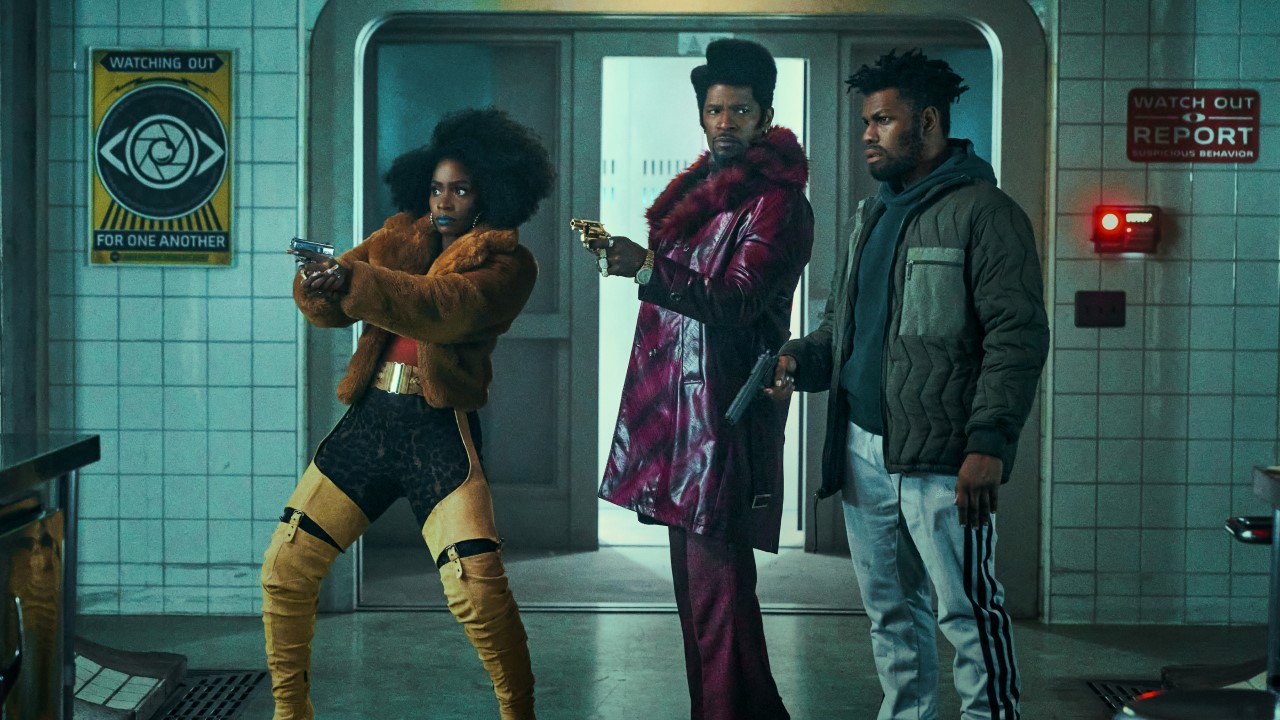 What They Cloned Tyrone's Final Scene Means 
Though we'd already seen multiple versions of the movie's central character, with Chester also in the mix, Old Fontaine made it clear that a whole bunch of clones had been created before the one that we followed through most of the movie. (Including the one that Slick Charles tied up and left alone in his motel room.) And during one of the news reports showcasing the chaos, the character seen above holds up a file featuring pictures of Fontaine, and claims that there were also experiments happening in far larger locations such as Chicago, Detroit, and Los Angeles. 
They Cloned Tyrone's final scene, which follows the end title card, opens up with another John Boyega character waking up and going through almost the exact same daily routine as Fontaine, from lottery scratch-offs to lifting weights to drinking 40s, only it's very clearly happening in Los Angeles. As he's hanging out with friends, they see a breaking news report about The Glen's clone situation, confirming the scene aligns with the rest of the film's timeline. 
Everyone in the room was shocked to see one of the Fontaine clones emerging from a crowd, with one of the friends turning to say, "Ain't that you, Tyrone?" Beyond being a hilariously low-key way of addressing the film's title, and right before that amazing "Who Cloned Tyrone?" revamp from Erikah Badu, the scene makes it clear just how far along the experiments are outside of The Glen. And it proves Old Fontaine's point that his work will still continue, in a manner of speaking, regardless of everything that Slick, Yo-Yo and Fontaine helped make public. 
In the end, our trio of heroes are aiming to take a trip to Memphis, with Yo-Yo taking point on motivation and being an authentic human. (We think?) And while it's unclear if there are any sequel ideas in place, Tyrone's late-stage introduction certainly opens the door for a new uprising to take place on a larger scale in L.A. But even if that doesn't happen, this isn't the kind of cliffhanger ending that needs to be followed up on. 
For me, They Cloned Tyrone is one of the best sci-fi thrillers on Netflix or otherwise that I can think of, and anyone with a Netflix subscription might as well give it a rewatch after reading, to pick up on all the clues.