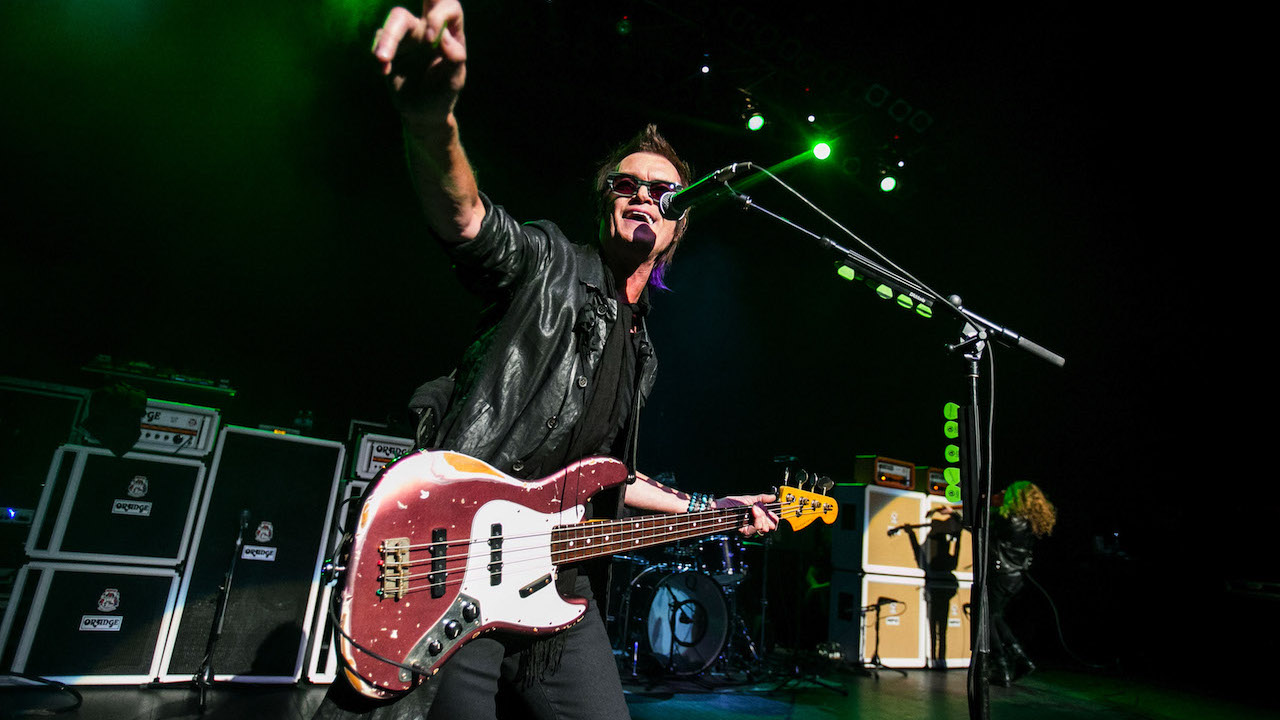 For those not in the know, singer, songwriter and bassist Glenn Hughes honed his chops in the underrated funk-rock band Trapeze as a teenager and then sprang into the limelight in 1973 when he was recruited into Deep Purple, then one of the biggest bands ever formed. 
"They'd recently lost their singer Ian Gillan and their bassist Roger Glover, and were looking for replacements," said Hughes in his 2021 BP cover feature. "I knew that if I was going to join Deep Purple that I would make my mark on the international stage immediately. I realised that I had to leave Trapeze, to go and find the world."
Hughes then made an unexpected admission. "In retrospect, I really should never have left Trapeze. With no disrespect at all meant towards Deep Purple, there's not much swagger going on in that band. It wasn't a great role for me as far as the bass player that I am goes. Songs like Burn are very straight and strict, you know. That's the way I feel these days – truly. Leaving Trapeze has been the torment of my life, but I had to let it go."
"I'd seen Deep Purple when they played at the Wolverhampton Civic," said Hughes. "I thought they were pretty good and that the guitar player, Ritchie Blackmore, was a bit eccentric. They were all good musicians, but it wasn't soulful. To be honest with you, if it wasn't soulful and funky, it didn't interest me. My experience of funk was Sly & The Family Stone, so when I heard Highway Star or whatever, I thought it was okay, but it didn't really do it for me."
To his surprise, Hughes kept seeing members of Deep Purple showing up at Trapeze's gigs. "I didn't know they were actually courting me, but I felt better about the offer to join when I heard that they'd asked a hero of mine, Paul Rodgers of Free, to join too. It was also attractive to me to join the world's top band, who were bigger than Led Zeppelin at the time. That on its own was pretty persuasive, but it wasn't so much the money or the fame as the chance to have a bigger stage to play on and more people to sing for. And make no mistake: in 1973, Deep Purple were the biggest band on the planet."
Does Hughes ever listen back to his early recordings and assess his youthful bass playing? "When we formed Trapeze, that's when bass started to get funky for me. I've heard some Trapeze bonus tracks that I hadn't heard before, and the bass was really something – and I was only 17 or 18. I was shaking my head as I heard it, thinking 'Was I playing like that at that age?' You can clearly hear that I was really into it."
After all these years, has bass guitar changed its role for Hughes? "You know, people talk about my vocals, but I realise how lucky I was to have found myself as a bass player in 1967, when the bass player left the band I was in. I had 24 hours' notice to switch from playing guitar to playing bass guitar on cover songs like Fire Brigade by the Move. People ask why I play with a pick – well, it's because I had to switch from guitar so quickly. Andy Fraser told me that I sound like a fingerstyle player, even though I play with a pick."
As for bass guitars, he explains "I've got a lot of classic Sixties basses, and I always fear losing one on the road – like I did with my Deep Purple P-Bass in 1977 – so they stay at home because I don't want that to happen again. I was in a music store in Australia about 10 years ago, and I was playing basses that I thought were vintage models – and they were new Bill Nash instruments. So I called Bill up. I have four or five of his P-Basses and the same number of Jazz basses. Every one is brilliant: Bill doesn't make bad basses. I'm playing a Nash J-Bass at the moment and it's incredible." 
Glenn Hughes: The Autobiography is available to buy on Amazon.