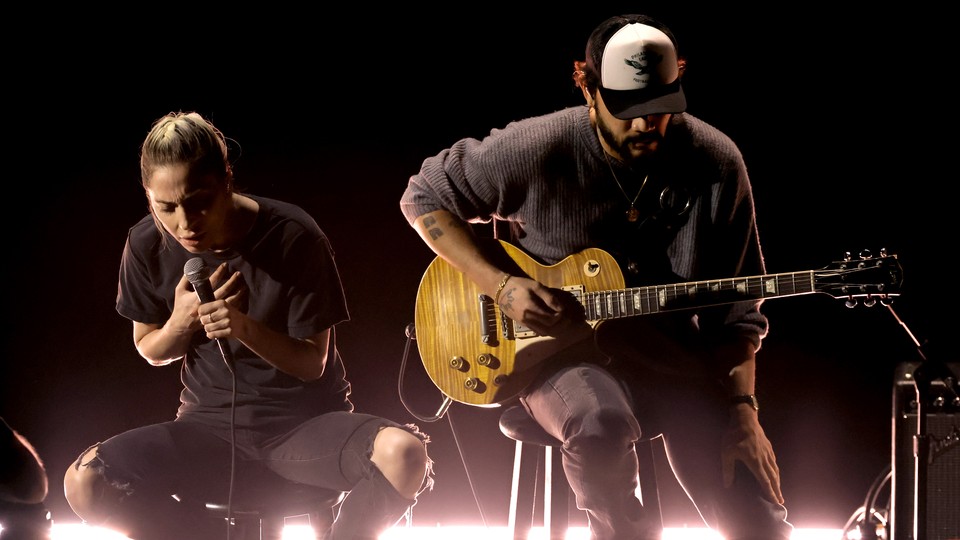 All storytelling requires artifice, but last night's Academy Awards highlighted that movies tend to involve more industrial processing than American cheese. The Best Picture nominees included far-from-realistic spectacles portraying CGI blue people, dimension-hopping laundromat owners, and Tom Cruise flying at Mach 10. The mega-studios Disney and Warner Bros. enjoyed infomercial-like tributes, reminders that Hollywood is a business. Jimmy Kimmel, the ceremony's host, kept forcing jokes about last year's infamous slap and the so-called crisis team that was on hand this year to prevent a repeat.
But the best pageantry still makes space for unpredictability—and last night, another artistic medium, music, helped greatly in that effort. Take, for example, the composer M. M. Keeravani. He delivered an acceptance speech for Best Original Song—for "Naatu Naatu" from the Indian blockbuster RRR—that was, itself, a song. "There was only one wish on my mind," Keeravani crooned to the tune of The Carpenters's "Top of the World," inspiring laughter in the audience. "RRR has to win / pride of every Indian / and must put me on the top of the world!"
As those made-up lyrics suggested, the victory for Keeravani and his collaborator Chandrabose had the air of a fable. A Telugu-language, more-than-three-hour-long action-dramedy, RRR is the sort of global sensation that rarely receives American recognition. "Naatu Naatu" is the first Indian song to be nominated for an Oscar. And as the actress Deepika Padukone said on stage last night, it's a banger. Blending the thundering of duffs—Indian skin drums—with an electronic pulse, the song holds the energy of a thousand Red Bulls. In RRR, it powers a dance-battle scene that has been viewed millions of times on social media.
The Oscars performance of "Naatu Naatu" translated that gonzo scene to a live setting. While the singers Rahul Sipligunj and Kaala Bhairava delivered the track's joyful Telugu lyrics, two dancers—standing in for RRR's stars N. T. Rama Rao Jr. and Ram Charan—executed the signature choreography: a hook step in which one foot hammers the ground while the other shakes in the air, punctuated by suspender-snapping and other flourishes. Wearing pastel-colored dresses and neckties, backup dancers conveyed RRR's setting for this spectacle: a party thrown by colonial British snoots, upended by two talented interlopers. (Worth noting: Indiewire's Proma Khosla has raised questions about the authenticity of the segment's casting.)
The song's rebellious theme was apt. The other nominees in its category were more typical Academy bait—and were each staged solidly last night. Fourteen-time Oscar nominee Diane Warren played piano as the actress Sofia Carson sang Tell It Like a Woman's "Applause," a motivational speech in song form. Rihanna, recently re-awakened to pop stardom, gracefully belted the Black Panther: Wakanda Forever ballad "Lift Me Up" while draped in diamonds. The Everything Everywhere All at Once cut "This Is a Life" inspired a whimsical ballet, presided over by a hot-dog-fingered David Byrne, Best Supporting Actress nominee Stephanie Hsu, and a video-screen raccoon.
But the night's most jolting performance came from the hokiest nominee. Lady Gaga's "Hold My Hand" from Top Gun: Maverick might as well be called "Grab Your Tissues" for how desperately it bombards the listener in hopes of an emotional response. At the Oscars, however, Gaga played it small. Wearing a black T-shirt while filmed in pore-revealing close-up, she introduced the song with a quiet spiel about how she wrote it in her studio basement. She then took liberties with the melody, emphasizing low moments and little inflections, while alternately clenching her eyes or flashing a moony smile.
This was, in a way, a clichéd TV performance, so determinedly raw that it loops back into seeming unreal. But it was also Gaga doing what she's great at: finding the unexpected angle and pushing it hard, demonstrating a supernatural commitment to the bit. Moving and ridiculous, the performance—like any great movie—transcended the divide between pageantry and authenticity. In the end, we just want a good show.