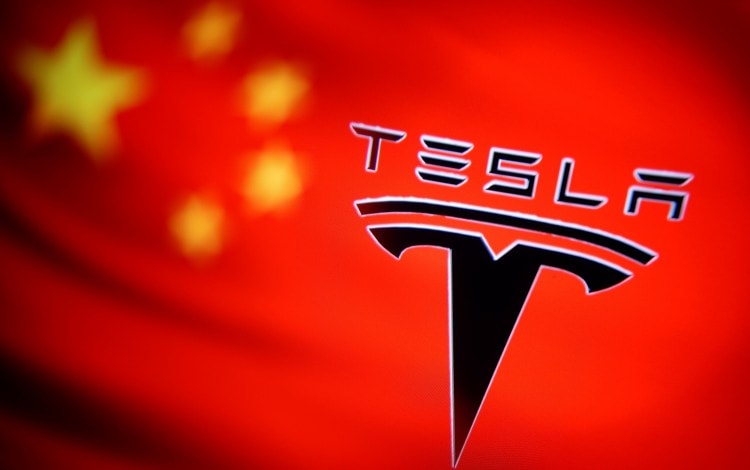 Tesla (TSLA) shares moved higher Friday following data some China that showed a big boost in January sales following a series of price cuts in the world's biggest car market. 
The China Passenger Car Association (CPAC) said Tesla sold 66,051 cars over the first month of the year -- even amid the country's Lunar New Year holidays -- an 18% increase from December and 10% higher than the same period last year. 
Tesla CEO Elon Musk told investors last month that orders for the month of January to date were "the strongest in our history" and were nearly twice the rate of Tesla's global production.
Tesla began cutting the price of its Model 3 and Model Y vehicles in China last October, with similar reductions unveiled in the U.S. shortly after, and then deepened them earlier this month after the group posted disappointing December quarter delivery figures. 
Tesla reduced the starting price of its Model 3 sedan by around 13.5% in China, according to data from its website, and lowered the price of its Model Y by around 10% to 259,900 yuan, the equivalent of around $37,660, as it deals with increasing competition from China-based rivals in the world's biggest car market.
"The Chinese market is the most competitive. They work the hardest and they work the smartest," Musk told investors last month. "I have a lot of respect for the China car companies that we're competing against."
"Our Tesla China team is winning in China," he added. "And I think we actually are able to attract the best talent in China. So hopefully, that continues."
Tesla shares were marked 4.8% higher in early Friday trading to $197.37 each, a move that would leave the stock up more than 82.5% for the year.
Late last month, Tesla posted stronger-than-expected fourth quarter earnings and doubled-down on its pledge for a 50% annual delivery growth rate.
Gross automotive margins were 25.9%, Tesla said, a big decline from the 27.4% figure from last year and the 27.9% figure recorded over the third quarter, owing to outsized price cuts in the U.S. and China as well as costs linked to the ramp-up of production in Berlin and Texas. 
"We are planning to grow production as quickly as possible in alignment with the 50% CAGR target we began guiding to in early 2021," Tesla said. "In some years we may grow faster and in some we may grow slower, depending on a number of factors. For 2023, we expect to remain ahead of the long-term CAGR with around 1.8 million cars for the year."
That tally would only imply a 27% growth rate, however, and even that pace may be difficult to maintain, given both the challenges Tesla faces in ramping-up production at new factories in Texas and Berlin and weakening demand prospects for in key Asia markets.