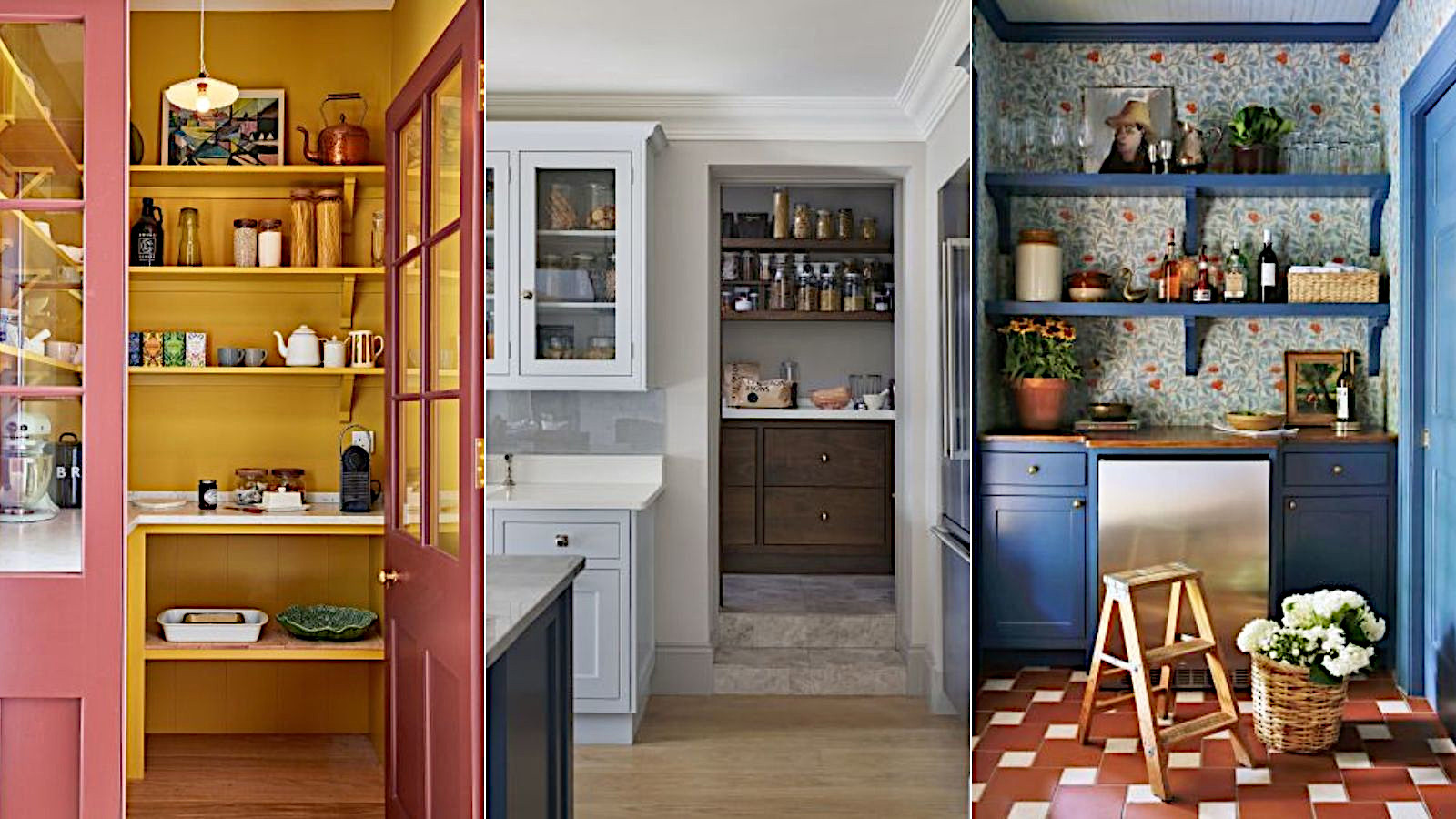 There's no denying that pantries are the most coveted element of a modern kitchen. But should your pantry be the same color as your kitchen, or is a contrasting color, one that perhaps highlights its presence a better option?
Whether the pantry is in a separate or adjoining room to the main kitchen, or simply an upscaled, dedicated cabinet in a run of kitchen units, this invaluable food and appliance storage space deserves some thought when it comes to decor. 
We asked interiors experts for their pantry decor ideas and put the question to them: should a pantry be the same color as a kitchen, or different? This is what they said.
Should a pantry be the same color as a kitchen?
One way to make a pantry look more expensive is to invest in decorating it as you would other spaces. But should your pantry be the same color as the kitchen? The answer is: it depends on the look you want to create, the style of your home, your existing color schemes and approach to color overall. 
It also depends on the type of pantry you have, whether a well-organized large cabinet space within a kitchen, or a separate walk-in space, more of a butler's pantry adjoining the main kitchen. These distinctions can guide the color treatment, too.
When to choose the same color for your pantry and kitchen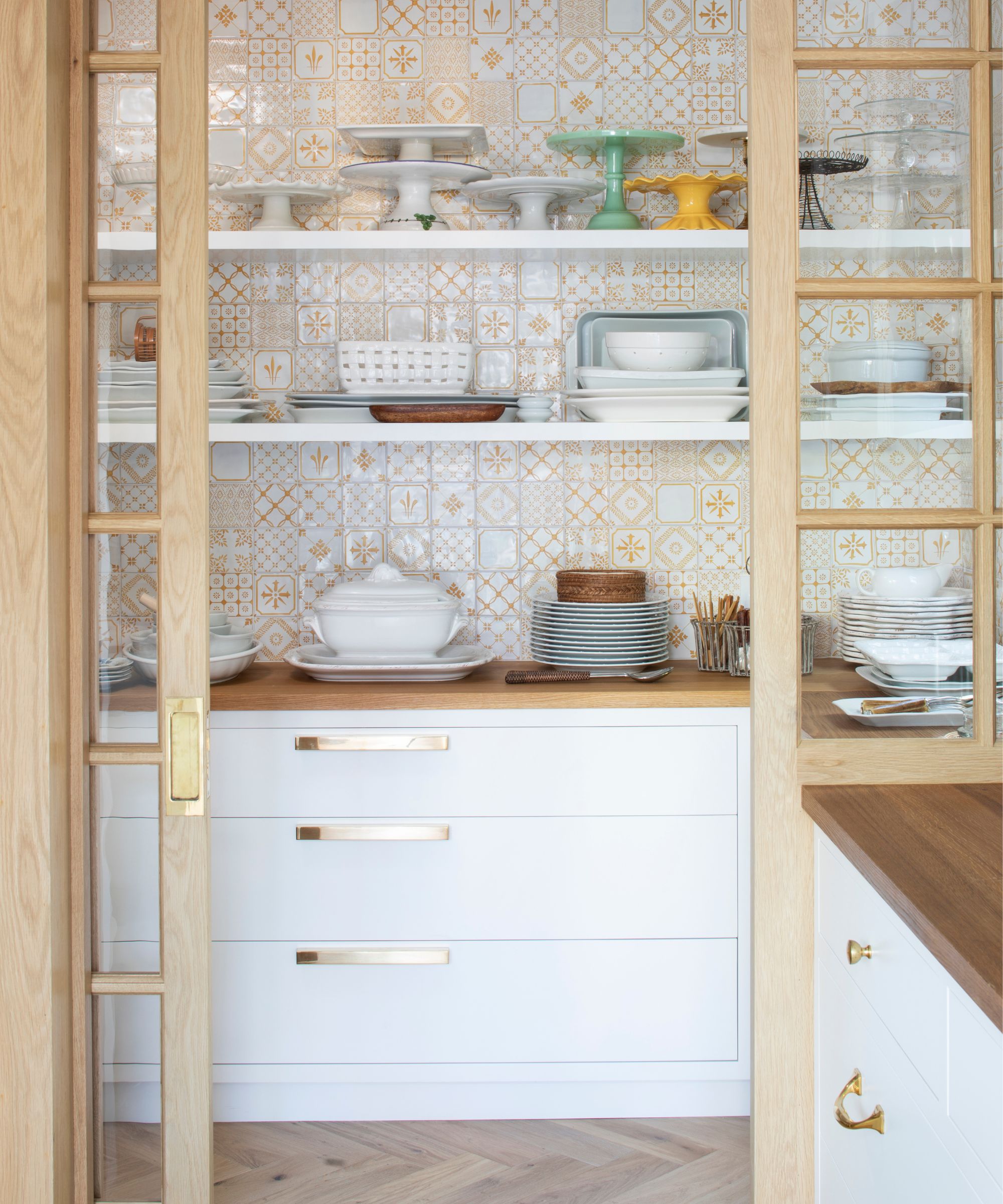 A one-color approach makes good sense when the pantry is part of the kitchen, especially if it's on show, because it won't interrupt the visual flow, helping to make a small kitchen feel bigger. 
It can also be the best choice if your decor scheme overall is calm and coordinated.
Hannah Yeo, color marketing and development manager at paint brand Benjamin Moore, highlights the benefits of going for a single color scheme. 
She says: 'Just like any other rooms in the home, the kitchen and pantry should also reflect your life and design style. You'll want to create the atmosphere that enhances your lifestyle with colors.
'You can choose to keep it simple by using all one color for the space to make it look larger. This allows you to get creative with accessories you bring to the space, such as colorful plates, vases, or artwork on the wall.' 
Or, you could continue the cabinetry colors and styles into the pantry, but look for contrasting pantry door ideas for walk-in spaces to differentiate.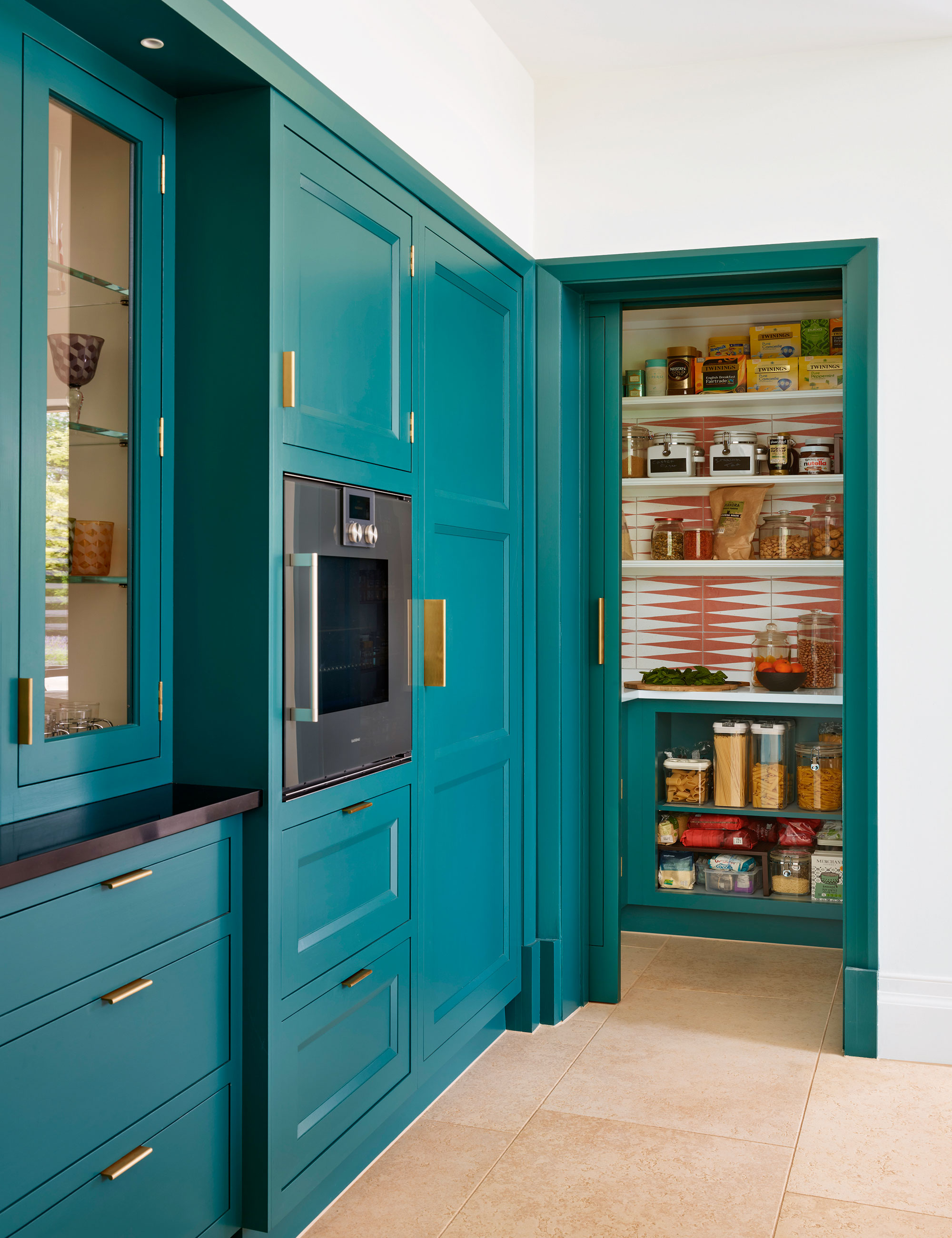 A one-color approach doesn't mean you can't differentiate a little in your pantry, such as in the space above. 
Here, the lower shelves are painted the same color as the kitchen cabinets, but since it's such a striking bold teal there's no chance of the one-color scheme looking flat, particularly with its own tiled backsplash to differentiate it. 
A glass-fronted cabinet in the run of kitchen units provides extra interest and display space for favorite crockery and glassware in similar tones to the tiles to tie the two areas together.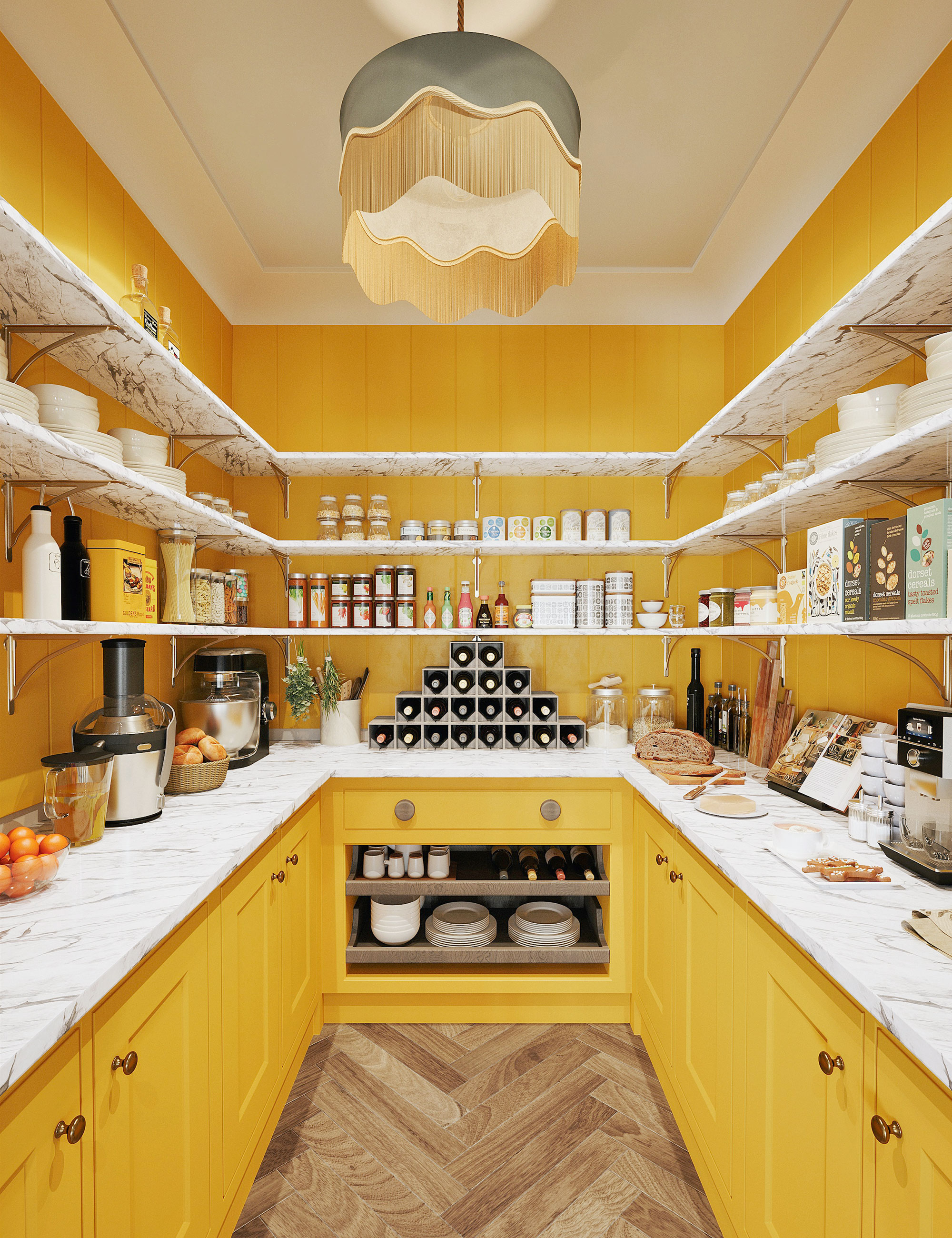 If you want to choose a stand-out bold color for your pantry, one that you would never pick for your kitchen, you'll be in good company.
Though some designers highlight colors you should never paint a pantry, interior designer Charles Cohen is a big fan of a statement pantry: 'I view a pantry as a secondary feature of a kitchen,' he says, 'giving you the opportunity to use a bold color cabinet or an eye-catching wallpaper. 
'But by choosing an element to connect the spaces, such as the continuation of flooring or stone countertops this allows the two spaces to feel cohesive but have their own personality.'
So, by all means go bold with the pantry, but you'll get the best finish if you anchor it a little to create an element of harmony with the rest of the kitchen.
When to choose a different color for your pantry and kitchen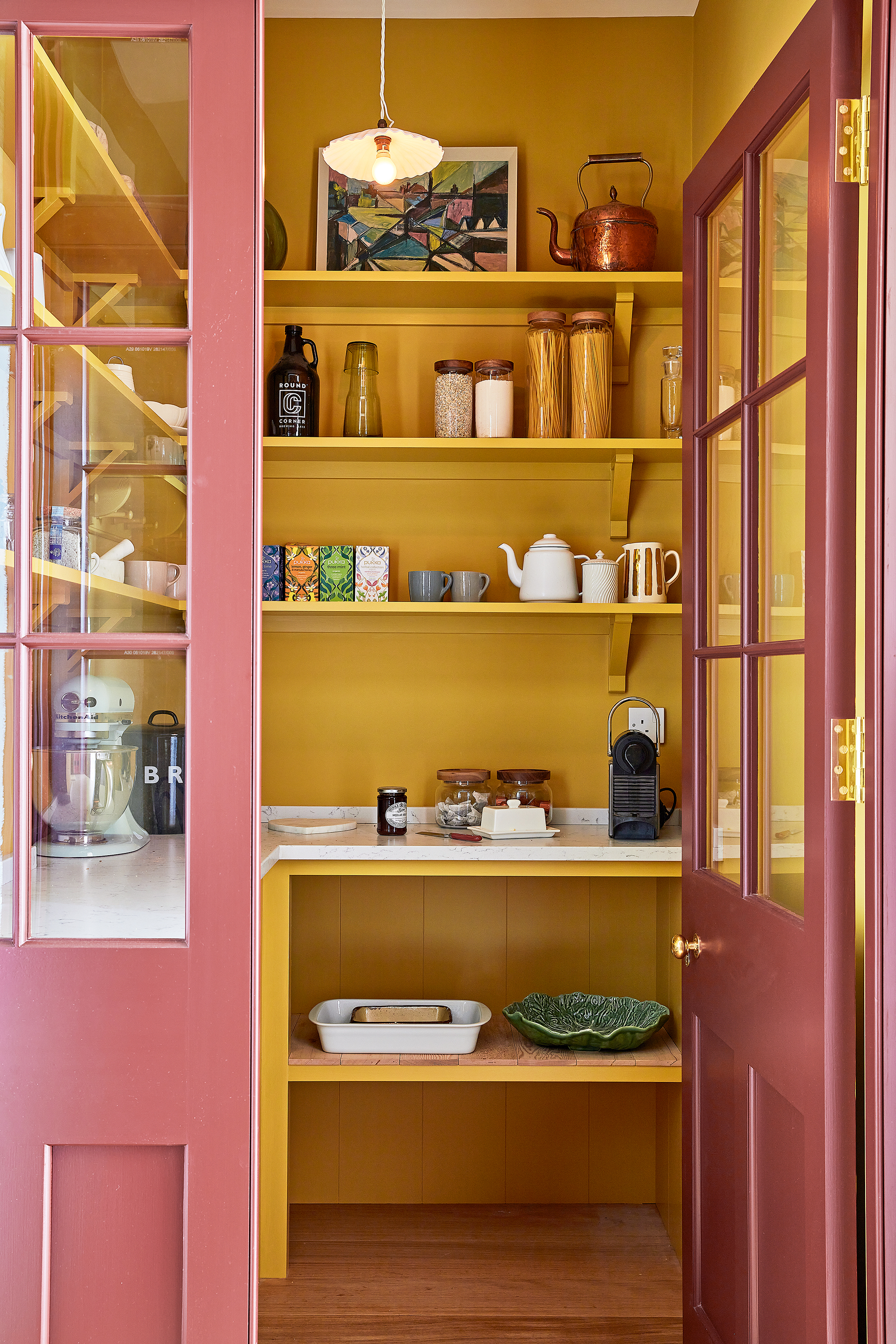 Whether your pantry is a cabinet within the kitchen or a distinct walk-in room, you could choose to make it stand out as a separate entity with a different color scheme. 
The benefits of this approach will create the impression of different zones within a space, and can added beneficial interest to linked spaces. This is becoming more fashionable to do, as designers are showcasing pantries in their designs. 
Hannah Yeo, says, 'You may want a two-toned approach which can feel natural in the kitchen in order to break up different sections.'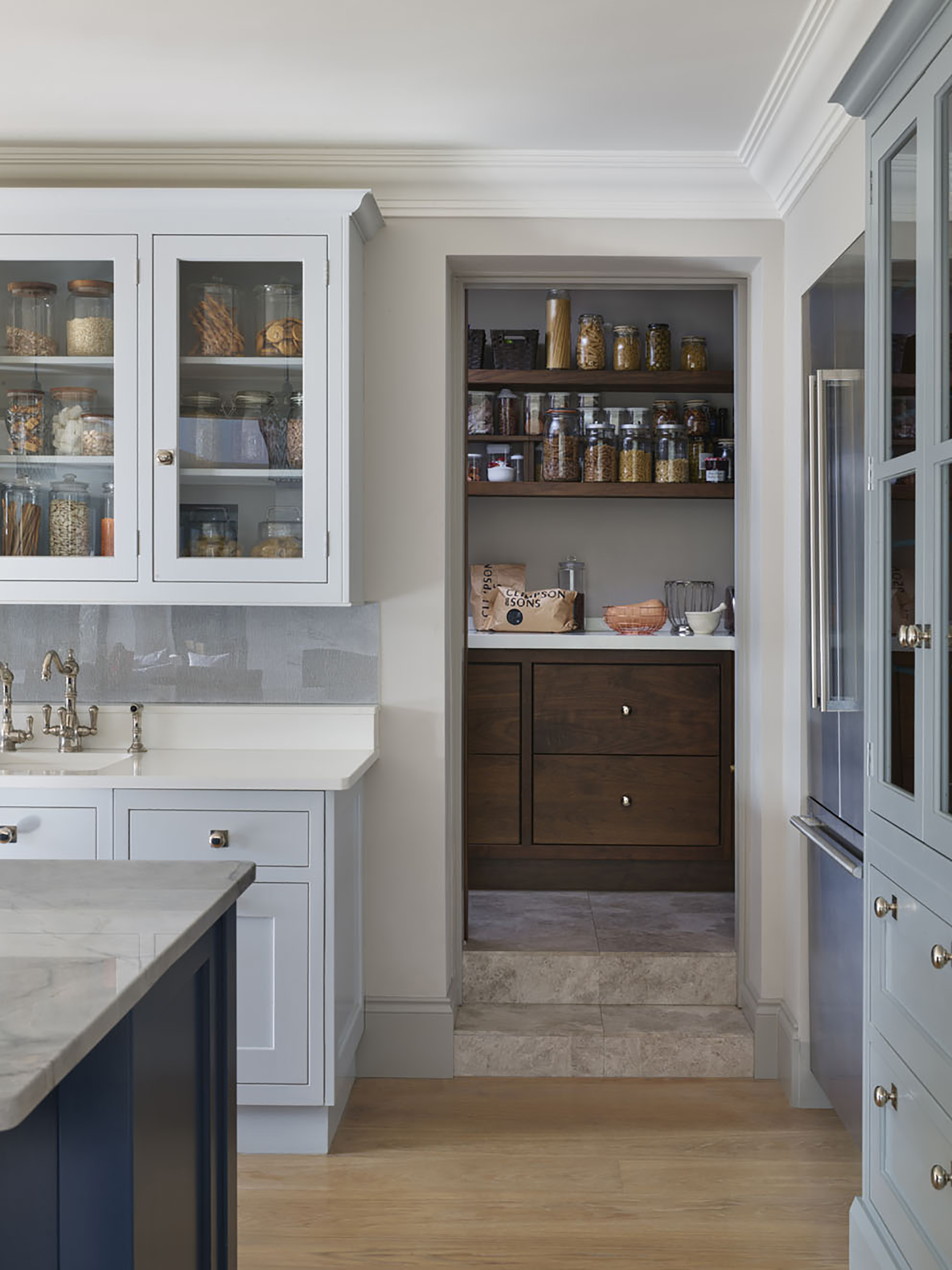 Vancouver-based interior designer Stephanie Brown offers some great advice for introducing an element of distinct style for a pantry, while still balancing a harmonious color scheme through the two areas: 'While we like to emphasize consistency with design, a separate walk-in pantry can be a great space for introducing a different color or finish. 
'We do however like to ensure that color or material is also used elsewhere in the home. For instance, if a kitchen island is teal-green (and the remainder of the kitchen is white), it can look great to use teal-green for the pantry cabinets.' 
Think about the finish and materials for the pantry too: 'The same goes for wood; pull those wood elements from elsewhere and consider an all-wood pantry,' says Stephanie Brown. 'In terms of cabinet style, we again recommend consistency; work with door styles and details that are already present elsewhere in the home's design.'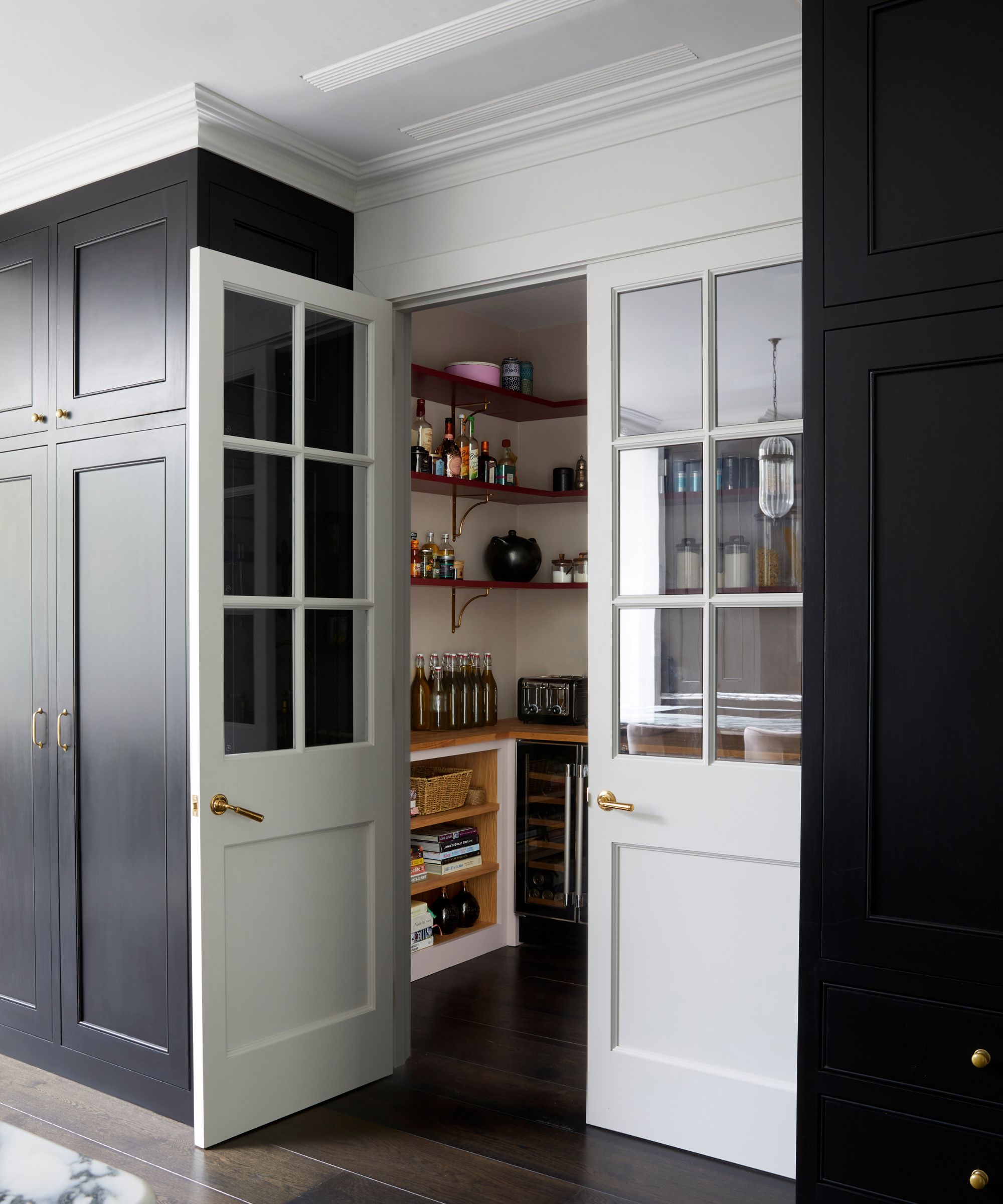 The age of the house, room style and pantry layout might also affect your color and finish choices, as Hannah Yeo explains: 'You'll also want to let the architecture guide you. If the pantry has unique characteristics or if you have a walk-in pantry with doors, use a contrasting color to highlight these areas.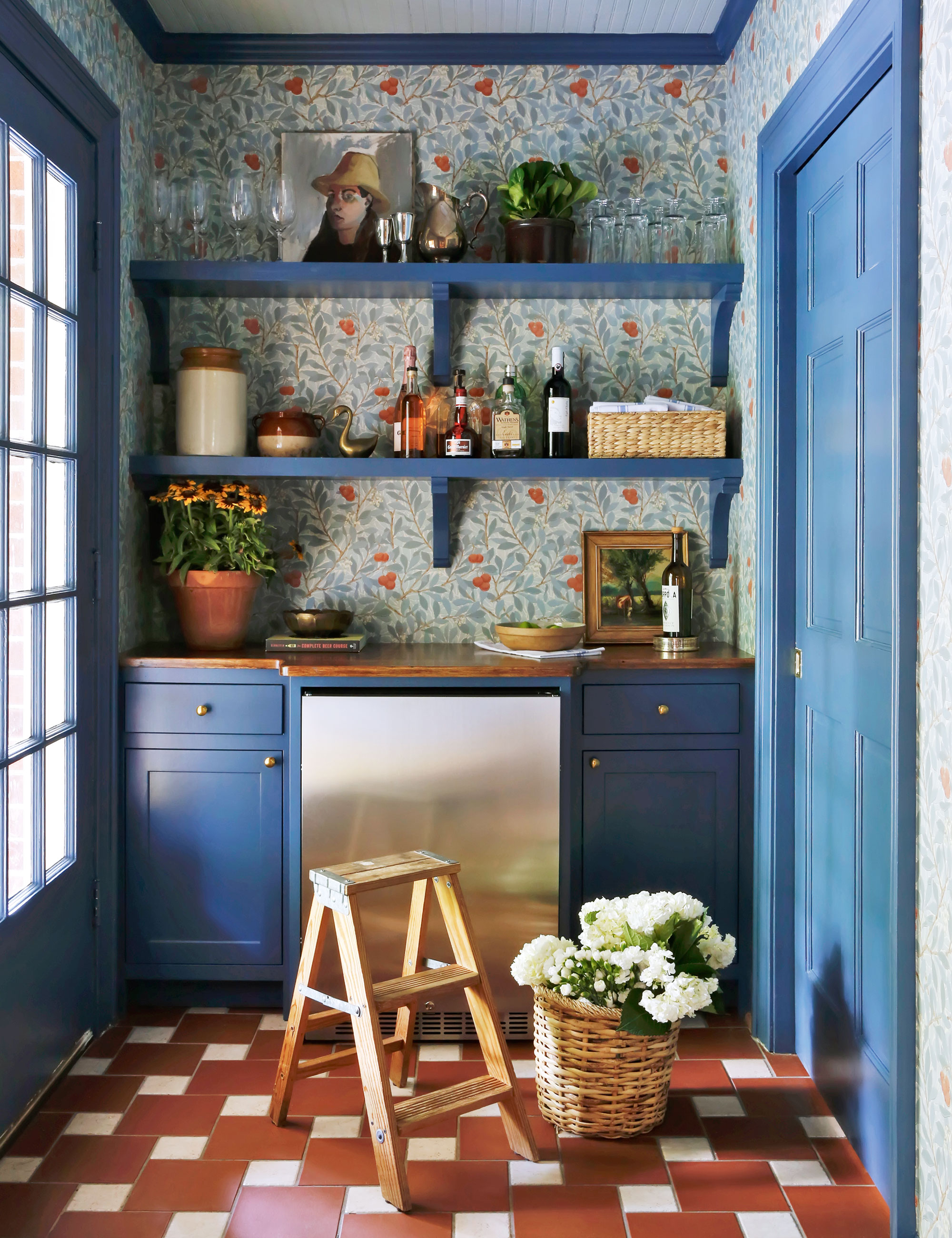 Interior designer Nicole Franzen of The 1818 Collective believes the style of the house is the most important factor in choosing color options. 
'There are no rules of thumb about pantries needing to be the same or different, I think they can go either way actually. It all depends on the layout and also the aesthetic of the architecture. For instance, in a modern house I might opt to do all the same color and cabinet design to have a more contemporary flow. 
'In a transitional home I might want to be more intentional by using more layers and playing with different stones, backsplashes and cabinet materials such as cladding the cabinets in brass or high-gloss paints.'
And on the subject of layout, Los Angeles-based interior designer Victoria Gillet says 'I always like to stay cohesive and create a seamless transition between my kitchen and pantry. If it's a walk-in pantry, I like to use open shelves or glass door but if the pantry is closed then I have more flexibility with the color and finish and can go with something slightly different.'
When to choose the middle ground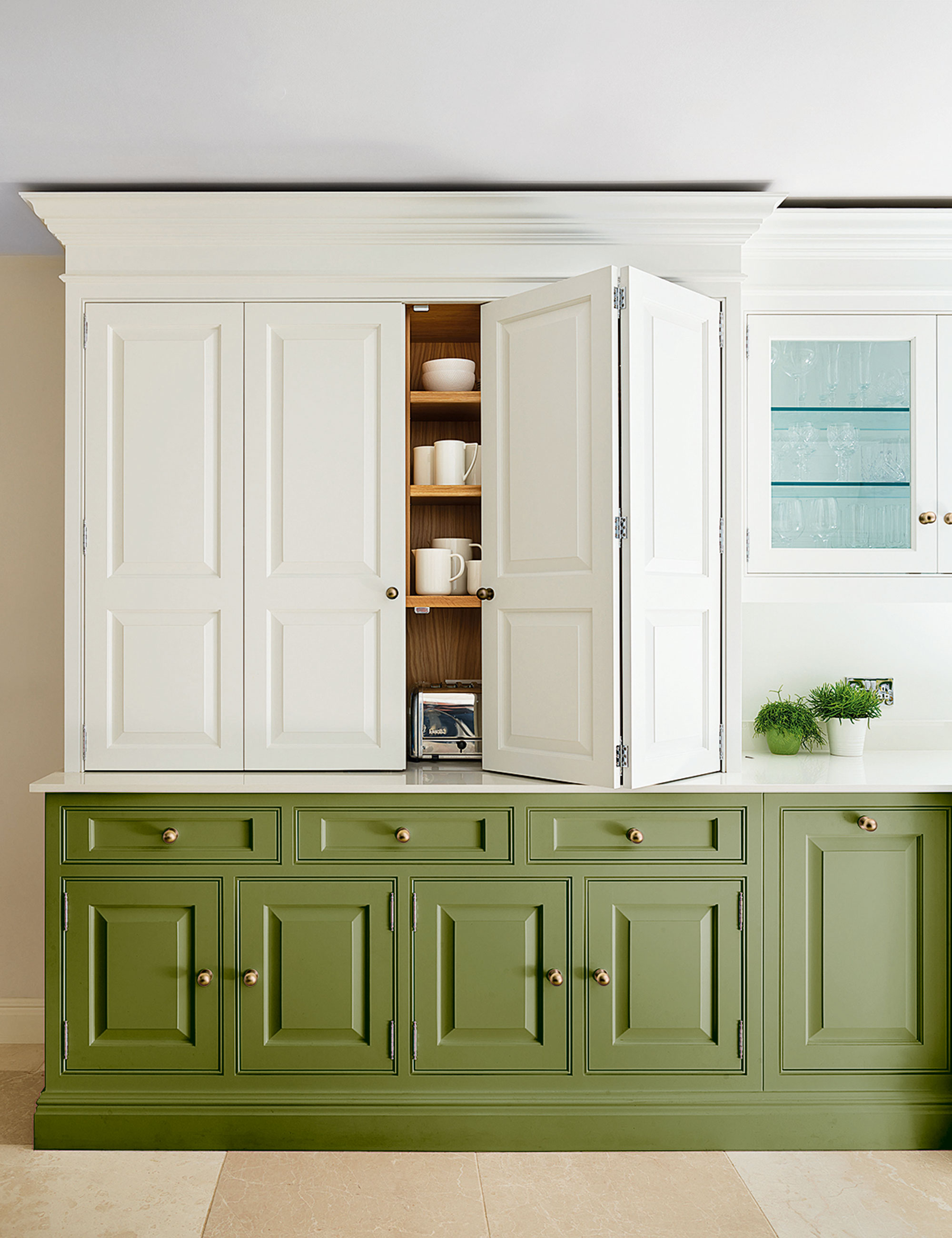 As with many interior design and color scheme conundrums, it seems the best approach is often a balanced approach. 
All the interiors experts we spoke to about whether a pantry should be a different color to the kitchen advised finding design elements to link the two spaces, even if you do choose different colors. 
In the Tom Howley two tone kitchen above, although the pantry doors are cream to match the run of kitchen units, the wooden interior creates a smart contrast with the other units, maintaining continuity while at the same time striking a note of difference. 
Color schemes are always a matter of personal preference, but as designer Victoria Gillet says, 'Ultimately, the goal is to create a functional and visually pleasing space that complements the overall design of your kitchen.' 
Keep that in mind at all times and your pantry will shine, no matter what color you choose.