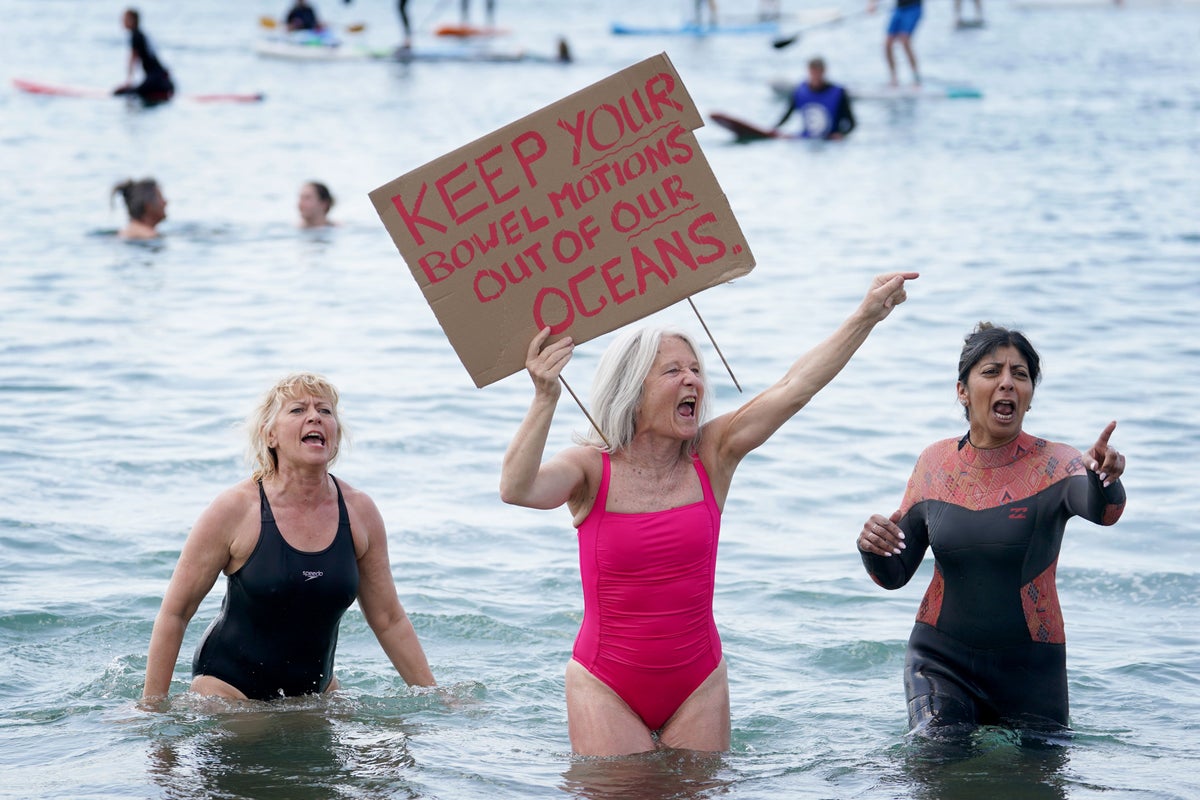 The government is suspected of breaking the law by allowing water companies to dump sewage into rivers and seas outside of permitted times, the UK's environment watchdog has said.
Combined sewer overflows (CSOs) are only meant to be used in exceptional circumstances, such as after unusually heavy rain to prevent sewers backing up and flooding people's homes and businesses.
But an investigation by the Office for Environmental Protection (OEP) found the Department for Environment, Food and Rural Affairs (Defra), the Environment Agency (EA) and Ofwat may have misinterpreted the law and allowed water companies to pollute waterways when they shouldn't.
The Liberal Democrat leader Ed Davey described the OEP's findings as "environmental vandalism on an industrial scale" while "ministers and regulators are sitting on their hands".
It comes after new shadow environment secretary Steve Reed called for an investigation into three water companies that may have illegally dumped sewage on dry days, following a BBC report last week.
The investigation, which looked at data from Wessex, Thames and Southern Water, suggested these companies were discharging sewage on some of the hottest and driest days of 2022.
Discharged sewage can harm wildlife and wider river ecosystems because chemicals entering the water - from pharmaceuticals to phosphates - are toxic or fuel the rapid growth of algae, which can choke out other forms of life by consuming all the oxygen.
It can also be a source of E. coli, which can cause diarrhoea, stomach cramps and fever when ingested by swimmers.
Sewage can make swimmers ill and harm wildlife

— (PA Wire)
Helen Venn, the OEP's chief regulatory officer, said: "The guidance provided by government to regulators, and the permitting regime they put in place for the water companies, possibly allow untreated sewage discharges to occur more regularly than intended by the law without risk of sanction.
"This is what has created the possible failures to comply that we have identified."
The OEP said its probe aims to clarify the roles and responsibilities of the public authorities and determine whether they have failed to comply with their duties.
Protests against sewage overspill have been widespread

— (PA Wire)
If a failure is identified, the OEP will seek to improve regulation, it said.
In response to the watchdog's findings, the government said: "The volume of sewage discharged is completely unacceptable. That is why we are the first government in history to take such comprehensive action to tackle it".
However, it added: "While we do not agree with the OEP's initial interpretations, which cover points of law spanning over two decades, we will continue to work constructively with the OEP on this issue."
An Ofwat spokesperson said: "Our position at Ofwat remains clear - water companies' performance on the environment is simply not good enough.
"We have pushed companies to take urgent action to cut sewage discharges, have imposed fines of £250 million in the last few years alone and we are currently running our biggest ever investigation into six companies on how they manage sewage treatment works and sewage discharges.
"We will keep pushing for the change and the improvements that the public rightly expects and where we can learn lessons or do things better, we will do so."
Additional reporting by PA