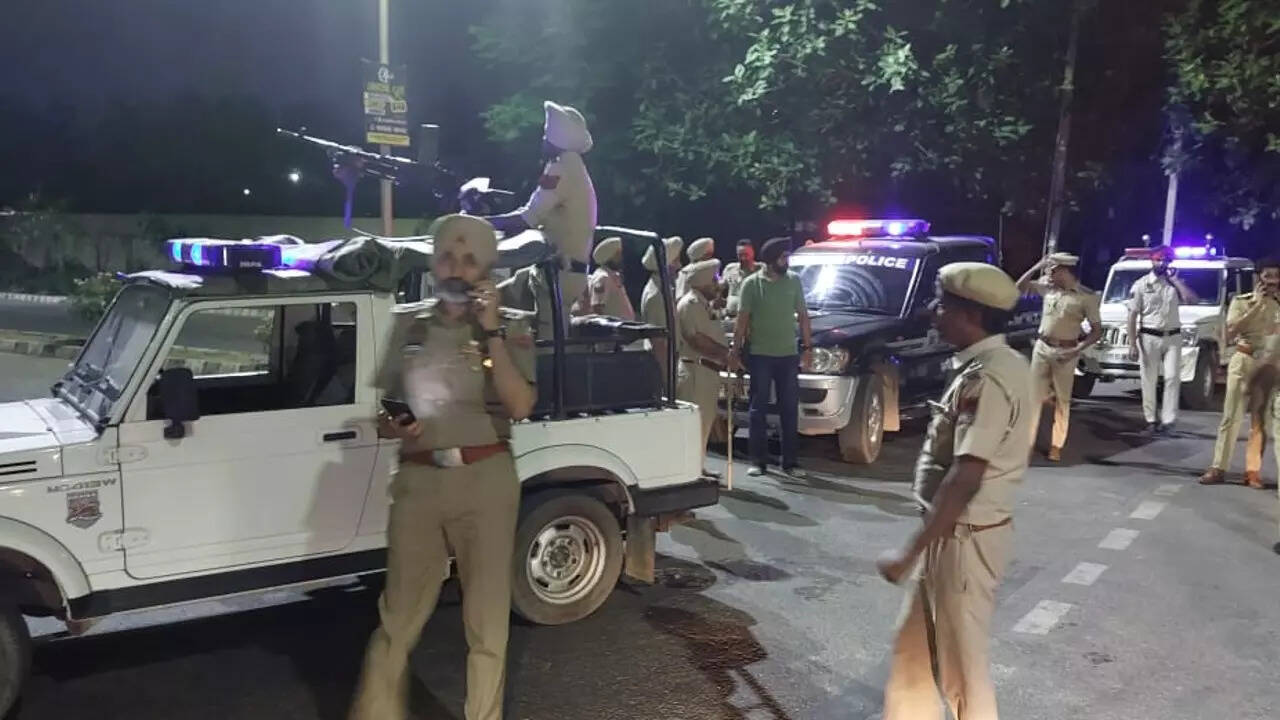 MOHALI: Mohali Police have recovered the launcher used to fire rocket propelled grenade (RPG) at the building of Intelligence Unit of Punjab Police. Apart from this, they have rounded up 18 to 20 suspects on Tuesday.
Mohali Senior Superintendent of Police (SSP) said, "We are very close to crack the case. At present the rocket launcher has been recovered. Several suspects have been rounded up and questioned. The launcher used in the attack has been recovered and all leads developed in the case are being pursued meticulously."
There was an attack on the building of the Intelligence Unit of Punjab Police late on Monday evening. At present, a high alert has been declared in Mohali as the police have not ruled it out as a terror attack.
By now the police have picked up 6,000 to 7,000 mobile dumps of three mobile towers in vicinity of the headquarters(HQs) between 7 pm to 8 pm. Police are scrutinising the data, said an officer.
CCTV footage of the HQs and nearby areas is also being studied. Police suspect that a Swift car picked up in CCTV footage opposite HQs at the time of firing of RPG.
Meanwhile entire area around the HQs has been sealed and cordoned off by the police.
Mohali SP (Headquarters) Ravinder Pal Singh while talking to media persons said that the investigations are going. On the other hand, when asked whether it can be considered a terrorist attack, he said that it cannot be ignored.
He said, "We are investigating it. It has become clear that there can be a conspiracy of terrorists in this attack on the intelligence system of Punjab Police."
SP (headquarters) Ravinder Pal Singh said that no one has been injured and no damage has been caused due to the intensity of the attack. He said that senior officers of Punjab Police and FSL team are investigating it.
The building of the headquarters of the Intelligence Unit of Punjab Police in Mohali was attacked with a rocket propelled grenade (RPG) on Monday evening. The windows of the second floor of the building were broken in the attack.
According to a statement issued by Mohali Police, the blast occurred at around 7.45pm at the Punjab Police Intelligence Headquarters in Mohali and so far, no casualty or major damage to property has been reported in the incident.
Mohali police have registered an FIR under sections 307 of the IPC, Section 16 of the UAPA and section 3 of the Explosive Substance Act at Police Station Sohana against unknown persons.
The FIR was registered on the statement of SI Balkar Singh, Incharge Security, Intelligence Headquarters, Sohana.