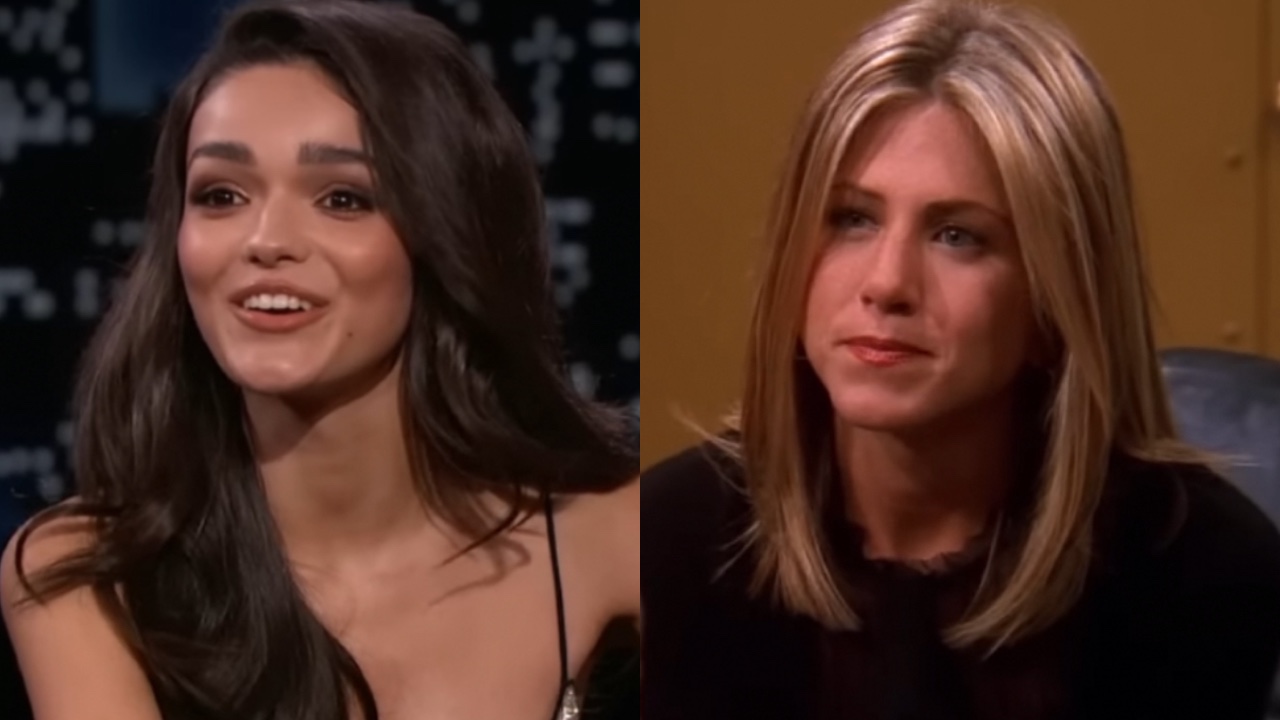 It's been close to 20 years since the final episode of Friends aired and, to this day, the NBC comedy remains a beloved favorite even among Generation Z. So it's not surprising to hear that the show that gave us the infamous "Rachel" hairdo is also the inspiration behind baby names. Just ask rising Hollywood actress Rachel Zegler, whose mom got some inspiration from the NBC series. And honestly, Zegler's sentiments are enough to make me (and others) feel old. 
The 21-year-old actress star admitted in a new TikTok posted by GMA3 that her mom named her after Jennifer Aniston's fan-favorite Friends character. And when you really think about it, it's pretty trippy knowing that Zegler, who is legally allowed to drink, is named after a character from Friends, a show that doesn't even seem like happened that long ago. And believe it or not, that wasn't her mother's first choice for her name, either:
Of course, she's likely not the only person to be named after a character on the long-running show, though it's interesting to know that one of the most notable names in Hollywood was partially inspired by a TV show. Strangely, with the Shazam! Fury of the Gods cast and Jennifer Aniston both on my mind, I'm thinking it would be cool if they teamed up for a project. Both are talented and downright delightful stars, and I think a collaboration between them could be fun. (And I bet Rachel Zegler's mom would visit the set more than a few times if such a production came to fruition.)
One could argue that Rachel Zegler's career parallels Jennifer Aniston's in some ways too. Aside from being targets of paparazzi, both shot to stardom quite quickly, with the latter becoming a star due to Steven Spielberg's West Side Story and Aniston doing the same with Friends. Zegler is clearly carving out a nice space for herself, and her star will likely only grow in time.
Aside from all of that though, I'm still feeling my age while thinking about the YouTuber's explanation of her name. Sometimes it's still hard to fathom that David Crane and Marta Kauffman's award-winning show debuted nearly 30 years ago. Some can probably even remember the first time they saw the pilot, I'm sure. While it's easy to dwell on the passage of time, it's probably best that we make note of the series' cultural impact (as to avoid any midlife crises on our end). 
Meanwhile, Rachel Zegler is keeping plenty busy in Hollywood. After her outing in the DC Universe, she's stepping into the world of The Hunger Games with the upcoming prequel The Ballad of Songbirds and Snakes. (And don't even get me started on the fact that it's been over 10 years since the first film in the franchise came out.) All in all, you love to see the actress thriving, and I'll continue to hope that Jennifer Aniston will team up with her character's namesake at some point.
If you want to live in the past, as I assume some are feeling nostalgic, all 10 seasons of Friends are streamable with an HBO Max subscription.