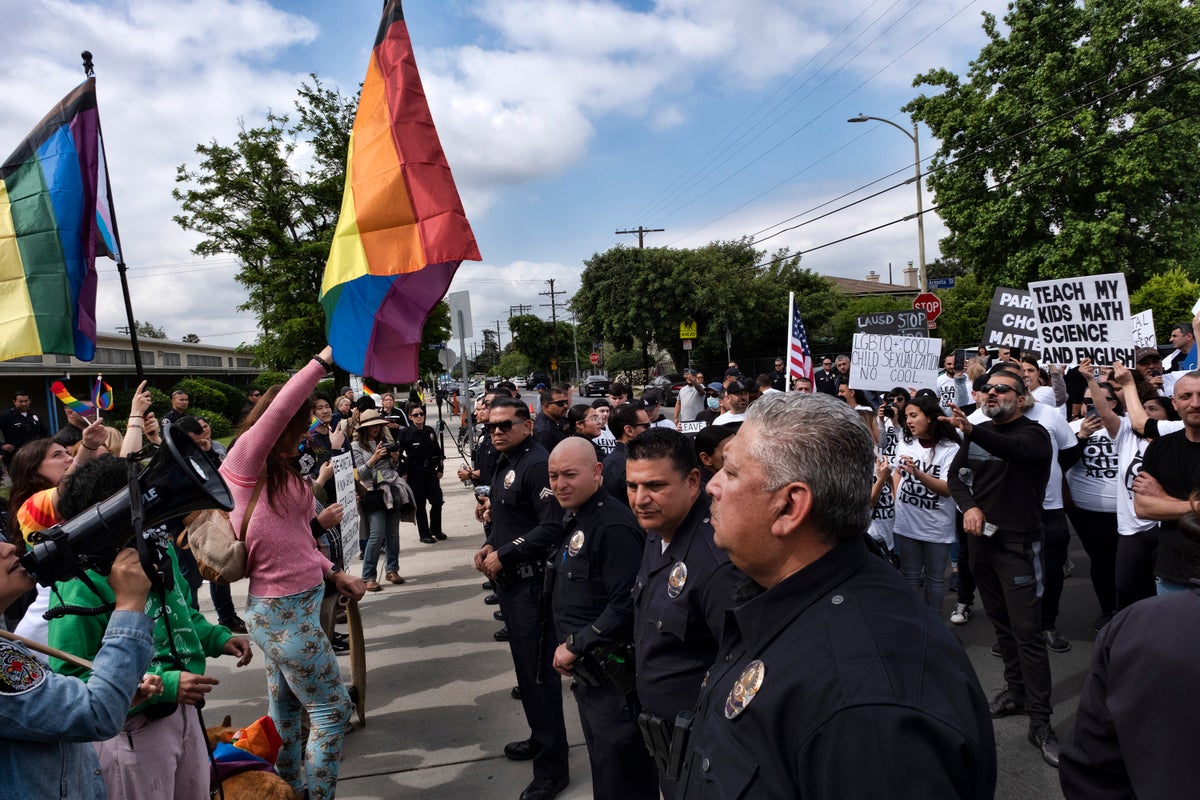 Police officers separated groups of protesters and counterprotesters Friday outside a Los Angeles elementary school that has become a flashpoint for Pride month events across California.
People protesting a planned Pride month assembly outside the Los Angeles Unified School District's Saticoy Elementary School wore T-shirts emblazoned with "Leave our kids alone" — and carried signs with slogans such as "Parental Choice Matters" and "No Pride in Grooming." Tensions at the school have been rising since last month, when a social media page was created to urge parents to keep their children home Friday, the day of the planned assembly.
Los Angeles police headquarters tweeted: "LAPD is at Saticoy Elementary School this morning. We are here to support our LAUSD partners and facilitate a peaceful and lawful exercise of constitutional rights."
Los Angeles Unified School District Board Member Kelly Gonez said the assembly went on without issue Friday morning. The students were read a book and had a discussion about different types of families, she said.
Outside the school, protesters against the assembly outnumbered those who were there in support. It wasn't clear if some of the protesters were parents of students at the school.
An Instagram page called Saticoy Elementary Parents called Pride "an inappropriate topic for our kids!" In one post, the page says that Christian families and those who "share conservative values don't feel this material is appropriate to teach to the children and believe it's a parents' right to choose." It's not clear who started the page, which also includes phone numbers and email addresses for district and school officials, urging parents to call them to protest the event.
In May, a transgender teacher's small Pride flag displayed outdoors was found burned. The school notified parents, saying it was being investigated as hate-motivated.
Earlier this week, the school district's teachers union issued a statement saying that no educator should have to go to work in fear.
"United Teachers Los Angeles condemns the egregious behavior by bigoted protesters that outed the gender identity of a teacher at Saticoy Elementary," the union said.
Elsewhere, city officials in Davis, California, last week removed a rainbow crosswalk created by elementary school students with chalk paint to celebrate Pride month. The parent of a former student complained about the project, employee Mara Seaton told the Sacramento Bee.
But the decoration was removed because crosswalk decorations are not allowed without prior approval, Davis Police Chief Darren Pytel said. Allowing an unauthorized, decorated crosswalk to stand would mean the city would have to allow opposing messages as well, he said.
Pytel said he hoped removing the crosswalk would end the dispute, but the same resident then complained about pre-authorized rainbow crosswalks the city paints every June for Pride month and other pride symbols at schools, the Bee reported.
The city still plans to hold its annual pride celebrations this weekend.