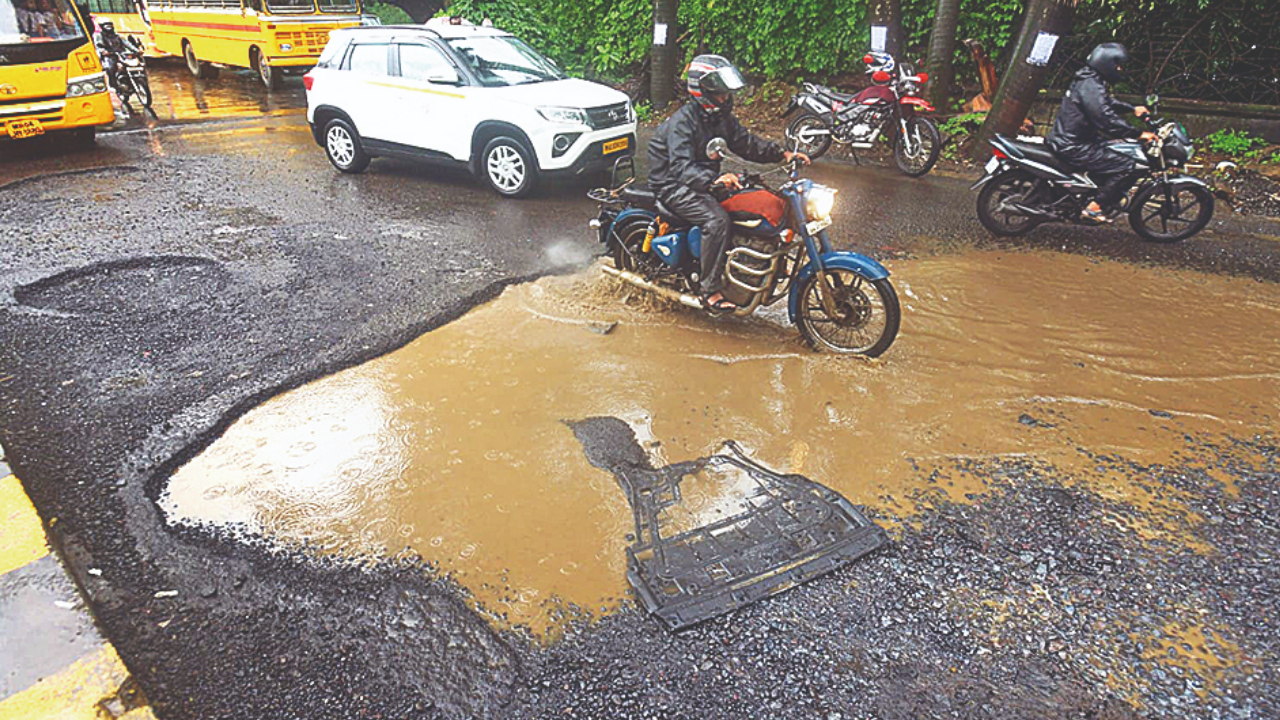 MUMBAI: A day after a biker hit a pothole on the waterlogged Ghodbunder Road in Thane and got crushed under a state transport bus, motorists complained that Mumbai roads are no better. As heavy rain continues to lash the city, potholes have made a comeback on city roads, especially Western Express Highway, Jogeshwari-Vikhroli Link Road (JVLR) and Link Road stretch between Andheri and Dahisar.
Most city roads are maintained by the BMC, but arterial stretches like Western Express Highway, Eastern Express Highway, JVLR and Link Road between Andheri and Dahisar are maintained by the MMRDA as Mumbai Metro works are ongoing. When contacted, MMRDA officials refused to comment on the issue.
Meanwhile, BMC officials said their engineers attend to potholes on roads maintained by it within 24 hours. "We get complaints either through social media, the BMC website or MyBMC Pothole Fixit app and these are attended by our ward engineers," said a BMC official.
"We cannot comment on Western Express Highway and Link Road as MMRDA maintains them." But according to BMC data, of the 229 potholes reported in June and July, only 16 have been fixed.
Many netizens complained about the bad condition of the Link Road and a few even called some of the stretches that are dotted with potholes 'moonland'. Motorists also complained of slow-moving traffic owing to pothole-ridden roads.
"Anyone who can travel from Borivali to Juhu via Link Road in his own vehicle should get some bravery award.. Terrible Roads, Bad Signals, random people crossing road, worst traffic sense among people.. its just impossible to drive," read a tweet from the handle @FCSJigarShah.
Trivan Karnani, a lawyer and spokesperson of the twitter handle @MNCDFbombay which is a citizen welfare forum, pointed out that MMRDA engineers need to take cognizance of the complaints and repair Link Road. "Due to the numerous potholes that have come up on city roads, bikers are skidding and some even getting injured," he added.
Harish Pandey, of the New Link Road Residents' Forum in Dahisar, said: "As Link Road has paver blocks at certain stretches, there is no scope to drive smoothly and the potholes are making it worse. The recently laid footpaths are also in a bad condition."