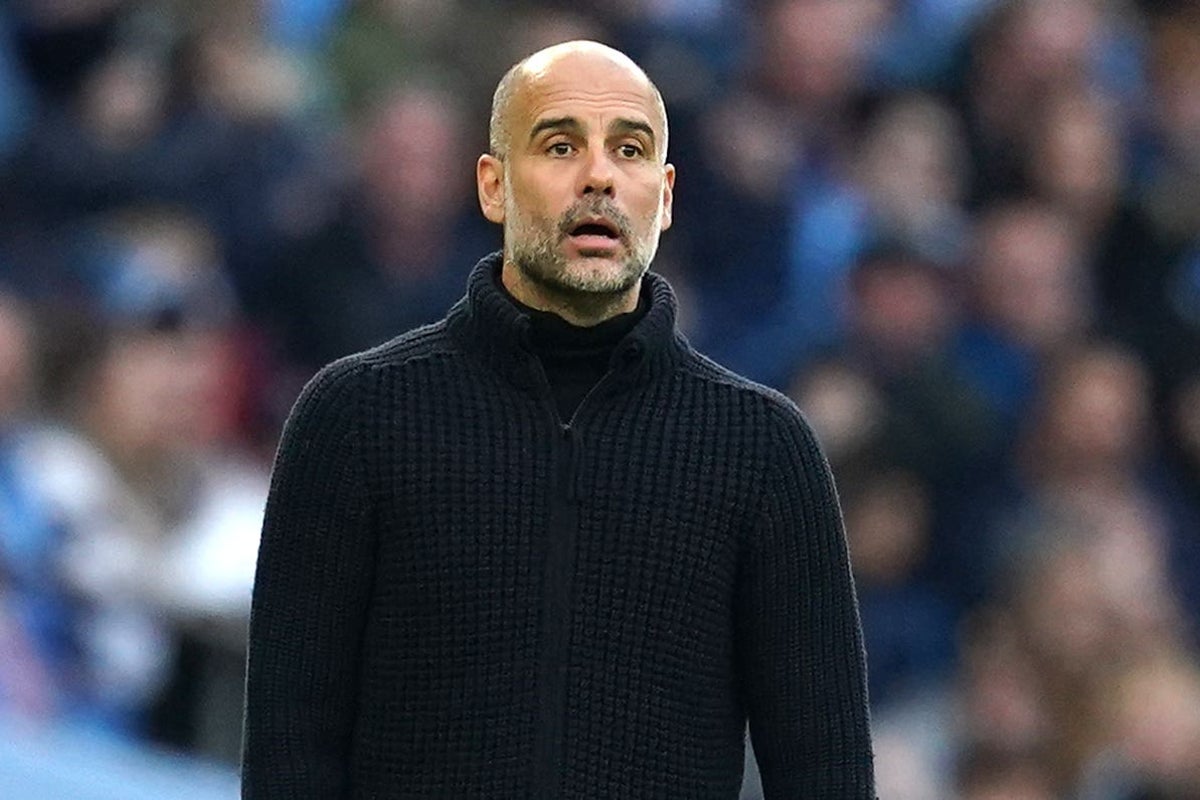 Manchester City boss Pep Guardiola has warned his team not to "destruct" by listening to people saying the title race is already over.
City are now firm favourites to win the Premier League for a fifth time in six years following their convincing 4-1 win over leaders Arsenal in midweek.
The champions trail the Gunners by just two points with two games in hand and they could move top with victory over Fulham on Sunday.
Guardiola acknowledges City, who are also bidding for Champions League and FA Cup glory, have a chance to achieve something special this season but he insists it is far from done yet.
The Spaniard said: "At the end of the season, fighting for the title is the best feeling that we can have and the Premier League is in our hands.
"It doesn't matter what happens in London, at the Emirates, it depends on us.
"We must just look at ourselves, perform every single game like we've performed the last two, three, four months, do everything and we'll be closer and closer to the something exceptional.
"We cannot deny, winning another Premier League, how exceptional it would be.
"When you have that depending on us – you can drop it because you are not good, but not because you destruct or you start to listen to the wrong messages that it is already done. It is done when it is done and still, it is not done."
Guardiola is building an extraordinary legacy at City having already won nine major trophies since taking charge at the Etihad Stadium in 2016.
He has also had a transformative impact on English football as a whole with the style of play he has introduced and the high standards he has set.
His impact is likely to be felt long after he moves on but he claims leaving behind happy memories, rather than trophies or a redefined game, is what matters most to him.
The 52-year-old said: "The legacy will be, I've said many times, if in 10-25 years people in the UK or Great Britain, or here in Manchester especially, still remember that period. What happened would be the legacy.
"That people enjoyed watching us – that's enough, that people remember in 10-15 years with a smile and say, 'How nice was that period of seven, eight, nine years when we were together'?
"Come on, that is the biggest compliment, better than any trophy or things you can give.
"Honestly I don't know (how I'll be viewed). I'm not concerned about that. My concern is to live the moments and now it's Fulham – the rest doesn't matter.
We have the chance to continue to do something to make people happy

— Pep Guardiola
"In life, when it's gone it's gone. When you pass away, you pass away and they remember you, your close family for a few days and after it's gone. It's sad but it's true. The manager will be replaced.
"The nicest things are what you leave and I don't want to leave history. I want to leave them what we live now.
"That's why I like to be here because still we have the chance to continue to do something to make people happy."