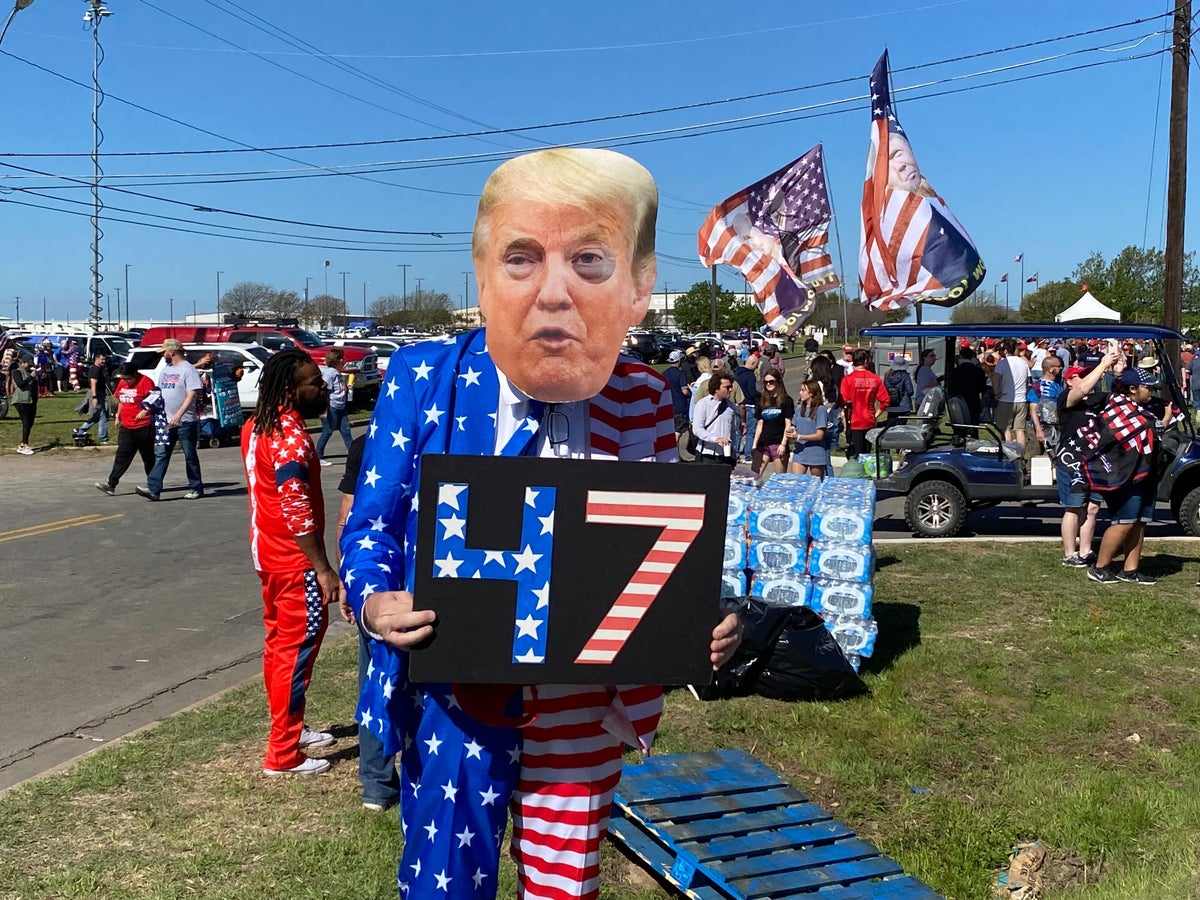 Investigators might be closing in on Donald Trump – in New York for hush money; Georgia for election meddling; Washington for mishandling classified documents – but the former president shouldn't be all that worried, according to his loyal supporters who gathered in Waco, Texas, on Saturday for the kickoff of the 2024 Trump campaign.
"I don't think it'll stick," Trump supporter Karey Cottrell told The Independent of the potential charges in New York, which are expected to drop some time next week.
"It's complete garbage," she added. "It's ridiculous. I didn't think they would stoop this low."
Queues started to form early on Saturday morning at Waco Regional Airport where field after field was filled with vehicles decked out in Trump flags.
Many who spoke to The Independent believe that Manhattan District Attorney Alvin Bragg's probe, into alleged hush money payments made by Mr Trump to adult film star Stormy Daniels during the 2016 campaign, is an exercise in partisan politics.
"They're just attacking him," said Steve Harris, a retired statistics professor, who lives in Waco. "It's ridiculous to indict somebody on something when the statue of limitations ran out a long time ago."
(Manhattan prosecutors will likely argue the statute of limitations hasn't run out, given pandemic-era legal extensions and Donald Trump's regular travel in and out of New York, according to Citizens for Responsibility and Ethics in Washington, a watchdog group.)
The MAGA faithful say that the multiple legal probes against Mr Trump - who has survived two impeachments, a special counsel investigation, and numerous lawsuits and probes throughout his life - will flame out.
"For almost eight years, that's what they've been doing," rallygoer Tammy Pavelka told The Independent. "He's draining the swamp, so they're after him."
Mention of Mr Bragg, the New York prosecutor, was particularly unpopular at the rally.
"Bragg, he's just looking for popularity," Ms Pavelka said.
Another man was seen holding an "Arrest Alvin Bragg" t-shirt.
Some believe that the investigations are part of a wider plot against the former president.
Attendee Shelley Harrison, of Dallas, said that officials are targeting Mr Trump because he helped expose "child trafficking issue," - a QAnon conspiracy theory which purports that Democrat and media elites are responsible for child trafficking.
"He knows too much," she said. "He's exposing the truth. They don't want people to believe him."
For others, even if Mr Trump did make the hush money payments, it doesn't really matter.
Rusty Lee, who works in the oil and gas industry near the Louisiana border, attended the rally decked out in a full American-flag print suit and oversized Trump mask, which was leading to a lot of request for selfies.
He's been to five or six other Trump rallies, and said that if he was a billionaire facing allegations of an affair, he would pay hundreds of thousands of dollars to make that go away, too.
"It doesn't bother me," he said. "I didn't hire this man as a moral leader. I have a pastor for that."
Plus, Mr Lee added, Mr Trump, like every other president before him, has managed to make it this far without facing criminal charges.
"That's JV [Junior Varsity] stuff man," he said, making an amateur sports reference. "He's gone through a lot worse than that...Trump's clean. If he wasn't, he's spent so many years in the spotlight, and something comes out now. Come on."
But Mr Trump seems far from nonchalant about the potential criminal charges.
In a late-night Truth Social post attacking Mr Bragg, Mr Trump warned of "potential death and destruction" should charges be brought against him.
But in Waco, the music is blasting, the merch flying off the shelves, and the machinations of prosecutors and special counsels seem very far away.