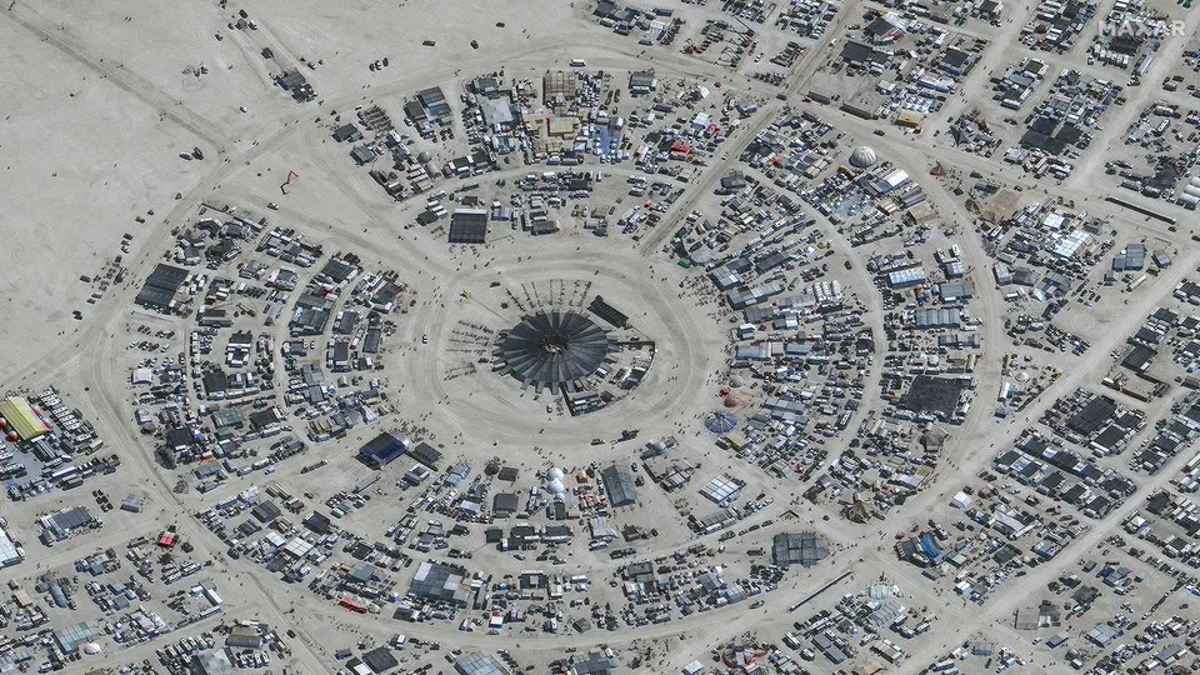 A local sheriff in Nevada has been forced to bat away wild conspiracy theories that continue spread online about Burning Man.
A wave of misinformation spread across Black Rock City and online on X, formerly known as Twitter, and TikTok, as the site turned into a washout over the weekend.
One of the biggest false rumours was that there had been an Ebola outbreak at the festival, with some conspirators claiming there had been multiple deaths from the disease.
Pershing County Sherriff Jerry Allen pushed back at this rumour in a statement about the event on Monday.
"In consultation with the Bureau of Land Management and the Burning Man Project, there is no validity to any reports regarding an Ebola outbreak, or any other disease," he said.
"All participants are free to leave at their own discretion and ability."
The wild rumour seems to have originated from a post on X on Saturday, where a fake Centers for Disease Control and Prevention (CDC) advisory claimed that there had been an Ebola outbreak.
The post stated: "EBOLA OUTBREAK BURNING MAN" and claimed that a state of emergency was being announced.
The account, which often posts false information on government control and indoctrination conspiracies, has around 30,000 followers.
The post was then reshared thousands of times, before a second image was also shared by the account.
"Apparently there's a f***ing Ebola outbreak at Burning Man right now," the post, which had been viewed around 300,000 times, read.
According to the CDC, only 11 cases of Ebola have ever been confirmed in the US, during an outbreak between 2014 and 2016. Ebola is a rare and often fatal disease that is primarily found in Sub-Saharan Africa.
A fake CDC advisory of an ebola outbreak at Burning Man went viral on Elon Musk's X

— (X)
But, with the gates to the festival closed and revellers told to stay on site during the heavy rainfall, conspiracy theorists were quick to push the Ebola hoax.
Posts claimed that Black Rock City was being quarantined in zones and that military aircraft had landed on site to enforce a blockade. Bogus images of people wearing hazmat suits at the festival also started to spread.
Other conspiracy theory accounts joined in, sharing fake Forbes headlines claiming the outbreak was real.
Fake text message screenshots on X and TikTok also fuelled the rumours.
Over the weekend, a spokesperson for the Bureau of Land Management, which oversees the Black Rock Desert site, also dismissed the conspiracy in a statement to Indy100.
"I can confirm the event entrance was closed for the year because unusual rainfall caused muddy conditions where there was a full stop on vehicles, and not for an Ebola outbreak," the statement said.
"We have heard no information of any participants with Ebola."
Burning Man organisers also commented on the Ebola conspiracy, as they pushed forward with their 'Burning of the Man' finale on Monday night. In a statement on their website, they wrote: "The online rumors of transmissible illnesses in Black Rock City are unfounded and untrue."
After being told to conserve food and water, rumours of deaths also started to circulate, with one viral video showing a man at the festival claiming that "a couple people didn't make it".
However, there has only been one confirmed death at the festival this year. The man who died has been identified as 32-year-old Leon Reece, who passed away on Friday.
Mr Reece was found unresponsive at around 6:24pm on Friday night while Burning Man. His cause of death is still under investigation but officials said it was not weather-related.
While the Ebola rumours were false, other illnesses were cause for concern over the weekend.
Thousands escape in a exodus from Burning Man now roads are dry enough

— (Reuters)
Doctors caution people attending Burning Man to look after their health in the dry and arid conditions of the Nevada desert due to risk of dehydration, but this year, stagnant water and the cold weather created risks of hypothermia, Business Insider reported.
The rampant online conspiracies did make some concerned campers even more uneasy, after around 70,000 were stranded in the midst of a thick muddy terrain, and told to conserve food and water supplies.
Over the weekend, a heavy downpour of rain meant no vehicles were banned from driving through the impassable roads.
Those that ignored the instructions, churned up the clay-like mud, making the situation even worse.
Despite a disastrous series of events this year, Burning Man saw the festival through to the end, burning its 75-foot tall effigy named "the man" in a ceremonial torching on Monday night.
However, not all wanted to see out the end and were quick to leave the mud-swamped Black Rock City as soon as they could.
When festival organisers said that an "exodus" from the site was safe on Monday, thousands began to head out en masse.