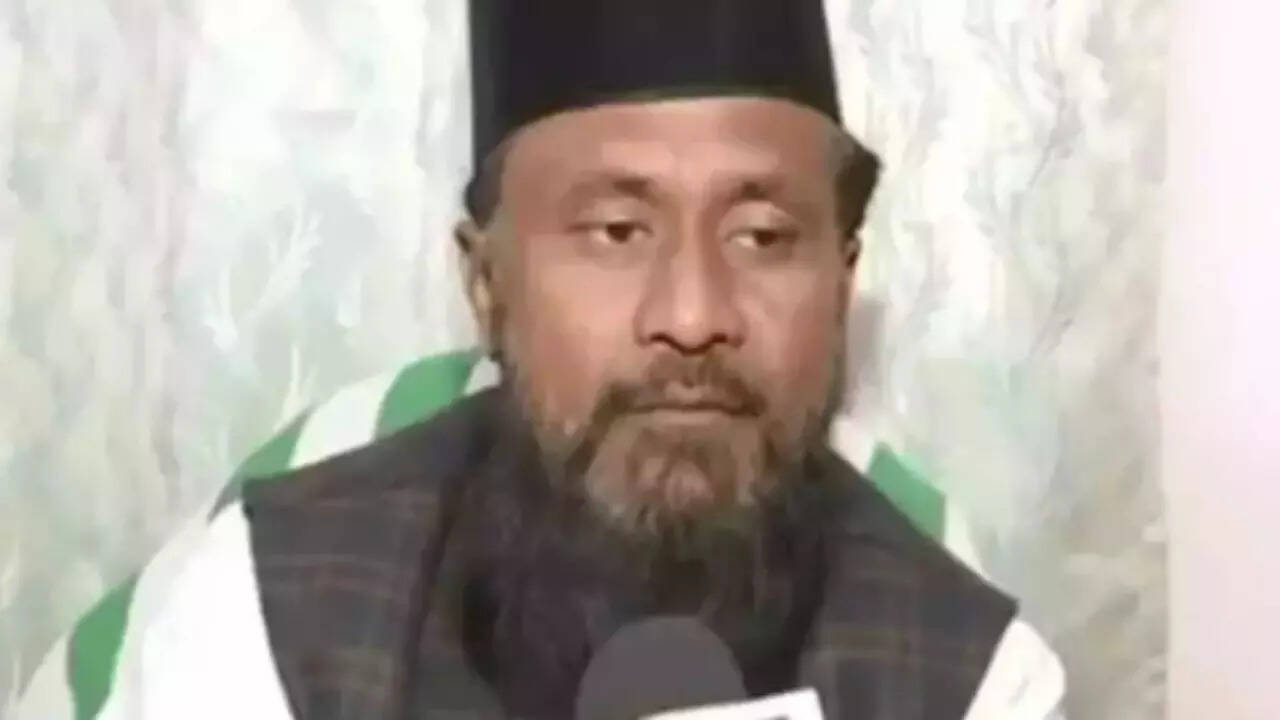 PATNA: JD(U) national general secretary and former Rajya Sabha member Gulam Rasool Balyawi has sparked a major political controversy with his remark that Muslims will turn cities into "Karbala" if anyone tries to put hands on the "izzat" of Prophet Muhammad.
A video clip of Balyawi's speech at the Karbala Maidan near Barhi town of Hazaribagh district in which he categorically said that Muslims will turn cities into "Karbala", went viral on different platforms of social media on Friday, inviting sharp reactions from the BJP leaders.
"Agar mere Aaka ki Izzat par hath daloge toh, abhi toh hum Karbala Maidan mein ekattha hai, unki Izzat ke liye hum Shahron ko bhi Karbala bana denge (If you put hands on the izzat of Prophet Muhammad, - right now we are gathered at the Karbala Maidan,- we will turn cities into 'Karbala' for His honour)," Balyawi said while addressing a religious congregation of Muslims near Barhi town on Wednesday. But the video clip of his speech went viral on Friday.
Karbala is a place in Iraq where Prophet Muhammed's grandson Imam Hussein, along with 72 followers and members of his family, were believed to have been slaughtered in the battle. They laid down their lives to keep the flag of Islam high.
Contacted, Balyawi told TOI on Friday that whatever is being shown and heard in the video, he had said all those during his speech at the Karbala Maidan near Barhi town. "I stand by my speech and I have said nothing against any person or any institution. Karbala means supreme sacrifice. Karbala means to 'give away everything' and 'sacrifice everything, but not let humanity and brotherhood be sacrificed," the JD(U) leader said.
Balyawi also said that at his Barhi meeting, he called upon Muslim brothers to launch a struggle against the atrocities with members of the minority community.
"If exhorting people for struggle and supreme sacrifice is a crime, I am ready to commit such a crime every day," Balyawi told this newspaper.
During his speech at Barhi, Balyawi also said, "Not a single so-called secular leader demanded the arrest of this crazy woman." He was referring to the now suspended BJP spokesperson Nupur Sharma's comments over the Prophet which led to a controversy and triggered nationwide violent protests.
"On other hand, when our children came on roads to protest over offensive comments against the Prophet (in Ranchi), they were shot dead," Balyawi can be heard in the video.
Balyawi, in his speech, also demanded a "Muslim Safety Act" just like the one for the scheduled caste to protect the Muslim youth from being "labelled as terrorists" or being "shot dead."
Balyawi's speech invited sharp reactions from senior leaders of the BJP. Rajya Sabha member and former deputy CM Sushil Kumar Modi urged CM Nitish Kumar to take cognizance of "provocative speech" of Balyawi.
"Balyawi is issuing threats to create internal strife in the country. Like BJP took action against Nupur Sharma, the CM Nitish should show his courage by taking action against Balyawi," Sushil Modi said on Friday.
The Union Minister Giriraj Singh said, "Nitish Kumar is the helpless chief minister. He is sitting like 'Dhritarashtra' for power and trying to increase social tension in the state."