Long before "Mad Men" ended, Jon Hamm wished its fans would emotionally break up with its toothsome lead Don Draper.
"It's not his fault he's damaged, but he's a terrible guy," Hamm told Glamour in 2014, adding, "With men, it's like, 'That's the guy you want to be? Go buy a nice suit and comb your hair, but don't do the other parts of the character'" – by which he meant the lying, the philandering and the boozing. "And I find it crazy when women like Don. There are better dudes."
A decade later, we haven't learned our lesson. Our current objects of mass cultural crushes aren't simply persuading us to buy cars, cigarettes and soda, but their version of the truth, their right to shape human progress, and their supposedly unassailable corporate and scientific wisdom.
If asked to put a face to all this, Elon Musk's would probably come to mind first and fastest. At the height of the pandemic he dismissed it as "dumb" and reopened his Fremont, Calif., Tesla factory, endangering the health of his workers. Since the SpaceX founder purchased Twitter and renamed it X, a brand change that further devalued a platform for which he overpaid (to the tune of $44 billion), he's gone to war with journalism.
Musk has censored journalists on the platform and mislabeled public trusts including NPR and PBS as state-run media on a whim. He bowed to the demands of Turkey's authoritarian government to censor four accounts known to be critical of the regime on the eve of its presidential election. 
More recently Musk harnessed his troll army to attack the Anti-Defamation League and platformed a racist media personality with a passion for mainstreaming conspiracy theories.
Even as Musk plays footsie with anti-democratic forces under the auspices of being a "free speech absolutist" far too many either aren't paying attention or don't care. To them, he's a flashy innovator revolutionizing space travel and self-driving cars. Everything else can be chalked up to the difficulty inherent to being a polymath, a price enough people are willing to deal with if it gets us to Mars in our lifetimes.
One thing Musk's billions can't buy, though, is a movie star's charisma. In that vein Season 3 of "The Morning Show" does him a solid by casting the charm-rich Hamm as tech titan Paul Marks. 
Mind you, Hamm's character isn't expressly a Musk stand-in. That's cemented when he tells someone, "We can all agree at this point it's probably healthier to smoke a pack of cigarettes than to log on to Twitter," he says, "but good luck keeping people from scrolling."
Our current objects of mass cultural crushes aren't simply persuading us to buy cars, cigarettes and soda, but their version of the truth.
Amazon's Jeff Bezos, Meta's Mark Zuckerberg and every other one-percent-of-the-one-percent mogul have like tales, each central to the ethos of their respective empires. Bezos, Musk and fellow billionaire Sir Richard Branson each shot themselves into space on their private rockets like the one Marks rides in the season premiere. Such mythmaking adds to the public's belief in the possibility of the American dream and the praiseworthy egoism of genius. Zuckerberg's boosters cite his status as a college dropout. They don't always add the caveat that the college in question is Harvard University.
These legends have a way of taking precedence over examining the ways that the hyper-wealthy pose a danger to the rest of us, starting with questioning why they're centralizing pathways of information exchange under their control.
Musk has children with a pop star, although Vanity Fair reports that's not going so well. He has hosted "Saturday Night Live" and, as reported in The Cut, is rumored to have attended a Silicon Valley sex party he swears he thought was "a corporate party with a costume theme."
Bezos has an entire arm of the paparazzi dedicated to capturing him shirtless and celebrating his muscular post-divorce torso. In an October 2022 episode of his podcast Joe Rogan praises him getting "jacked," scoring a "bombshell girlfriend" (who happens to be a former news anchor)  and having a "baller yacht."
"That's how you are supposed to live when you are a billionaire," Rogan declares, a pronouncement that may factor into how Hamm portrays the way such men move through the world, and why they'd want to purchase soft power conduits like, say, a news organization with international reach.
"The Morning Show" insinuates that Hamm's Marks lives a tabloid-baiting life as well, but separates his material identity from his flirtation with UBA, the show's version of America's top-rated TV news network. At the same time, these new episodes play out concerns voiced within the newsrooms of such organizations and by outside experts about to why Silicon Valley giants would eagerly insert themselves into an industry perceived as hostile to theirs.
In Marks' case it could be several reasons starting narcissism, demonstrated in a belief that as an innovator, he's uniquely situated to "fix" or "save" the news. He may also desire to influence what events get covered and how, and what is ignored or suppressed, to suit his other interests.
These were among the alarms raised when Musk bought Twitter and Bezos purchased one of the nation's most politically influential newspapers, The Washington Post, a decade ago. We can't imagine UBA's employees will feel any differently were Marks to insert himself into their newsroom's ecosystem. On the other hand, he's easy on the eyes and media savvy; cameras love him, and so does the public.
We need your help to stay independent
The third season picks up a couple of years following the pandemic's onset and shows how many changes have occurred at the network.  
Bradley Jackson (Reese Witherspoon) has culminated her meteoric rise to sit in the evening news anchor chair, as seen in the new season's teaser trailer. Alex Levy (Jennifer Aniston) suffered through COVID-19 in front of the camera on the network's nascent streaming service UBA+, the beloved baby of UBA CEO Cory Ellison (Billy Crudup). Now she wants to trade in the capital earned through that effort for a seat at the table with everyone else who's running the show at UBA, including news division president Stella Bak (Greta Lee).
By outward appearances UBA sits at the top of the news business – but, reflecting the state of the news companies in the real world, that mountain is crumbling, and the Big Tech is manning one of the biggest bulldozers digging out its foundations. On top of all that, UBA is hit by a massive hack on par with, if not worse than, the cyberattack that cracked open Sony's secrets for the world to view. The disclosures that UBA's hackers flaunt are maddening.
Audiences dine on mess. Our ongoing love affair with difficult men like Don Draper, Paul Marks and other roles Hamm tends to play proves that.
Thusly "The Morning Show" reconnects with our timeline, or perhaps a more proximate past than the second season's pandemic storyline which in late 2021 still felt dated. While the drama's reach is limited — despite being one of the best-known titles on Apple TV+— the Marks twist may help the audience to have a better understanding of the uneasy relationship between tech and legacy media. As we meet Marks, he's only in talks with Cory, nothing more. What develops from those conversations may strike those watching the collapse and consolidation of legacy news as familiar.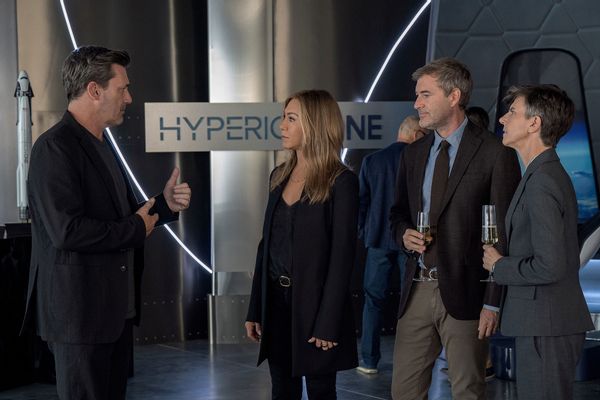 These are also leaders whose methods reshaped culture, and whose obsession with profit strains against the operating philosophies of an economically challenged fourth estate.
Bezos' entry into the Post's bullpen was accompanied by announced layoffs and other shake-ups, but also follows years of financial losses similar to those endured by the entire news industry – losses caused in no small part by the news media's reliance on social media platforms like Facebook, which upended the advertising business. (The Meta-owned company recently decimated referral traffic to news sites, said to be part of a larger move to exit news entirely.)
"The Morning Show" isn't likely to comb those weeds all that finely, being a drama that thrives on the clashing ambitions of outsized personalities jockeying for power and prominence. UBA is messy which, in an upcoming episode, Stella rebrands as a selling point by claiming that audiences dine on mess. Our ongoing love affair with difficult men like Don Draper, Paul Marks and other roles Hamm tends to play, and we love to watch, proves that.
In "Mad Men," Draper's self-serving drive was a boon to his advertising firm but destroyed his marriages and other personal relationships; viewers fawned over the fantasy of him anyway. In "The Morning Show" Hamm lends Marks' master of the universe a comparable aura of confidence. The question is whether the other characters and viewers will see past that to comprehend what he and the people he's patterned after are really about, and how prepared we are to contend with those aims.
Season 3 of "The Morning Show" streams its two-episode debut Wednesday, Sept.13 on Apple TV+.