Week 17 on the NFL schedule is almost in the books (we still have Monday Night Football) and the best performances deserve to be recognized by our MMQB staff. Even if you're feeling down because your team didn't win, maybe one of your favorite players or coaches gets awarded a game ball by our staff.
Here are this weekend's standouts:
Mitch Goldich: Mike Evans, WR, Buccaneers. It's been a strangely difficult season for Evans, who developed such a great rapport with Tom Brady during their first two seasons together. This year, they were more likely to be seen sharing terse words with each other after a play than celebrating in the end zone. But with a chance to clinch the NFC South, Evans might have made up for an entire season's worth of frustration, spending a pleasant afternoon just streaking toward the end zone with the ball in his hands. He scored on touchdowns of 63, 57 and 30 yards, finishing the day with 10 catches for 207 yards and those three TDs. He also extended his NFL-record streak to nine consecutive seasons over 1,000 receiving yards to begin a career, as the Bucs came back from two scores down in the fourth quarter to beat the Panthers 30–24 and guarantee a home playoff game.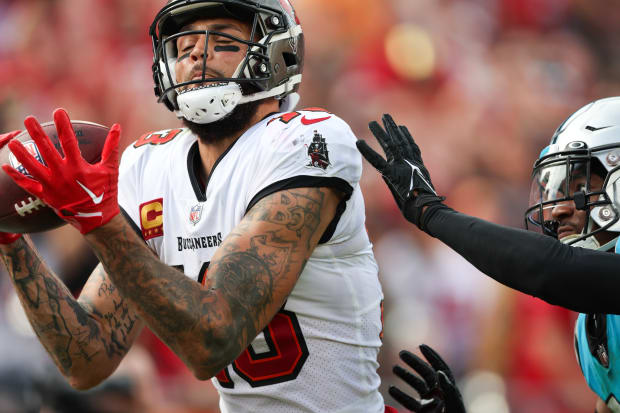 Conor Orr: Austin Ekeler, RB, Chargers. This is just going to be a straight-up Ekeler appreciation post. The guy is an absolute artist on the goal line but also popped a massive 72-yard touchdown run against the Rams on Sunday. Regardless of what happens to the Chargers during this postseason, Ekeler deserves so much credit for keeping a wayward offense alive during the season. We've already crowned Justin Herbert without recognizing the fact that he has the most consistent red zone weapon and checkdown option in the NFL.
John Pluym: Jared Goff, QB and Jamaal Williams, RB, Lions. I've been riding the Lions' train all season and I'm not getting off anytime soon. Despite last week's loss to the Panthers, Detroit can still make the playoffs after Sunday's 41–10 win over the Bears. Goff had an outstanding game against Chicago, completing 21 of 29 passes for 255 yards and three touchdown passes. And Williams continues to be the best running back in the league when Detroit gets into the red zone. Williams scored his 15th touchdown and rushed for 144 yards to push his season rushing total to 994 yards. The Lions have won seven of their last nine games and travel to Green Bay next Sunday in what could determine the final wild-card spot in the NFC playoffs.