Minister tells MPs to stop raising cases of stranded Afghans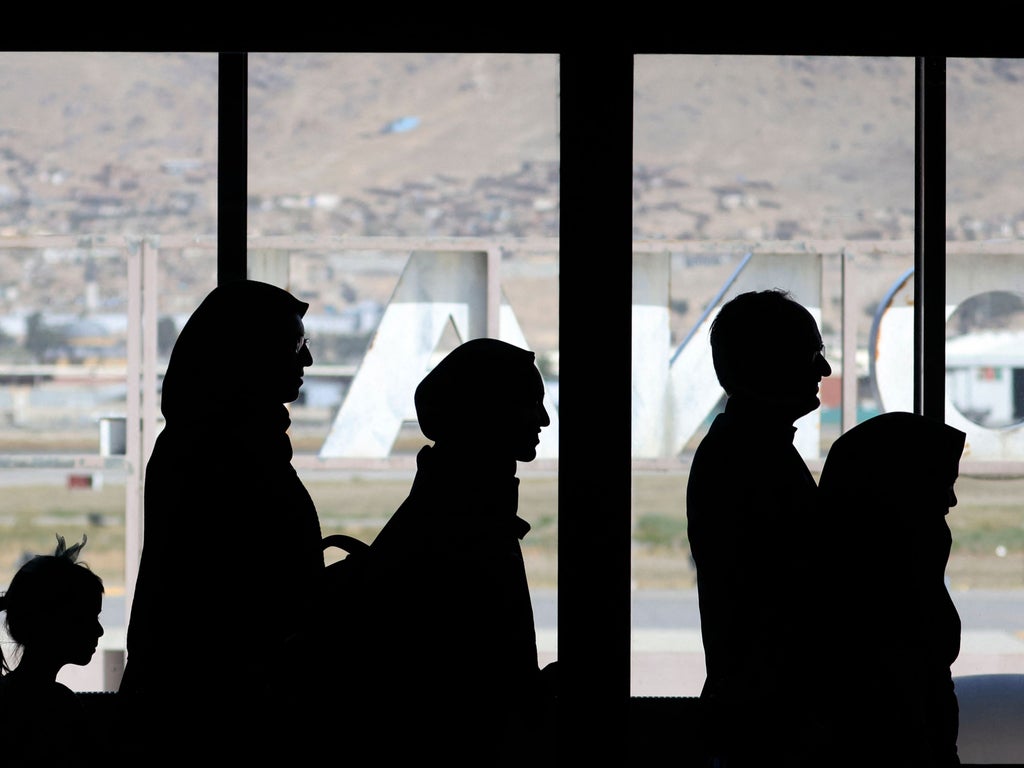 The minister for Afghan resettlement has told MPs to stop asking for help on behalf of people stranded in Taliban-controlled Afghanistan – as the government will not be able to respond to their requests.
In a letter to MPs, seen by The Independent, Victoria Atkins told her parliamentary colleagues instead to tell desperate people seeking their help to visit the government website.
Describing the move as "utterly disgraceful", the Liberal Democrats warned that Afghans trapped in their homes in fear of the Taliban had "lost one of their last lifelines".
But the Home Office minister said that Britain's lack of troops or an embassy in Afghanistan represent a "new reality", meaning the government now "cannot provide to MPs assessments or updates on those individuals who remain in Afghanistan and whose cases they have raised".
"The deteriorating security situation means that such information is not possible to obtain or may change very quickly," Ms Atkins wrote on Monday, adding: "We appreciate that is difficult news to deliver to constituents who are desperately worried about family members and friends."
Thanking MPs for raising "the harrowing circumstances" of constituents, their relatives or British allies left stranded after the UK's fraught evacuation operation from Kabul ended in August, Ms Atkins said they should now instead direct those seeking their help to the government website, "to check for the latest information" about its Afghan Relocation and Assistance Policy (ARAP) and resettlement scheme.
MPs should do this "rather than seek to pursue cases on their behalf", Ms Atkins said.
"Given the very difficult circumstances in Afghanistan", the government "cannot pursue cases ... in the usual ways", she said, adding that the Home Office is "logging the cases we have received" and "considering how this data will be used in the future".
In recent weeks, ministers have fielded a flurry of furious complaints in the Commons from MPs who have received no reply to their emails on behalf of vulnerable Afghans and their families.
Describing the hundreds of thousands of emails the government has received about Afghans potentially eligible to come to the UK, Foreign Office minister James Cleverly said on Thursday: "It is just not possible to open, analyse and respond to 200,000 emails in the same timescale that we would normally be able to do."
Ms Atkins said that a hotline set up during Operation Pitting had received more than 5.3 million attempted calls, and that the Home Office had gathered details of over 174,000 Afghans seeking support to fly to the UK.
However, Boris Johnson had promised last Monday that "every single one of the emails from colleagues around this house" would be answered by the end of the day. Every MP then received the same standard letter.
Responding to Ms Atkins' letter, sent the following week, Lib Dem foreign affairs spokesperson, Layla Moran, said: "The Conservatives have turned their back on vulnerable people desperate to flee the terror of the Taliban, and are now telling MPs we should give up trying to help them too.
"It is utterly disgraceful. People are trapped in their homes fearing when the knock at the door may come, now they have lost one of their last lifelines.
"This has been a complete shambles from the start with devastating consequences. First, MPs were put on hold for hours on end, and now we are simply being fobbed off."
Speaking in the Commons earlier on Monday, Ms Atkins confirmed that 20,000 refugees accepted under the government's Afghan citizens' resettlement scheme, and allies and interpreters welcomed under the ARAP scheme, will be able to resettle permanently in the UK.
Local authorities will receive £20,000 per person to provide support to resettled Afghans to "integrate into British society and become self-sufficient more quickly", Ms Atkins said.
The UK has evacuated more than 15,000 people – including 8,000 eligible for the ARAP scheme – since 13 August, two days before the Taliban swept into Kabul.
With thousands of eligible people thought to be left behind, the foreign secretary Dominic Raab has expressed the need to persuade the Taliban to reopen Kabul airport.
But progress has been slow, with just 13 Britons on a flight of 200 permitted to leave the airport last week.