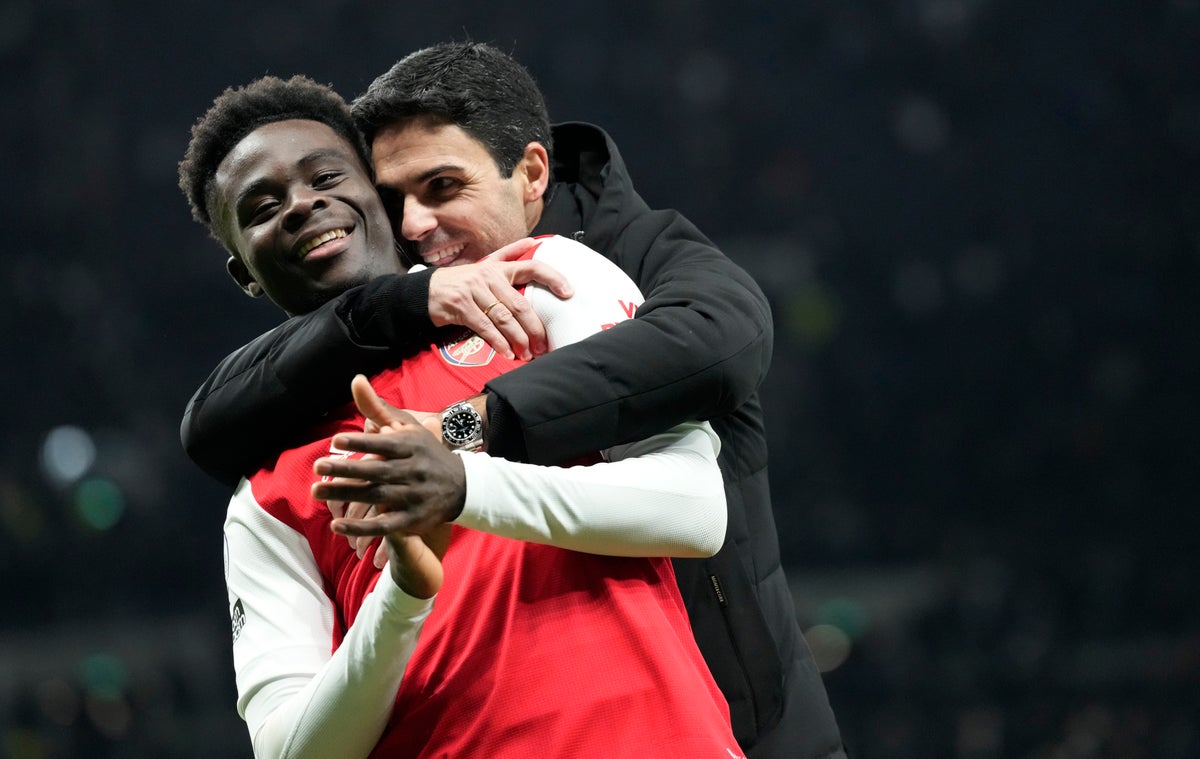 The previous time Arsenal suffered a second successive defeat, Mikel Arteta interrupted his flow of expletives to exclaim in the dressing room: "Today it is hard to defend you guys." Nine months on, after a second successive loss, he told his players he loved them more than ever.
Different psychology, definitely, but also different circumstances. A season that had promised much in effect ended at Newcastle in May. Now Arsenal's worst performance and worst result of this Premier League campaign has to be placed in context: they were almost immaculate before arriving at Goodison Park. They have still only dropped points against four teams: Manchester United, Southampton, Newcastle and Everton. That two are now found in the bottom three may be a possible frailty – Ralph Hasenhuttl's last point came against Arsenal, Sean Dyche's first win against them – or a coincidence. But if recent weeks saw Arteta's team pass meaningful tests – winning at Tottenham, where defeat led to their undoing last season, beating Manchester United, often their nemesis in the second half of Sir Alex Ferguson's reign – consecutive losses tell different tales.
In May, there were two shocking performances. Now going down 1-0 at Manchester City in the FA Cup, a competition whose importance to Arsenal has diminished during their unexpected title challenge, with a fine display and after making six changes was a defeat that scarcely felt a setback. A reverse at Everton was more of a blow. They have been rarities.
Arsenal are not on 100-point form anymore, but the fact they were for half a season remains remarkable. It points to overachievement, both collective and individual. There have always been questions over whether Arsenal can sustain their form for the whole campaign. Arteta found a wonderful formula for the apertura, except that the Premier League is not split into two seasons. The Bundesliga anoints a "Herbstmeister", a champion at the halfway stage. The Premier League does not.
Arteta's way has involved unchanged teams. The 11 that started at Goodison Park have begun five games together; remove Eddie Nketiah and replace him with Gabriel Jesus, the injured first choice, and that 11 has begun a further six. Ultra-modern in many respects, Arteta seems a traditionalist in his preference for a set pecking order. Rob Holding, who definitely is not in that strongest side, has made six appearances in the Premier League so far, but played just 16 minutes. Emile Smith Rowe, who was in it for some of last season, has played 49 in five outings.
What may be an isolated aberration does not necessarily mean he should rip up the blueprint. There may be cause for concern, however, that Gabriel Martinelli has gone six games without a goal or an assist as his form has dipped. His duel with the older, slower Seamus Coleman felt an unfair contest but Everton's dogged captain won it convincingly.
Nketiah came to Everton with seven goals in his previous eight games, and a forward who lacks Jesus's natural all-round game still set up Martin Odegaard's skied shot. He was nevertheless quiet: Arsenal's hope must have been to surf a wave of goals until the Brazilian is fit again. Nketiah can feel like a Jermain Defoe of the 2020s, a specialist predator; he would seem an anomaly for a title-winning striker.
Arteta may face a decision: stick or twist? Had he signed Mykhailo Mudryk, he would have had a high-grade arrival who seemed designed to go straight into the starting 11. Instead, he ended up with Leandro Trossard, who has the air of a squad player. The Belgian has nevertheless been bright so far and offers an alternative to Martinelli or Nketiah.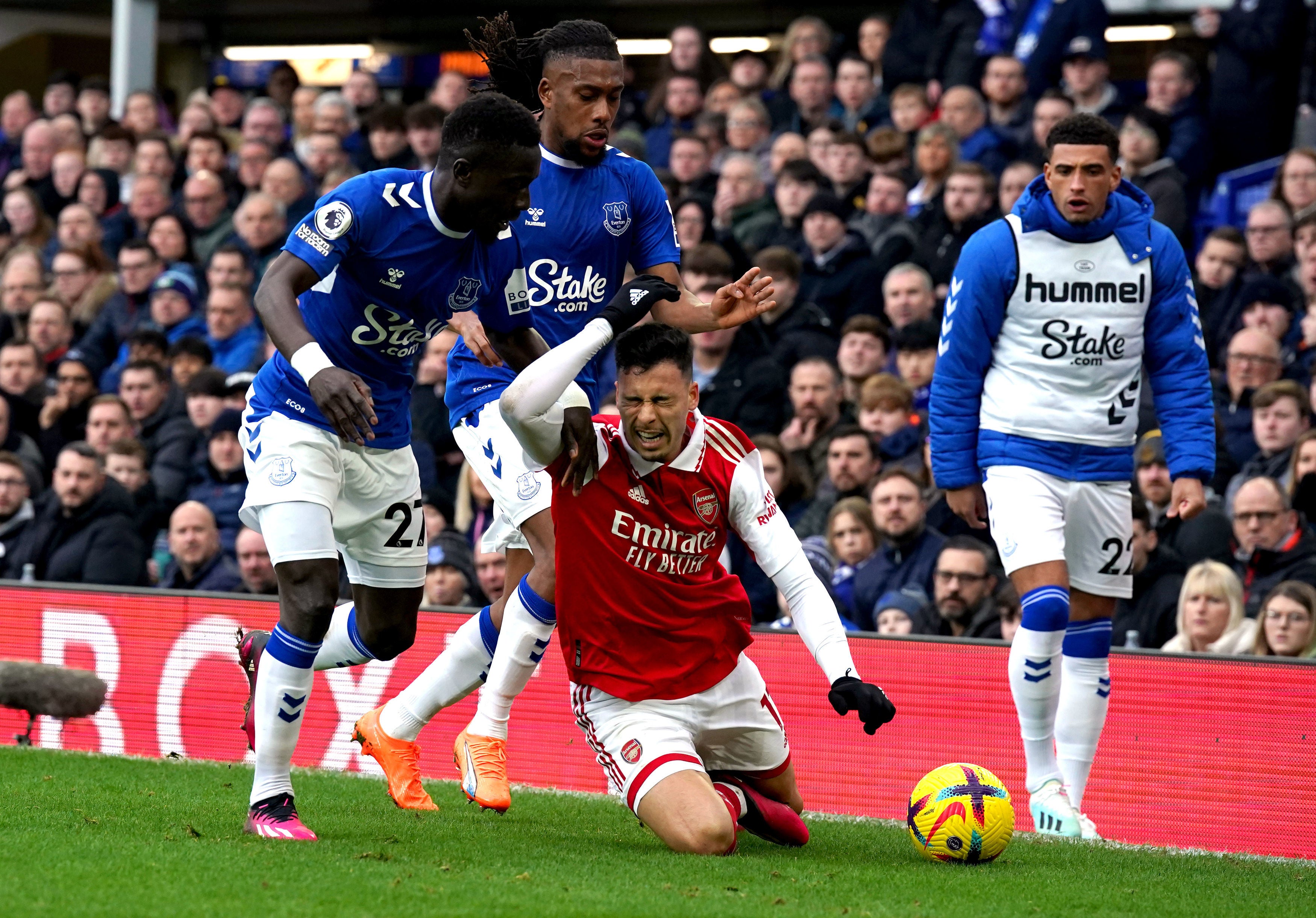 But only maybe. Arteta spent January strengthening the squad, but perhaps not the starting 11: Jakub Kiwior, Jorginho and Trossard can plug gaps on the bench. A fit-again Smith Rowe would add an enticing option, though even he seems a back-up now.
Arteta has conjured career-best form from several of his players: the difficulty may be in getting them to repeat it. Odegaard scored more goals in half a season than any full campaign in his career. Granit Xhaka has been reinvented and is a revelation. Nketiah has decided a game against United. Ben White is the makeshift right-back who has been better than Trent Alexander-Arnold or Kyle Walker this season.
No one deserves to be dropped. As Arteta professed his love, he implied a loyalty, too. But he has a meeting with his mentor soon. Pep Guardiola has a certain unpredictability that can backfire when his leftfield selections go wrong. Arteta tends to be far more predictable: the teamsheet usually contains no surprises.
His ruthlessness came when he exiled Mesut Ozil and Pierre-Emerick Aubameyang, not with the younger crop he has nourished and nurtured and, despite his words at St James' Park, usually defended. Loving care has taken Arsenal further and faster than most anticipated. Managerial love has played its part in past title races: Kevin Keegan would have loved it if his side had become champions. Now it is Arteta who is taking on a Mancunian favourite with a team short of title-winning pedigree but who have built up a commanding lead.