Members of Hong Kong's biggest teachers' union vote to disband after 47 years
Members of Hong Kong's biggest teachers' union on Saturday passed a motion to formally disband and wind up the 47-year-old organisation, a month after its leaders announced it would break up under pressure from authorities.
The decision by the Professional Teachers' Union (PTU) was made at an extraordinary general meeting and came after members last month voted to amend its constitution so fewer would be required to initiate the disbanding.
The change meant only two-thirds of attendees would need to back the step. Of the roughly 140 members who attended Saturday's meeting, more than 130 voted in favour. Previously, two-thirds of the union's 95,000 members would have been required to agree.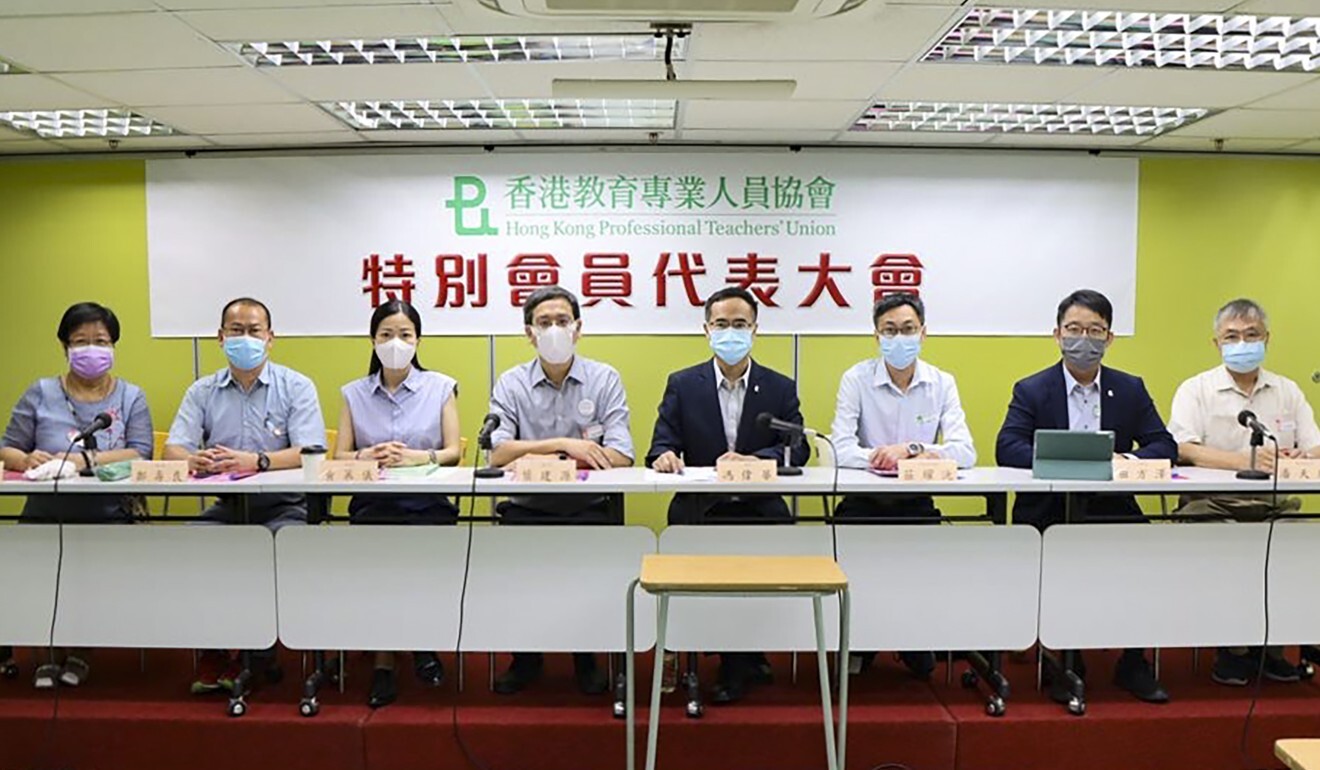 Officials and pro-establishment figures have strongly criticised the PTU for its open involvement in political activism, including its support for the 2019 anti-government protests and helping stage school boycotts during the unrest. The group was also accused of "promoting books that glorify violence" following media reports its bookstore was selling literature documenting the unrest.
Pressure on the opposition-leaning union began to increase in July when education authorities announced they were severing all ties with the PTU. Hours earlier, the Xinhua state news agency and Communist Party mouthpiece People's Daily branded the organisation a "malignant tumour" that must be eradicated.
The police chief later pledged to "definitely investigate" the union over any potential violations relating to national security.
At Saturday's meeting, members voted to authorise the PTU's executive committee to initiate liquidation procedures. The union said that assets, after paying off debts and dismissing staff, would be distributed evenly to members in accordance with its constitution, with the rest of the money donated to charities.
The union owns several properties, including two ground-floor shops in Causeway Bay and five units in the Chung Kiu Commercial Building in Mong Kok. It recently struck a deal with two companies under the listed Bamboos Health Care Holdings to sell two floors with a total area of 14,000 sq ft at Good Hope Building in Mong Kok for HK$175 million (US$22.5 million).
PTU president Fung Wai-wah said after the meeting he felt "heavy-hearted" about the union's dissolution.
"The decision is grudging but necessary. We have to be able to control our emotions and go through with the process of disbandment rationally," he said.
Fung added the PTU would be inviting tenders for its other properties in a transparent manner and would not "dispose of any assets under a diminished valuation".
The PTU's two large supermarkets at its Mong Kok and Causeway Bay branches have already ceased operations, while its Szeto Wah Prize – a scholarship set up in 2012 for students and teachers and named after the union's late founder – will also end.
Several members said they felt sad about the disbandment, with one secondary school teacher who voted in favour of the motion saying she hoped the move could "protect other frontline teachers and [PTU] staff members".
"I feel heartbroken. It feels as if Hong Kong no longer has any freedom of speech nowadays," she said. "I am not afraid of national security investigations, as [we] did not do anything wrong."
Apart from the PTU, the 19-year-old Civil Human Rights Front, which was the umbrella group behind the city's largest protests, and the 32-year-old Hong Kong Alliance in Support of Patriotic Democratic Movements of China, which organised the annual vigil marking the 1989 Tiananmen Square crackdown, have also announced they would fold.
Three leaders of the alliance were arrested this week and charged with inciting subversion under the Beijing-imposed national security law, while several other members were detained for refusing to provide police with details of the group's membership and financial reports.
The Security Bureau has also begun the process of revoking the group's company registration based on alleged violations of the security legislation.
Commentaries on Saturday by both Xinhua and People's Daily – which slammed the alliance as "anti-China" and "blatantly asking for Western countries to interfere" – expressed support for the ban on the group's operations.