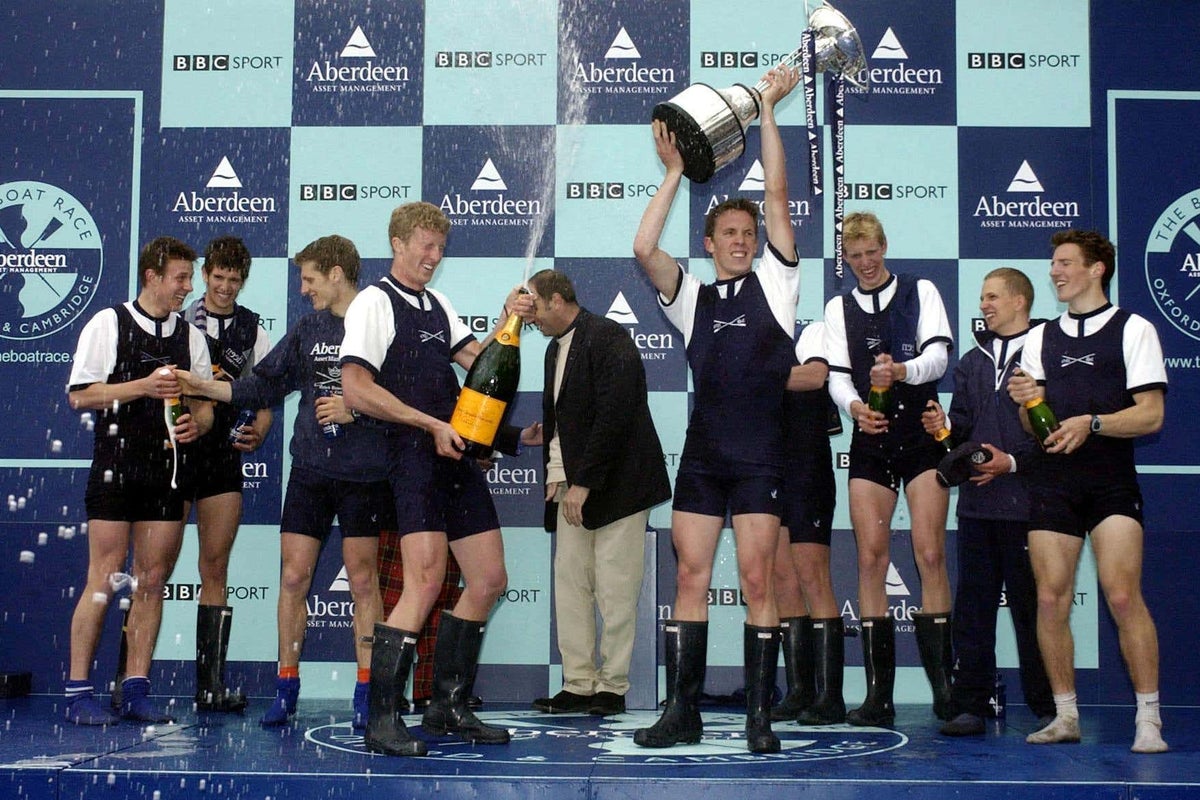 Matt Smith agrees with five-time Olympic champion Steve Redgrave's assessment that the 2003 Boat Race was and will remain "the greatest we will see in our lifetimes".
Smith was Oxford stroke on that record-breaking day 20 years ago, when his crew crossed the finish line just one foot ahead of the Cambridge boat occupied by his younger brother Ben. No race had come as close before nor has since.
Smith will return to the same Tideway site on Sunday, now a father-of-two coaxed back to the Championship Course as an umpire for the women's race, the events of two decades ago still vivid in his memory.
"I think it would be extremely hard to recreate that situation," Smith told the PA news agency. "I just don't think it will ever be that close. We had a school of thought that we should have just won. Like, properly, by more than that, and that would have been better. And I think that is better. But there's something about having been in that race.
"That's not just an Oxford thing. I have the benefit of being on the winning side of it, but there's something about having been in that race."
There was a headwind that year, a disadvantage to Oxford who weighed in a stone lighter per man. Oxford were able to brush off reports describing them as "waifish", but the difference remained a reality on the water.
Ben was called in two days before as a replacement for Cambridge bow Wayne Pommen, who had broken his wrist in a training collision. For the Smiths' parents, recalled Matt, "it was probably a mixture of happiness that he was in the Blue Boat and slight regret that they could only have one son who could win."
The brothers barely spoke before the race, which began with Oxford taking an early lead. Cambridge were level within a minute, umpire Boris Rankov issuing frequent warnings as he tried to keep the boats apart.
Cambridge pulled away as the crews approached the Surrey station, and by the Hammersmith Bridge approach Smith was thinking about how the race had turned against Oxford in 2001. Fearing it would slip away again, he entered into an "extended argument" with coxswain Acer Nethercott.
Smith explained: "We had this call, 1963. It was the last time anyone had such a weight disadvantage. I was saying 'make the call, make the call', which was just to go as hard as you can for about 20 or 30 strokes. It doesn't matter where it is in the race. A hell of a thing to do, right? Just put your soul and your persona on the line, and if you end up collapsing at least you know you've given it a go because you're about to lose the Boat Race."
Nethercott made the call. Oxford "started rolling", narrowing the gap to half a length, then a quarter,  and by the time the the bend was finally in their favour by Barnes Bridge they were three quarters of a length ahead.
Still Cambridge dug in, stroke by stroke, edging closer in the final minute until the crews crossed the finish line in a near dead heat.
When the officials finally announced the unprecedented result, said Smith, "There wasn't a great sense of happiness. I'd experienced that in 2000. It was just relief. Relief that all the energy had gone in. There was no massive elation. It was just pure, 'thank god for that.'
'I don't ever think it's ever been a kind of shout and scream for the stars thing. It's just something you've done. It's a thing we've collectively done as well, not just the Oxford crew, it's a thing we've collectively [with Cambridge] done as a race."
In another full-circle moment, it was Rankov, now chair of the Umpires' Panel, who invited Smith to take up his post this year.
It's an opportunity for people to watch a gladiatorial battle

— Matt Smith
Asked about the enduring appeal of the Boat Race, Smith added: "It's an opportunity for people to watch a gladiatorial battle. Eighteen people put themselves out there and then you watch them win or confess they aren't good enough in a very public way.
"This is who I am, this is the thing I think I'm really good at, and I'll either prove it or I will lose in front of a global audience. I think that's why people like it."