Manipur CM N Biren Singh awards traffic cop Rs 1 lakh for manning post in heavy rain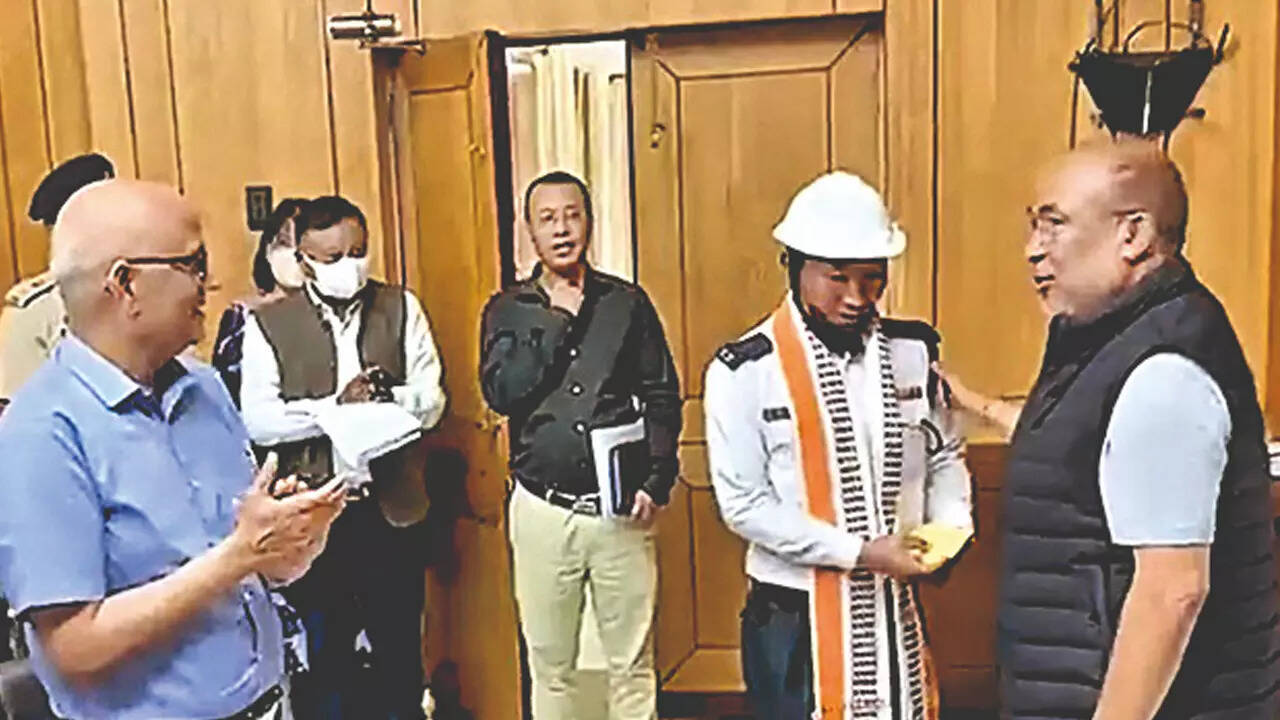 IMPHAL: The sharp white rain was strong enough to knock him down on Monday but traffic policeman in Manipur's Churachandpur town stood his ground even without a raincoat, earning not only praise from all quarters but a reward of Rs 1 lakh from the hands of chief minister N Biren Singh for exemplary dedication to service.
The video of constable BT Henjoy Vaiphei discharging his duties in the town, 65km from Imphal, in went viral on social media enough to attract Biren, who on his Facebook page said, "Came across this video of a traffic police personnel on duty in Churachandpur despite the heavy rain. His dedication to service is truly commendable."
"Tomorrow, I'll be handing out a cash reward for his exemplary commitment to serve the public," added Biren, who also holds the home portfolio.
At a simple function held at his office complex here on Tuesday, Biren handed over the cash reward to 33-year-old Henjoy.
Before the cop received the award, the video was shown on a big screen there where senior civil and police officers including that of Churachndpur district watched it and applauded his devoted service.
A resident of Tourbung area in the Kuki-Chin-Mizo dominated Churachandpur district, Henjoy joined the state police department as a constable in 2009 and got his posting at Churachnpour traffic police in the district headquarters two months back.
"I'm thankful to the honourable chief minister and the state government for encouraging my sincere duty and giving me the cash reward. Also, I'm grateful to all my senior officers for guiding me to serve the people," Henjoy told this reporter.
"The almighty God is kind enough to give me the strength and wisdom to serve the people," a jubilant Henjoy added.
Before joining the traffic control unit, he was among the police team of Churachandnpur district which also received rewards for seizing huge quantities of drugs and ammunition in three instances, Henjoy said.
Biren again took to Facebook and said "Happy to meet B.T. Henjoy in my office today."
"As announced, I have extended a cash reward of Rs 1 lakh and Good Service for his exemplary dedication to service. Good job," he added.