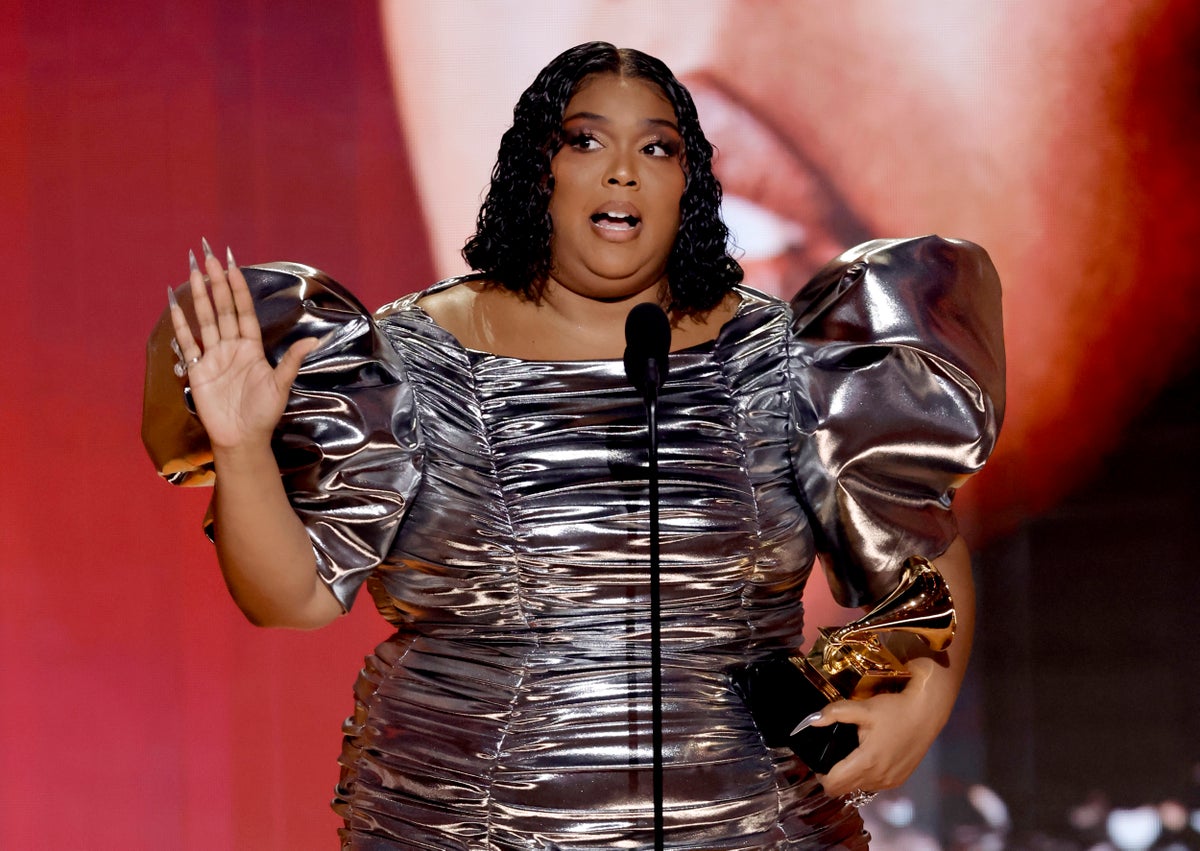 Lizzo has vowed to continue creating "safe spaces for Black fat women", despite being accused of fostering a hostile work environment by several former employees.
On Thursday night (21 September), hours after the 35-year-old pop star was hit with another lawsuit from a former employee, Lizzo was honoured by the Black Music Action Coalition for "crashing through glass ceilings".
Joined on stage by members of her Big Grrrls dance troupe, the "About Damn Time" singer gave a powerful speech after accepting the Quincy Jones Humanitarian Award.
"It's easy to do the right thing when everybody's watching you. It's what you do in those moments where nobody's watching that defines who you are," said Lizzo (real name Melissa Jefferson).
"I'm going to continue to be who I am no matter who's watching. I'm going to continue to shine a light on the people who are helping me, because they deserve it. I'm going to continue to amplify the voices of marginalised people because I have a microphone and I know how to use it.
"And I'm going to continue to put on and represent and create safe spaces for Black fat women because that's what the f*** I do," she said in the clip reshared to her Instagram page.
Earlier that day, fashion designer Asha Daniels, 35, filed a lawsuit with the Los Angeles Superior Court, accusing Lizzo of allowing bullying, harassment and racial discrimination to take place behind the scenes.
Lizzo's representative vehemently denied the allegations on her behalf, calling them "bogus" and "absurd".
"As Lizzo receives a Humanitarian Award tonight from the Black Music Action Coalition for the incredible charitable work she has done to lift up all people, an ambulance-chasing lawyer tries to sully this honour by recruiting someone to file a bogus, absurd publicity-stunt lawsuit who, wait for it, never actually met or even spoke with Lizzo," spokesperson Stefan Friedman told NBC News.
"We will pay this as much attention as it deserves. None."
In early August, three of Lizzo's dancers sued her for sexual harassment and accused her of fostering a hostile work environment.
The allegations fly in the face of Lizzo's public persona. As a performer, she is known for promoting body positivity, women's rights, LGBT+ rights, and anti-bullying.
The Grammy-winning artist eventually broke her silence on the first lawsuit, writing on Instagram: "My work ethic, morals and respectfulness have been questioned. My character has been criticised. Usually I choose not to respond to false allegations but these are as unbelievable as they sound and too outrageous to not be addressed.
Lizzo said that while she is "not here to be looked at as a victim", she knows she is "not the villain that people and the media have portrayed me to be these last few days".
"I'm hurt but I will not let the good work I've done in the world be overshadowed by this. I want to thank everyone who has reached out in support to lift me up during this difficult time," she concluded.