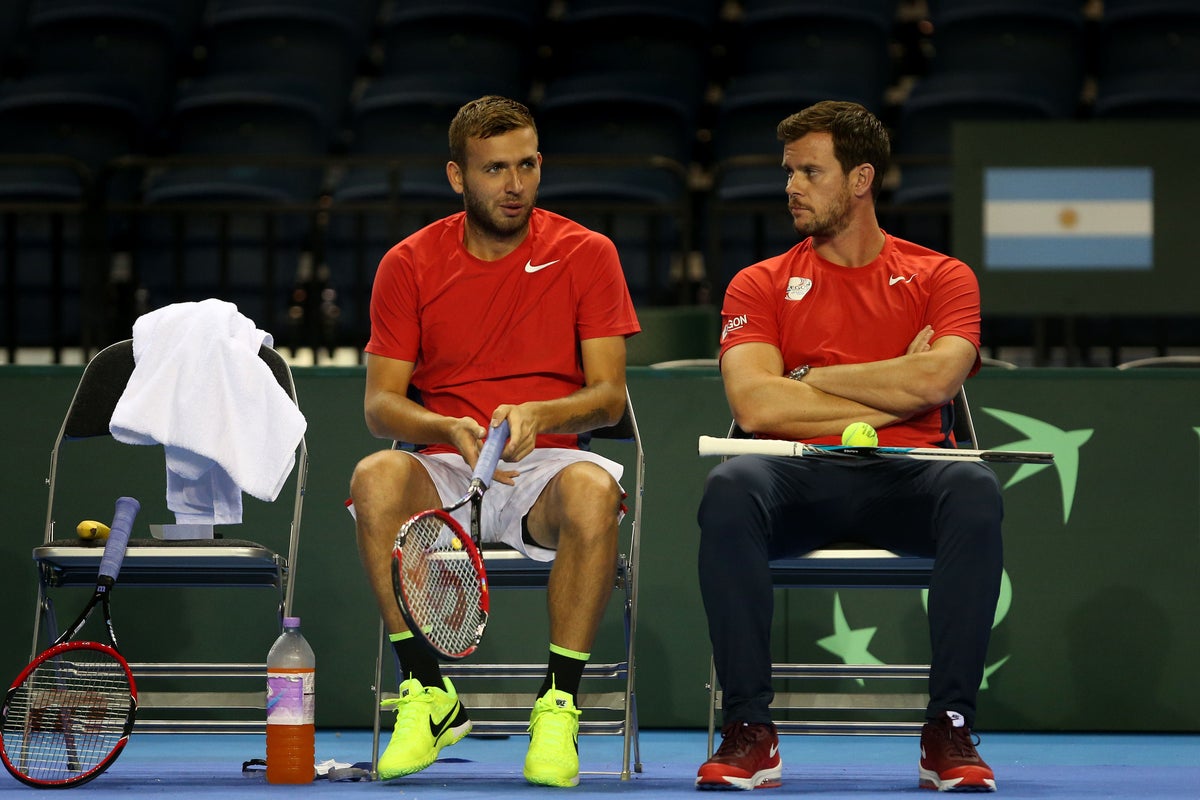 Leon Smith had no hesitation selecting Dan Evans for next weekend's Davis Cup tie in Colombia and is keeping Andy Murray very much in his thoughts for future matches.
Evans caused a stir in October when he publicly criticised Great Britain captain Smith for not selecting him for the doubles rubbers in matches against the USA and the Netherlands in Glasgow last September, instead going with Murray and Joe Salisbury.
They lost both matches and surprisingly failed to qualify for the quarter-finals in what was the most disappointing week of Smith's long stint as captain.
Evans, who also indicated he may not make himself available for Davis Cup in future, is known as someone who voices his opinions but his comments did not go down well with his team-mates.
Privately, Smith is unlikely to have been happy with them either but Evans has now committed to the competition and the captain is relieved to have his number two player for what will be a very tricky tie.
Asked whether he had cleared the air with Evans, Smith told the PA news agency: "We're all fine. I'm not getting into it. We're good. What I would say is I'm just delighted he's playing. Dan's one of the most important players on our team, plays with passion, and he's playing really well."
First-week losses at the Australian Open for Evans, British number one Cameron Norrie and 21-year-old Jack Draper mean all have committed to travelling to Bogota for the tie beginning on February 3 at the Pueblo Viejo Country Club.
And his heart is just ridiculous. But he's playing really, really well, his game's improved and he's in a really good place. I think he can really push on and play well this year.

— Leon Smith on Andy Murray
That means no room for 35-year-old Murray, who soaked in the experience of playing in Glasgow for what he admitted could be the last time.
But Smith, who sat in his long-time friend's box for his three matches at Melbourne Park, would have no hesitation calling on him in future.
"If we needed him for this tie, he was going to step up," said the Scot, who felt switching to clay would not have been the right thing for Murray.
"It would have a bigger impact on him than the others potentially, but he was ready to go. It's just great that the others have stepped up as well now and they also deserve to be there.
"Andy's playing great. Everyone, rightly so, looks in amazement at what he's doing physically, it is absolutely astonishing, but the work he's put in with his team, he deserves to be able to do that.
"And his heart is just ridiculous. But he's playing really, really well, his game's improved and he's in a really good place. I think he can really push on and play well this year."
Smith and Evans left Melbourne on Wednesday to make the 25-hour journey to the Colombian capital via the US.
The demanding travel schedule and 16-hour time difference are challenges but the main difficulties for the British team come from the fact the tie is being played at an altitude of 2,600 metres and with pressureless balls.
"It's a very complicated tie," said Smith. "The day of the draw, you're probably looking at a couple to avoid in terms of logistics and timings and we didn't avoid it, it's the most complicated one.
"It couldn't be more extreme. I guess it's going back to the old home and away style, it gives nations like that the opportunity to really gain home advantage, and boy do they have that.
"The fact that all of the singles players and doubles players want to be there means an awful lot. We couldn't be more grateful, honestly."
Norrie and Evans would be expected to be the two singles players but it may well depend how they and Draper adapt to the unfamiliar conditions.
Draper has been called up for the first time after his rapid climb from outside the top 250 at the start of last year to 38 now.
"It's great," said Smith. "Jack had a good chance of being in the team obviously last September, he was playing great tennis and unfortunately got an injury which ruled him out. We're delighted to have him in the team. He's a very exciting prospect, he's going to be at the top of the game for a long time."
Doubles specialist Joe Salisbury is also heading to Colombia but whether Neal Skupski joins him may depend on his fortunes at Melbourne Park in men's and mixed doubles.
Colombia only have one player in the top 100 in 70th-ranked Daniel Elahi Galan but he is a specialist in the conditions while Juan Sebastian Cabal and Robert Farah have been one of the best doubles pairs of the last decade.
The winners of the tie will progress to the Davis Cup Finals group stage in September, where Britain are again in line to be a host country if they are among the 16 teams.