KPCC president DK Shivakumar slips into silent mode after refusing Covid test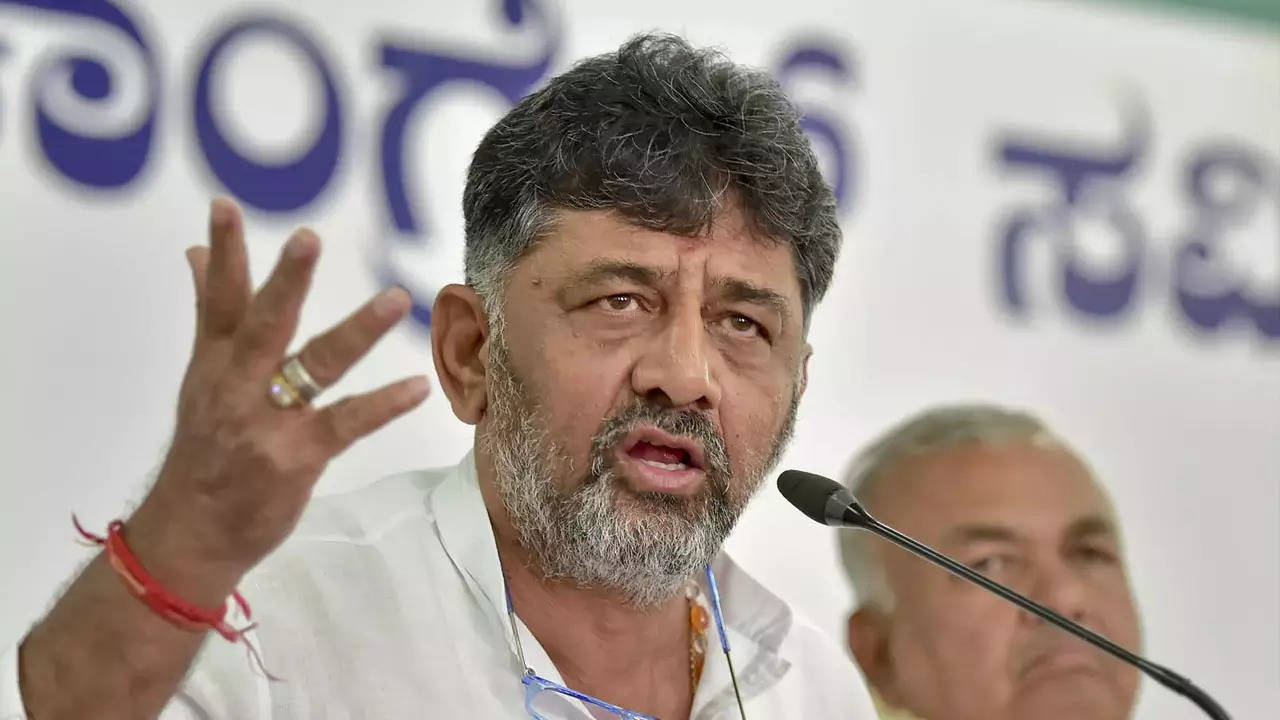 BENGALURU: Karnataka Pradesh Congress Committee (KPCC) president DK Shivakumar has courted controversy after he refused a Covid-19 test and reprimanded officials who went to collect his swab samples soon after the first day of the padayatra on Sunday.
In a video that has gone viral, Shivakumar is heard saying: "Hey Mr...I'm fit and fine. You can't compel me. I know the law of this land. You can't blackmail me..." A team of officials led by Ramanagara additional deputy commissioner had approached him and others when they were camping in Doddalahalli, the hometown of Shivakumar, after a 14-km walk from Mekedatu.
This was hours after a video of Shivakumar faltering legs and coughing continuously throughout the padayatra created a buzz online. He was seen interacting with party workers without a mask. This sparked speculation that he might have contracted Covid-19.
"I never expected the chief minister to interfere and play such a low level of politics. They are making an issue from a non-issue and troubling officers, who are in touch with me. So I have decided to go into silent mode from tomorrow (Tuesday). I also got information that the ADC who had come with a team to conduct the test had been pressured to test himself Covid positive so that I became his primary contact," he alleged.
Other Congress functionaries also refused to give their samples alleging that the government was trying to disrupt their walk by manipulating the test results. "This is a political game which is being played by the BJP to scuttle our padayatra. When each one of us is fit and healthy, why demand our swab samples?" asked KPCC working-president Saleem Ahmed.
Ramanagara deputy commissioner K Rakesh Kumar later claimed that the decision to conduct the test was taken by him "suo motu" as a precautionary measure. "Since these leaders walked about 15km in the sun and with a number of people, we had sent our officials to check their health status," he told TOI.
Bommai said the government wanted to ensure the safety of the Congress functionaries and that of the KPCC president. "I have seen the manner in which he refused. What can one do? It shows his culture," he said.
Health minister K Sudhakar also criticised the Congress party's decision to not give their swab samples and said the party will be to blame in future if the padayatra becomes a superspreader.
Earlier, Shivakumar claimed that he has 10 doctors in his own extended family and some government officials had told him that the BJP was manipulating the test results to inflate the positivity rate outside Bengaluru for political gains. "I know what is happening within the government. The officials themselves are informing me about the manipulation and corruption which is rampant in Covid testing. The decision to secure our swab samples was to ensure that I test positive and that those taking part in the padayatra return home," he claimed.
He said the party was not against Covid norms being implemented, but the curfew is "destroying the livelihood of people."