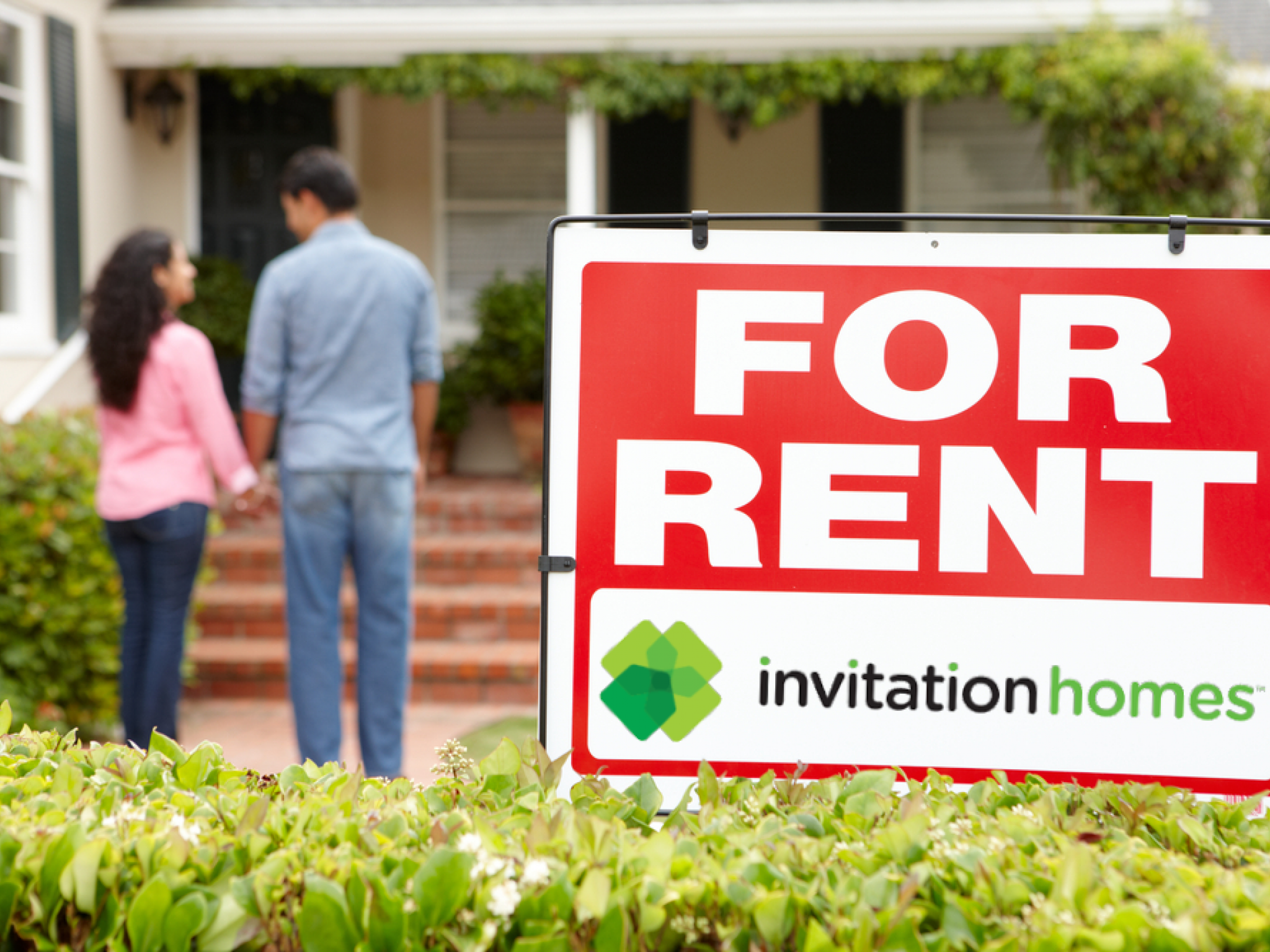 Invitation Homes Inc. (NYSE:INVH) is a Dallas-based residential real estate investment trust (REIT) that buys large numbers of higher-quality, single-family homes and then leases or leases-to-purchase them to higher-income tenants.
Over the last decade, using an aggressive growth model, Invitation Homes has become the largest owner/landlord in the single-family home market in the United States. Every facet of its business, including purchasing, leasing and property management, has been systemized for maximum efficiency and profit.
Take a look at the brief but impressive history of Invitation Homes:
2005: Dallas Tanner and other investors in Arizona form a company called Treehouse Group. From 2010 to 2011, the group buys some 1,000 homes via foreclosure and other distressed sales in Phoenix.
2011: Treehouse Group merges with a Dallas property management company called Riverstone Residential.
2012: The merged company is then acquired by Blackstone Inc. (NYSE:BX), which creates the name Invitation Homes and funds the acquisitions going forward. In one year, Invitation Homes spends about $4 billion to purchase 24,000 homes.
2016: Invitation Homes creates a program called Resident First Look, which allowed some of its tenants to have the option to buy the homes they've been renting.
2017: Invitation Homes initiates an initial public offering (IPO) through Blackstone on the New York Stock Exchange (NYSE). The IPO at $20.10 per share raises $1.5 billion in stock sales. That same year, Invitation Homes closes a $20 billion merger with Starwood Waypoint Homes to secure a portfolio with over 80,000 homes.
2019: Blackstone sells off its remaining share of Invitation Homes for over $1.7 billion.
2020: With demand growing, Invitation Homes enters into a joint venture with Rockpoint Group to acquire another $1 billion in homes.
2021: Invitation Homes takes another step forward, teaming up with homebuilder PulteGroup Inc. (NYSE:PHM) to build 7,500 single-family homes to be used exclusively as rentals.
2022: Invitation Homes creates a new company called Pathway Homes to help tenants work toward homeownership and announces a new joint venture with Rockpoint Group to purchase higher-priced homes in premium locations.
Invitation Homes owns over 83,000 homes in 16 markets across the U.S. Most of its homes are located in Florida, Texas, the Carolinas, Arizona, Colorado, Washington state and California. It focuses on communities where rental demand is strong and purchasing homes is difficult because of high prices and a lack of inventory.
The 52-week price range is $31.35 to $45.80. Like most REITs, September was the cruelest of months for Invitation Homes, with its stock falling about 22% from over $40 to a mid-October low of $31.35. Since then, the stock has been trying to bounce back. But as the chart shows, the stock is far below its 50- and 200-day moving averages, and both are still curving downward:
Highlights from the Third-Quarter Earnings Report:
On Oct. 26, Invitation Homes reported earnings and highlights of its performance for the third quarter of 2022:
Funds from operation (FFO) of $0.42 per share, a 10.5% increase from $0.38 a year ago but a penny below Wall Street's estimate. Adjusted funds from operation (AFFO) per share increased by 8.2% to $0.34.
Revenue of $568.67 million, up 11.6% over last year and ahead of analysts' estimates of $566.54 million. It also surpassed the second quarter's revenue of $554.6 million.
A 14.4% increase to $79 million in net income available to stockholders and an 8% increase to $0.13 in net income per diluted common share.
Same-store (homes owned more than one year) average occupancy of 97.5%, which was down 0.6% from the third quarter of 2021.
Increase of 10.5% to $204 million in property operating and maintenance costs.
Acquisitions during the third quarter and its joint ventures totaled 559 homes for $254 million, while 197 homes were sold for $74 million.
Acquisitions year-to-date for 2022 are 2336 homes for $1.02 billion, which includes 1,063 homes for $478 million from joint ventures, with the remainder wholly owned by Invitation Homes. Year-to-date, Invitation Homes has sold 527 homes for $202 million, with 21 of those from joint ventures for a total of $10 million and the remainder wholly owned by Invitation Homes.
A 13.3% increase from 2021 to 2022 on its Global Real Estate Sustainability Benchmark (GRESB) score. This allows its sustainability-linked revolving credit line and seven-year term loan to maintain a one-basis-point improvement in pricing.
CEO Dallas Tanner noted on the earnings call, "This has been another solid quarter for Invitation Homes, with strong lease-rate growth, low turnover and high resident satisfaction scores. Aided by favorable supply-and-demand fundamentals and a team of associates that are the best in this industry, we plan to continue to execute our strategy and be the premier choice for those who prefer to lease a home."
The chart below shows the figures for net income, FFO, Core FFO and AFFO: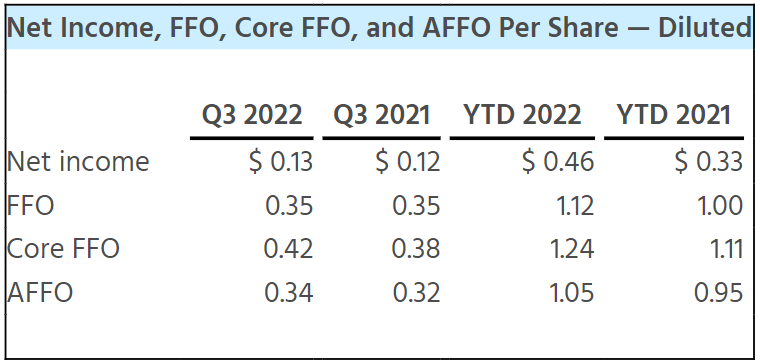 It's obvious from the chart that Invitation Homes has been growing its revenue and Core FFO since 2021.
This past week, Invitation Homes announced an increase to its quarterly dividend to $0.22 per share or $0.88 annually, which now yields 2.38%. The timing of that announcement was somewhat of a tip-off that the metrics of the report would be favorable.
So what are the positive aspects of Invitation Homes? Why should an investor consider buying it for a long-term hold?
Invitation Homes has continued to grow its revenue and earnings per share (EPS) quarter after quarter over the past few years. Its projected 2022 annual FFO of $1.63 to $1.67 far exceeds the $0.88 dividend and leaves room for further expansion and/or debt repayment.
While the dividend yield is less than what many other residential REITs, such as UMH Properties Inc. (NYSE:UMH), Agree Realty Corp. (NYSE:ADC) and BRT Apartments Corp. (NYSE:BRT) are currently paying out, Invitation Homes has raised its dividend six times for a total increase of 266% over the past five years. Additional cash not going into dividends so far has been put toward purchases of additional properties, which will continue to be accretive to earnings.
Invitation Homes stock has gained 67% since its January 2017 initial public offering (IPO). The total return with dividends is 82.9%, for an average of over 14% per year.
Over the long term, single-family homes historically average 4% to 5% per year of appreciation, but in many areas of the country, appreciation has been much higher.
The geographic areas in which Invitation Homes has been investing continue to show substantial population and job growth, thereby leading to increasing demand for rentals in those areas.
If interest rates on mortgages remain high for long periods of time, tenants are likely to continue renting, sustaining the current demand and keeping prices higher. The low turnover rate the CEO alluded to confirms that high-quality tenants are not rushing out to buy homes with mortgage rates approaching 7%.
As the chart below shows, rent collections have been quite stable between 97% and 99% for several quarters:
Source: Invitation Homes Third Quarter Earnings Release
So, as you can see, there are many favorable reasons to own Invitation Homes stock. But every company has its risks as well. Take a look at the risks for Invitation Homes:
Current fears of recession permeating Wall Street are casting doubts over the ability of REITs such as Invitation Homes to continue raising rents or to collect the same percentage of rents in the future. This could continue to negatively affect its stock price.
Possible over-saturation of the rental markets, as homebuilders turn away from constructing homes for owner-occupant and focus more on apartments and single-family rental homes.
A marked decline in home values for its preexisting portfolio. However, if home prices decline, Invitation Homes can then acquire new units more inexpensively. 
When single-family landlords lose a tenant, they lose 100% of the total rent for that property, as opposed to an apartment building where the loss of a tenant is a small percentage of the total rent coming in every month.
A prolonged recession leading to possible lower rents upon renewals of tenants' current leases.
Eviction costs are high, and upset tenants have been known, on occasion, to damage a home prior to leaving.
Continued inflation is causing materials and labor costs for repairs and maintenance to rise.
Although Tanner noted there was limited damage to its homes from Hurricane Ian, there is always a threat of a future hurricane or tropical storm damage and thus loss of revenue from homes owned in Florida, Texas and other Southern markets.
Government interference and scrutiny could interfere with further growth as political fears abound over companies like Invitation Homes crowding out homebuyers with large purchases of rental properties. Invitation has already had a number of class-action lawsuits against it over excessive fees and rent increases. Landlords are frequently vilified by politicians and the media.
As noted by Tanner during the earnings call, increased taxes on its preexisting homes from home price appreciation will put a larger dent in the company's available cash. Substantial increases in insurance costs in areas such as Florida and the Carolinas are likely as a result of the billions of dollars of damage caused by Hurricane Ian.
Nonetheless, Invitation Homes seems to be aware of the current headwinds it faces from inflation and is definitely being proactive to get a leg up on its competition. On its website, it's now advertising 50% off December rent on select homes for tenants whose lease begins on or before the first of November. On a typical Invitation Homes rental, a new tenant can save about $1,000 or more with that introductory offer. Any loss of revenue could be made up by increasing occupancy rates if tenants find the offer to be attractive.
So over the short term, it looks like Invitation Homes could see some choppy waters, but as a long-term investment, Invitation Homes is quite inviting with its solid business model, increasing FFO and aggressive approach to growth.