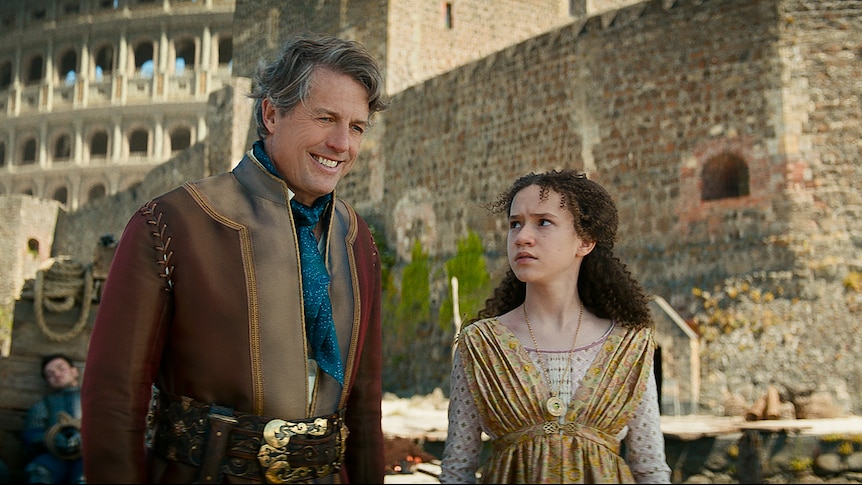 Studio executives of the 21st century seem to be very excited by the discovery that it's possible to turn just about anything into a movie – a theme park ride, a pair of sneakers, a smartphone, a heavily flavoured snack food, whatever they can wrangle the rights to.
Adapting the fantasy role-playing game Dungeons & Dragons would seem to present a particular conundrum, however. Beyond the fact that there are no iconic characters to work with – only archetypes of the fantasy persuasion: mage, dwarf, elf – there's the absence of a single, central quest.
D&D the game epitomises the idea of 'choose your own adventure', with players enjoying a degree of licence to shape their characters and "campaigns" possible only because there is no board or computer-generated environment.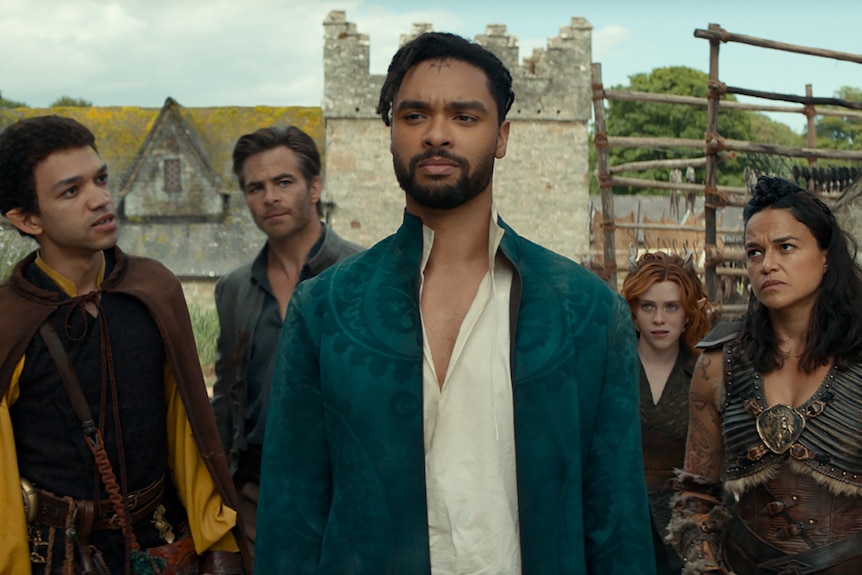 In this sense, a screen adaptation rather defeats the game's purpose; it is tantamount to having the adventure chosen for you.
This hasn't deterred Jonathan Goldstein and John Francis Daley (Game Night), the writer-directors behind Dungeons & Dragons: Honour Among Thieves, or their ensemble cast, as fronted by Chris Pine (Don't Worry Darling) and Michelle Rodriguez (F9).
Nor is this team the first to attempt such a mission: Recall the 2000 film Dungeons & Dragons, a labour of love for director Courtney Solomon, amply funded but poorly made and a box office bomb, which surely cast a long shadow over this new production.
Set in the Forgotten Realms, Goldstein and Daley's film charts the efforts of lute-playing bard Edgin (Pine) to right the wrongs that came from his abandoning the Harpers, a network of beneficent spies, for a life of thievery. To this end, he seeks a relic that would enable him to resurrect his murdered wife (played in flashbacks by Georgia Landers) and to reunite with his daughter Kira (Chloe Coleman), from whom he's been separated by a prison sentence.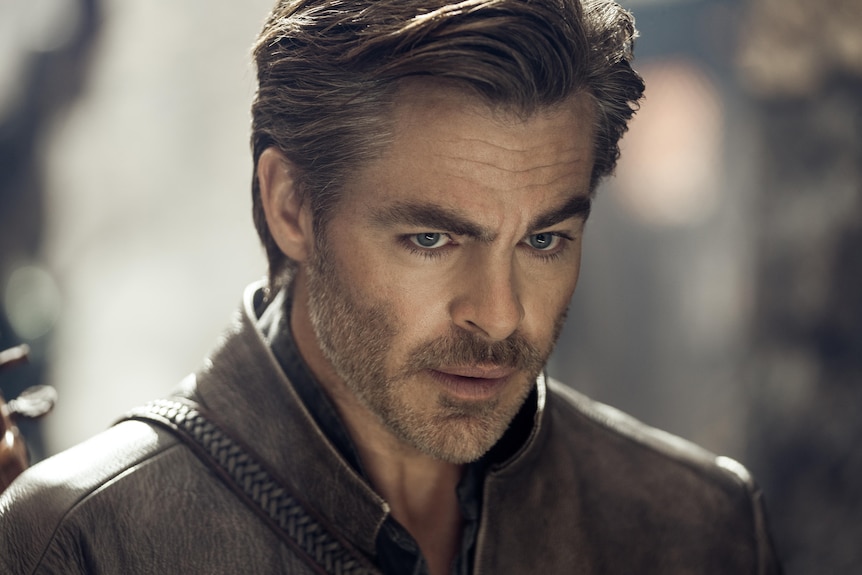 Along for the righteous ride are barbarian warrior Holga (Rodriguez), who is co-parent to Kira, and amateurish sorcerer Simon (Justice Smith), both part of Edgin's former band of thieves, as well as a feisty, shapeshifting druid called Doric (Sophia Lillis).
The stakes acquire epic proportions with the revelation that the incorrigible con man Forge (Hugh Grant), another light-fingered former colleague, has swung a position of political power in the city of Neverwinter – with a little help from the sorceress Sofina (Daisy Head). Bald with blackened eye sockets, an unrelenting death stare, and a tendency to hiss incantations to herself, Sofina obviously harbours nefarious intentions for the city and its populace; Forge, far from civic-minded himself, probably shouldn't be above suspicion either.
If only Edgin had not charged his erstwhile pal with Kira's care when he and Holga were sent to prison.
The party's journey often proceeds by way of nested rather than linear steps: To obtain X, they must have Y; to obtain Y, they must first get Z. Without much in the way of charisma on screen – thank the D&D deities for Grant, swanning around in brocade robes and fussing about the temperature of his tea – this structure quickly starts to feel frustrating. Isn't there some magic spell that can speed things up a little?
Indeed, there are a couple of gags about the rules pertaining to one piece of magic or another seeming arbitrary (wink, wink). Dungeons & Dragons the game might operate according to a fundamentally arbitrary set of rules – such is the nature of games – but that's not how gameplay is supposed to actually feel, nor the plot of a two-plus-hour film. To quote Monty Python and the Holy Grail (a stated influence that I wish had been more tangible), "Get on with it!"
Goldstein and Daley's reboot is not nearly so creaky as its year 2000 predecessor, mind you, but its combo of earnest fantasy adventure and smirking humour is unlikely to impress – and, depending on your tolerance for such wisecracks, may well grate (if the bland fantasy-speak doesn't get you first: "The Emerald Enclave will never relent!"). Plus, with a budget of $US151 million, the film is about twice as expensive (adjusting for inflation) as Solomon's folly.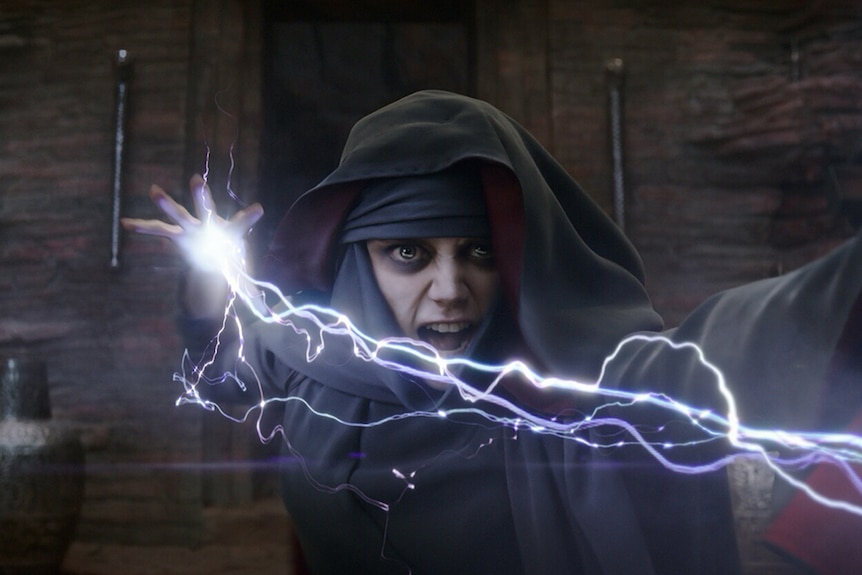 Time will tell whether Honour Among Thieves is doomed to restage its predecessor's poor box office performance. Would a flop even mean anything, though? At least one spin-off D&D TV series is already in the works. Solomon's film still got two bargain bin sequels, in 2005 and 2012. The prevailing logic of this era of seriality holds that, if at first you don't succeed, just respawn, respawn again.
You needn't even do anything particularly different, apparently: Like the D&D trilogy that came before, Honour Among Thieves is disappointingly straightforward in its approach to the source material. (It does have a much more convincing CGI dragon, however.)
Bar mixing in bits of self-aware jokiness – de rigueur in today's big budget genre cinema – Goldstein and Daley aren't interested in playing with the idea of the film's universe as a fictional one created for the enjoyment of real people armed only with a bunch of many-sided dice.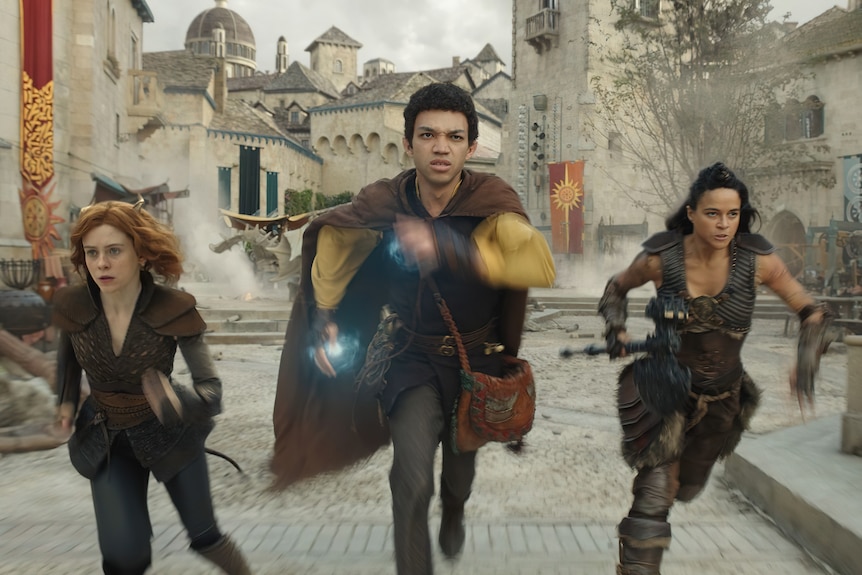 This is something of a surprise, given that the directors are coming off the back of Game Night, which revelled pretty effectively in the havoc created when a real crime is mistaken for part of a murder mystery game.
It's also perhaps a missed opportunity: A move in the meta direction (Game Night: Dungeons & Dragons?) might have worked to better justify the adaptation, forcing the film to reckon with the game qua game, as in Jumanji or even Stranger Things, rather than just trotting out tired fantasy tropes.
Certainly, I was looking for some way to take myself out of this particular campaign.
Dungeons & Dragons: Honour Among Thieves is in cinemas now.