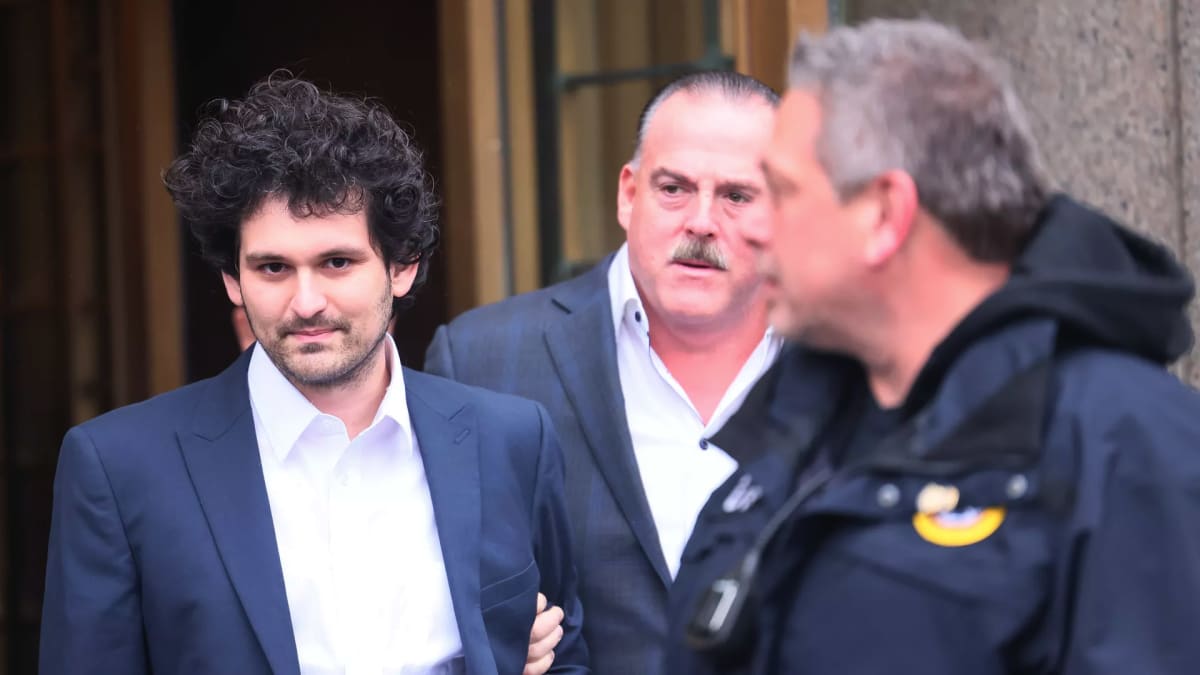 Sam Bankman-Fried is determined not to take his refuge in silence. 
The former crypto king seems to believe he remains on top of the fledgling financial-services industry powered by blockchain technology. 
He seems to think he's still in a position from which every one of his tweets and words was watched by consumers and investors eager to know how high bitcoin prices could go and when the new crypto craze would pick up.
He seems to have forgotten that since November, what consumers and investors expect from him is to tell them whether one day they'll be able to recover their money after his crypto empire declared bankruptcy on Nov. 11. 
This empire was made up of the FTX cryptocurrency  exchange and Alameda Research, a hedge fund that also served as a trading platform for institutional investors. 
The two companies went bankrupt after their respective customers rushed to withdraw their money by selling the cryptocurrencies they had previously purchased. 
FTX was using the client cryptocurrencies as collateral to borrow money which in turn it had transferred to Alameda Research with which it shares several links. Alameda used this money to invest in crypto businesses and also for trading operations.
'I Certainly Didn't Stash Billions Away': SBF
John Ray, the former liquidator of energy broker Enron, was appointed CEO to handle the bankruptcy proceedings. Ray and his team have painted an unflattering picture of the Bankman-Fried regime.
"Never in my career have I seen such a complete failure of corporate controls and such a complete absence of trustworthy financial information as occurred here," Ray wrote in a 30-page document filed with the U.S. Bankruptcy Court for the District of Delaware in November.
"From compromised systems integrity and faulty regulatory oversight abroad, to the concentration of control in the hands of a very small group of inexperienced, unsophisticated and potentially compromised individuals, this situation is unprecedented."
The Justice Department and the Securities and Exchange Commission have filed a series of criminal and civil charges accusing Bankman-Fried of fraud.
During a Jan. 3 hearing in U.S. District Court in New York Bankman-Fried pleaded not guilty. The trial is scheduled for Oct. 8.
Instead of waiting for trial, Bankman-Fried, known by the initials SBF in the crypto space, just launched a new response to the regulators.
Whether his lawyers tried to dissuade him is unclear.
"I didn't steal funds, and I certainly didn't stash billions away," the former billionaire wrote in a blog spot on Jan. 12. "Nearly all of my assets were and still are utilizable to backstop FTX customers."
"I have, for instance, offered to contribute nearly all of my personal shares in Robinhood (HOOD) to customers."
SBF holds a 7.6% stake in the trading app, acquired last summer when Robinhood was financially weakened by the credit crunch affecting the cryptocurrency sector.
SBF Tries to Refute 'Public Misperceptions'
The blog post is clearly intended to refute what he calls "public misperceptions." 
"I've been, regrettably, slow to respond to public misperceptions and material misstatements. It took me some time to piece together what I could–I don't have access to much of the relevant data, much of which is for a company (Alameda) I wasn't running at the time," he said.
He claims that Alameda Research had $100 billion of net asset value in 2021. But the problem was that he didn't hedge enough against "the risk of an extreme market crash."
He goes further to say that if it hadn't been for rival Changpeng Zhao's "fateful tweet, following an extremely effective months-long PR campaign against FTX," Alameda and FTX International would have been fine.
History will remember that it was the decision of Zhao, co-founder and CEO of Binance, the largest crypto exchange by trading volume, to sell $530 million of FTT that was the beginning of the end for the Bankman-Fried empire. FTT was the cryptocurrency issued by FTX.
Zhao is known as CZ in the crypto space.
When this decision was announced on Nov. 6, a run on the platform by panicked FTX customers followed.
"A run on the bank required immediate liquidity—liquidity that Alameda no longer had," Bankman-Fried wrote. 
"And so, as Alameda became illiquid, FTX International did as well, because Alameda had a margin position open on FTX; and the run on the bank turned that illiquidity into insolvency."
This latest version from SBF is based on calculations made by the former trader. He says that the figures given are based on his memory. 
Bankman-Fried avoids, however, the hot topics. 
He's mum about the accounting issues Ray and the regulators have raised. Nor does he speak about allegations that FTX client funds had been transferred to Alameda. He does not talk about allegations that he used FTX funds for personal expenses, buying luxury villas, and that the platform served as his personal bank.
But the federal prosecutors' case may be solidified by two of his former lieutenants who are cooperating with the prosecution.
Zixiao (Gary) Wang, 29, FTX co-founder and former chief technology officer, and Caroline Ellison, 28, the former CEO of Alameda Research, have both pleaded guilty to multiple federal fraud charges.
Bankman-Fried was extradited to the U.S. on Dec. 21 by the authorities of the Bahamas, where he lived and where FTX is headquartered. 
He was released after his parents, both law professors at Stanford University, signed a $250 million recognizance bond pledging their California home as collateral. Two other friends with significant assets also signed, according to news reports.