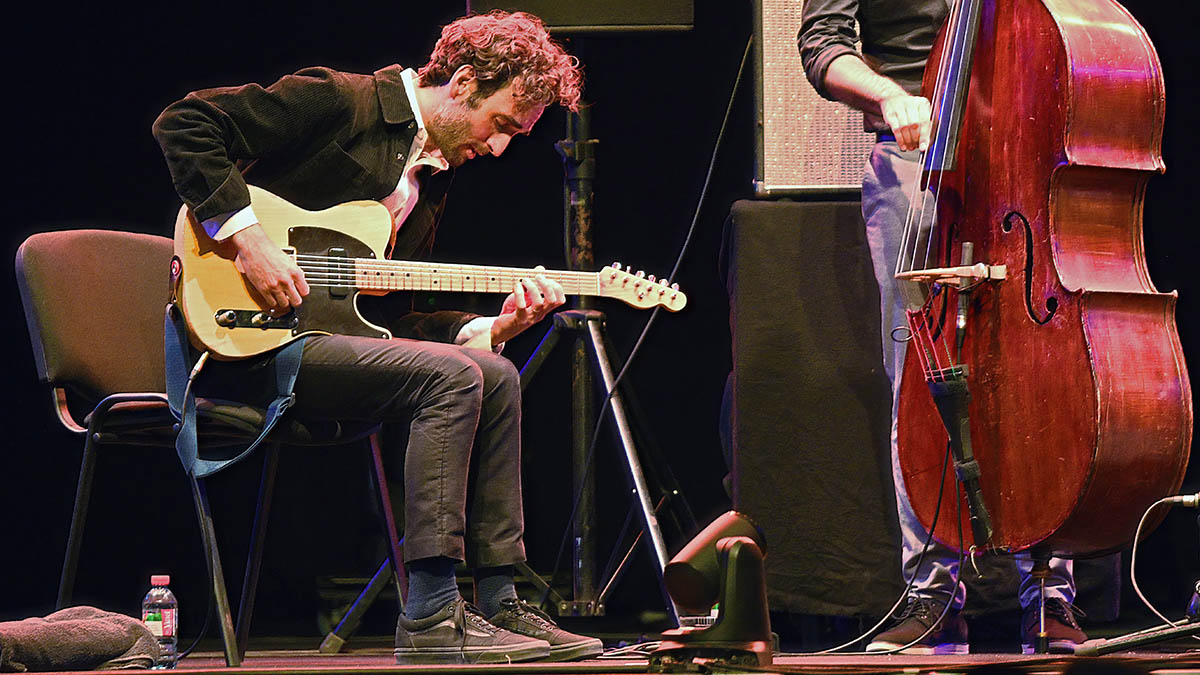 You may have heard that jazz guitar players artfully play 'wrong' notes. However, if you just play at random frets you'll probably sound more like a crashed train than Coltrane. 
A better way to think about it is as 'tension and release': notes that clash with the underlying chord create tension, while notes from within the chord release that tension for a sweeter sound. 
Advanced jazz players might extend that tension for quite a while, but a safe starting place is to resolve each tense note by immediately following it with one from inside the chord. Play these 'chord tones' on the beat and your tense 'outside' notes off the beat to add colour to your licks without losing the plot. 
Choose outside notes one fret either side of chord tones: they create the maximum amount of tension but they also create flowing lines where the notes move smoothly. 
To do this confidently, you'll need to learn some guitar arpeggios – that's when you play the notes of a chord one by one. Learning arpeggios will give you confidence about where the chord tones are, and you can then add outside notes without getting lost. Many jazz standards are built around II-V-I chord progressions (more on that shortly!), so learning how to play over these changes is a good start. 
Another approach is to add jazz ideas to your existing blues vocabulary. Example 5 across the page uses jazz note choices in a standard I-IV progression in E (E7-A7). A common jazz move here is to insert a Bb7 just before moving to the IV chord (A7). 
Even if the band doesn't play that, you can create that flavour by playing a Bb7 arpeggio for two beats just before the chord changes to A7. You'll create tension that you can resolve by landing on an A note as the chord changes.
Example 1. Learn your 7th chords

Jazz makes heavy use of extended chords, including 9ths and 13ths, but the place to start is with 7ths – so try the shapes shown here. 
This II-V-I (two-five-one) chord progression is a building block of jazz, taking its name because the chords are built on the second, fifth and first notes of the key. Here we're in C major (C D E F G A B), so the II-V-I follows D, G and C root notes. 
Example 2. Learn a walking bassline

This line works on the same principle of tension and release: the bassline hits the root notes of the chords on the downbeats, and tense 'outside' notes on the weaker beats 2 and 4. This style of playing can be a routed into chord-melody playing à la Joe Pass.
For more on this technique, check out our guide on how to combine chords and walking basslines on guitar.
Example 3. Learn your arpeggios

Because resolving tension is so central to jazz, you always need to know where the sweeter sounding 'right' notes are. Learning arpeggios for the chords you're playing over will mean you always know how to get out of trouble.
Example 4. Learn a II-V-I lick

This classic II-V-I line exclusively uses chord tones until the last note of bar 1. This 'outside' Ab note moves down one fret to G as the chord changes to Cmaj7. G is a note in the Cmaj7 chord, so it resolves sweetly.
Example 5. Add 'outside' notes to blues licks

This lick is played over bars 4 and 5 of a standard 12-bar blues pattern, as the chord moves from I to IV. It is common to approach the IV chord from a fret above, so you can play a Bb7 arpeggio to imply that change into A7.